Relay for Life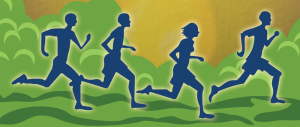 Cancer is the No. 2 cause of death for children, according to the American Cancer Society.
But UNF students and faculty will ease the experience of children with cancer by raising money for the Relay for Life event March 27-28.
The event raises funds to benefit cancer research and helps provide funding for children with cancer to attend summer camp.
"It's a great cause, a great experience and a lot of fun, but I relay now in the hope that in the future, I won't have to relay," said Katie Chenard, event coordinator and co-chair of the relay event. "The goal is that through our efforts, the event won't need to happen because we'll find a cure."
Relay for Life raises money through fundraising and donations. Teams consist of 10 to 40 members who are students, faculty, staff, Greek Life and even other businesses and friends. Each team has a general goal of $1,000. Teams raise money with bake sales, giving manicures and selling food during the event.
In the past five years Relay for Life has raised roughly $150,000, said Michael Penrod, a business major at UNF and chairman for Relay for Life. "Our goal this year is $35,000, and we plan to have more teams than before."
Relay for Life is an event started by the American Cancer Society, and it began at UNF six years ago, Penrod said.
The Relay for Life event has an estimated 200 participants and 23 registered teams this year. Penrod is hoping to reach a goal of 35 teams and 400-500 participants, he said.
"People should do relay; it's for a good cause," said Beverley Jackson, the Relay for Life team development chairwoman and a communications major. "Even spare change goes toward [cancer] research."
One of the programs the money is distributed to is The American Cancer Society's Reaching Out to Cancer Kids camp in Eustis, Fla.
It takes local children and teens from 7 to 16 years old with cancer to a week-long summer camp to enjoy swimming, arts, crafts and other traditional summer camp activities.
The money donated from Relay for Life helps pay for children's full tuition to the camp, said Sara Kennedy, executive assistant of Cancer Control Operations at the American Cancer Association Florida Division.
This year's relay will have a Nickelodeon channel theme involving old game shows and programs, including a Double Dare-themed activity. Other activities include kickball, a Mr. and Mrs. Relay contest in which participants dress as the opposite sex, and a prize giveaway for showing the most spirit. There will also be music and a live band.
A course will be set up on the sidewalks around the Green. At least one person from each team must continue to walk the sidewalk along the Green to prove that "cancer never sleeps," Penrod said. The event lasts 18 hours and will go on rain or shine.
Participants are recommended to bring food and camping material like tents and sleeping bags.
The opening ceremony begins at 6 p.m. March 27, when cancer survivors will do the first lap around the Green followed by speeches to kick off the event.
There will be a luminary ceremony starting at 9 p.m. The ceremony lasts 45 minutes, and candles will be lit in honor of those who have won and lost the battle against cancer, Penrod said.  The ceremony will be catered with food donated by Chipotle restaurant.
Volunteers and teams are still needed, Penrod said. Those who are interested can contact him at [email protected], register on the American Cancer Society Web site at relayforlife.org/UNFFL or go to the campus Volunteer Center in Building 14.
E-mail Jimmel Walsh at [email protected]