Tickets to Obama campaign event draw people to UNF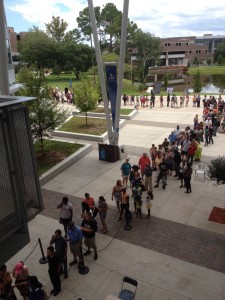 A long line spread through UNF's Student Union for much of Tuesday, as people waited eagerly to get their hands on a ticket to see President Barack Obama speak.  With November's general election quickly approaching, President Obama is holding a campaign event in Jacksonville Thursday.
Many students were among those in line at UNF,  which was one of four locations where tickets were handed out.
Cassidy Roddy, a UNF journalism senior, said she is excited for the opportunity to hear the president speak, despite being a registered Republican.
"It's not everyday that the president of the United States comes to the town where I live," Roddy said.
Roddy said she expects even longer lines at the event, so she plans to arrive at least three hours before the doors open, which is at 11 a.m.
The event is being held at the Prime Osborn Center in downtown Jacksonville.