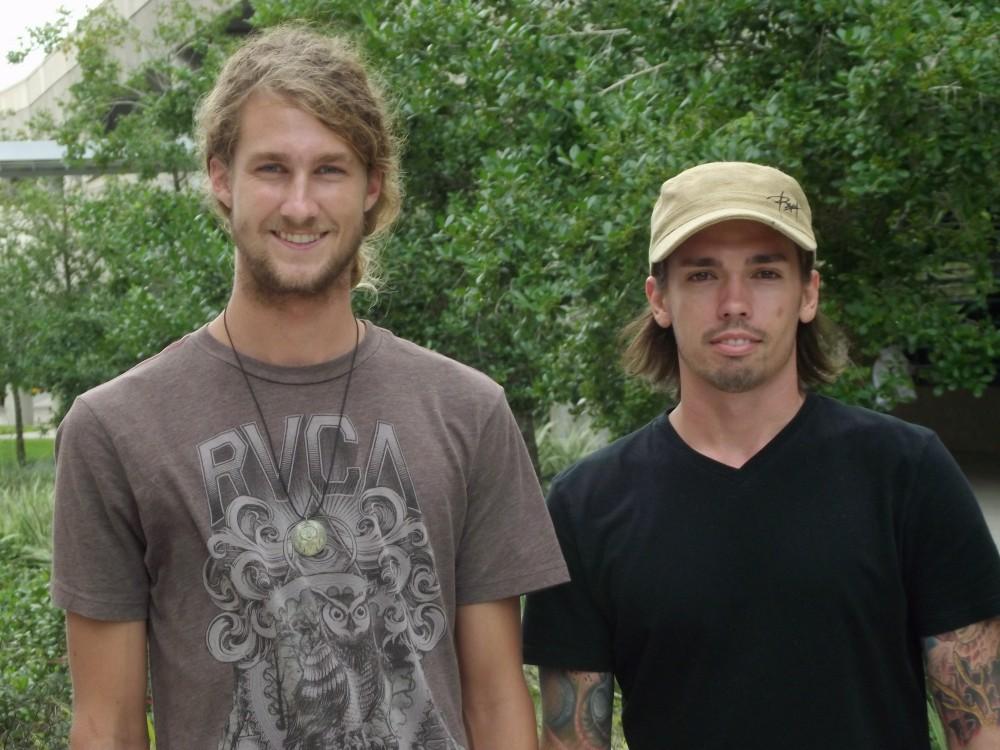 Everyone knows the feeling of walking into a class on the first day of school, looking around the room, and realizing you don't know a single person there.
If you have never experienced this before, consider yourself lucky. This is a common problem on campuses across the entire country.
In order to solve this problem, two UNF undergraduates have created a way for students to connect with one another all over the nation via a website.
James Hamilton, an information systems senior, and Eric Nopanen, a computer science senior, are the founders of the website OpenLeaf, which aims to solve the problems college students have with networking in the classroom.
"We love programming and we wanted to create a resource that students could use [for networking]," Nopanen said. "We kind of just brainstormed for a while and [OpenLeaf] is what we came up with."
The pair said they began working on the project in the spring and thought it would be completed by early summer.
However, the project took longer than they anticipated. The pair put in nearly 800 hours before completing OpenLeaf, and launched the website in the late summer after deeming it ready for its first users.
"We launched on the first day of school and since then we've been keeping a pretty close eye on the website," Nopanen said.
Nopanen said the best part about creating the website was seeing students sign up for it and begin using what he and Hamilton had created.
In a nutshell, Hamilton said, OpenLeaf is designed to be a website that would serve as a student-to-student communication and resource network.
OpenLeaf is a way for students to connect with their campus and meet students in not only their courses, but in similar majors and studies, solving the problem of not knowing anyone in your classes or major.
"Instead of just being restricted to the demographic right around you in your classroom, it kind of removes those boundaries and borders and helps to connect students all across the country," Hamilton said.
With a valid .edu email address, students can sign up for the website and gain access to all of OpenLeaf's features.
About 500 UNF students have already started using OpenLeaf.
Leonard Ohayon, an international business law freshman at UNF, said OpenLeaf is a great way for students to communicate, and is similar to the popular website Reddit.
"OpenLeaf has trending topics, newest topics, hot topics, etc." Ohayon said. "It makes it very easy to find interesting topics and conversations, and then discuss them with your peers."
One tool that is featured on OpenLeaf is the campus newsfeed. This tool offers a way to discuss topics with fellow students on campus.
With the campus newsfeed any UNF student can post a topic such as, "What does everyone think of the new wellness center?" Or one could ask if campus is closed due to a power outage, and then receive input from fellow students.
"I think this is a good site for students to be social, talk about their professors, classes, ask any questions regarding campus," said Tanya Paul, an information technology senior. "Also, if they have any trouble in class, they can post a note here and people from their major can give them the help."
OpenLeaf connects users not only with fellow Ospreys, but with students on other campuses as well, potentially offering a way for students from hundreds of colleges across the U.S. to be in the same classroom and discuss courses and network for majors and careers.
So far Openleaf's users consist mainly of UNF students, but students from Stetson, Florida State, Miami, Santa Fe, and many other universities have already signed into the website and begun posting about various topics.
Jordan Lowy, an information science senior said he thinks OpenLeaf is a great way for students to communicate and work with each other.
"OpenLeaf has the potential to give students an extra helping hand for success in college. Lowy said. "It could really be the next big thing in college social media."
For more information or to join OpenLeaf, visit openleaf.me