The Interfaith Center kicks off new Art and Soul Café series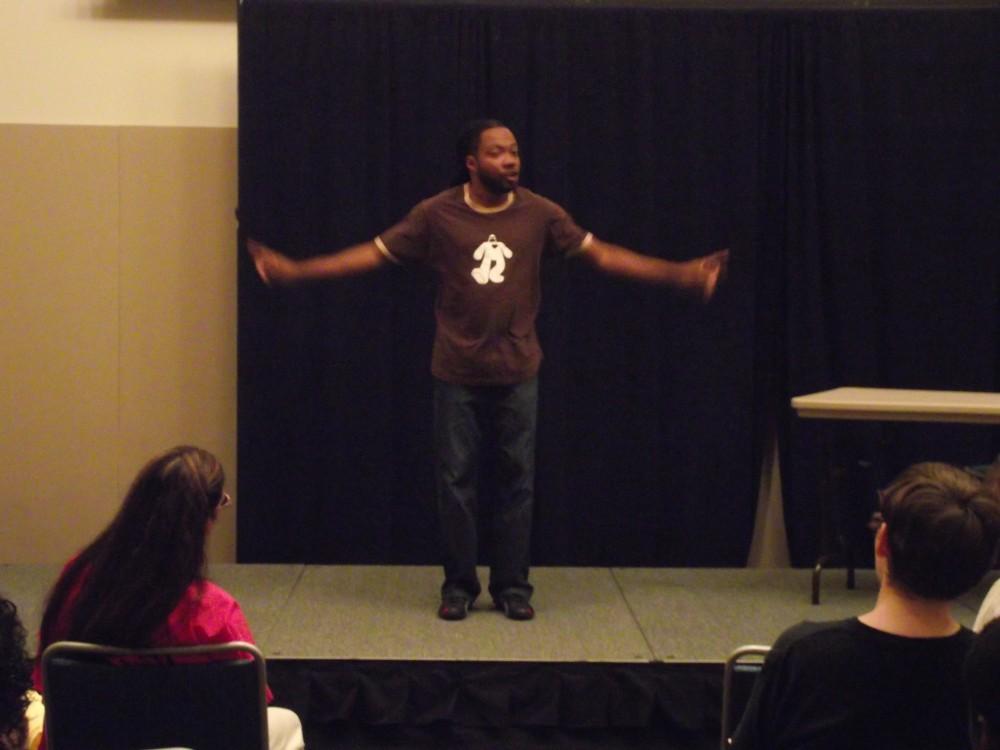 Cultural immersion is an important part of the college experience, but it can all too easily be missed by students who do not know where to find it.
To help solve this problem, UNF's Interfaith Center has begun a new series called the Art and Soul Café, hoping to bring students together through live performances and workshops.
The Art and Soul Café features various coffeehouse-style concerts and hands-on workshops where artists from all over perform in front of students.
The presentations are free to Ospreys, and provide opportunities for students to experience other cultures.
Last Thursday, the Interfaith Center, along with Intercultural Center for PEACE, UNF Music Department, African American Student Union and Better Together @ UNF, featured its first artist, Al Letson, at the student union.
Tarah Trueblood, the director of the Interfaith Center, said Letson is a phenomenal individual.
"He uses the art [of speech craft] as a way to engage people on things about race, spirituality, class, and multiculturalism," she said.
Letson is a playwright, performer and public radio host who travels around the United States and shares his real-world experiences through monologue, song, poetry and multimedia.
Letson has a radio show on NPR, called "state of the reunion," that is currently on its third season.
His performance, Summer in Sanctuary, is a first-person account of Letson's experiences while working at a summer camp at the Sanctuary on 8th Street in Jacksonville.
The Sanctuary where Letson worked during the summer of 2006 is a community center in a low-income neighborhood in Mid-West side Jacksonville.
Letson's recital challenges perceptions about both race and class. As his account of the summer unfolds, he delves deep into the story of his struggles to connect with the disadvantaged children of the Sanctuary.
UNF students who attended the performance said it was impactful and interesting.
Emily Schroder, a sociology junior, said her favorite part of the show was the ending when Letson described the changes he saw in the boys he had been counseling. Schroder said that she personally knew a friend who dealt with similar struggles.
"I was crying like a baby," Schroder said. "I can understand what that feeling is to feel like you failed somebody, but in the end you really didn't."
Sociology freshman Brittany Arnold said she thought the show was really cool and interesting.
"It was definitely different than what I've seen at UNF," she said. "I thought they were really branching it out and getting outside the box."
Troy Capers, an English sophomore, said Letson's performance was a powerful experience.
"You're sitting there, and time just stops mattering," he said. "There's this pressure and this presence as you hear the story of a young man struggling for identity through this grown man who had a dream to change the world."
Before Letson left the student union, he took a moment to explain what he hoped his performance would give to his viewers.
"I hope what students take away from it is that you don't have to be superman or superwoman or have this Teflon heart to make a change in somebody's life," he said. "You can be a part of the change in someone's life just by doing something small. That is what I hope the show says."
Letson is the first artist featured at The Art and Soul Café, but Trueblood said they plan on hosting three more performers before the year's end.
Future performances will include the UNF Jazz Collective in a live jazz ensemble, Sills/Quadim Ensemble performing Middle-Eastern music, and Todd Green a multi-instrumentalist who performs original music on over 30 acoustic string, flute and percussion instruments from all over the world.
Trueblood said she hopes students will be inspired to figure out who they are, what their strengths, talents and gifts are and to figure out how they can use their vocation and calling to make the world a better place.
The next Art and Soul Café performance will be held October 18 at 5:30 pm in the student union ballroom.