Senate pushes Chick-fil-A, Papa John's forward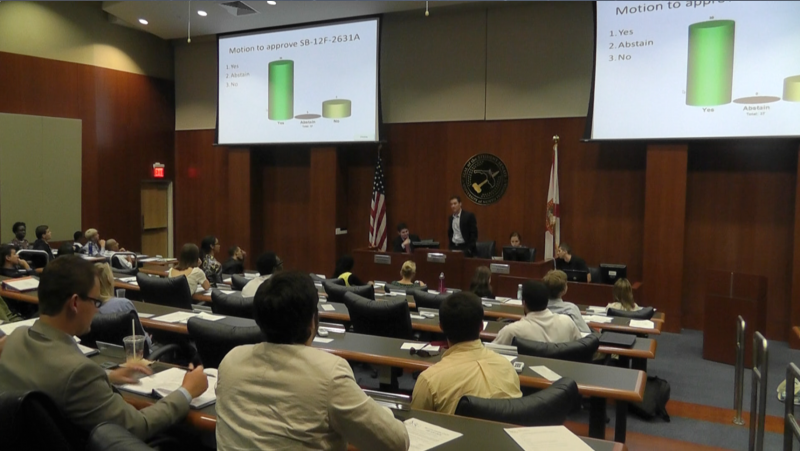 The Senate passed the amended dining renovations bill — which specifies that the renovations in Building 8 and the Student Union are for Chick-fil-A and Papa John's, respectively — with 30 approvals and seven disapprovals Oct. 1.
Before the bill passed, several students, including senators, spoke out against bringing Chick-fil-A to campus. Their reasoning varied from hurting LGBT students to health concerns and fiscal irresponsibility.
In favor of the bill, Senate President Zak Varshovi told the Senate that its personal views could not come into question when voting.
Sen. Ross Keen, a UNF anthropology sophomore, said while this initiative was good, it could be better and asked the Senate whether this was the legacy it wanted to leave behind at UNF.
Keen also brought up the issue of the controversy that will undoubtedly follow Chick-fil-A to campus. In response to remarks about leaving behind a legacy at UNF, Keen asked: "Is Chick-fil-A really that legacy?"
Student Body President Carlo Fassi addressed the Sept. 28 survey and said he takes full responsibility for the original bill's wording.
Student Body Student Advocate Sergio Saavedra presented data collected from Student Government surveys that asked students whether they wanted Chick-fil-A instead of Sbarro and Papa John's instead of Salsarita's.
In each survey results slide Saavedra presented, students voted in favor of the changes by an 80 percent to 20 percent margin.
Fassi said Chartwells has polled students in the past about which dining options they'd like to see on campus, and Chick-fil-A and Papa John's always topped the list.
The cost for the renovations to Building 8 totals $697,001.
The Student Union's renovations cost $209,549.
Email Lydia Moneir at [email protected]