Here We Go Magic Q&A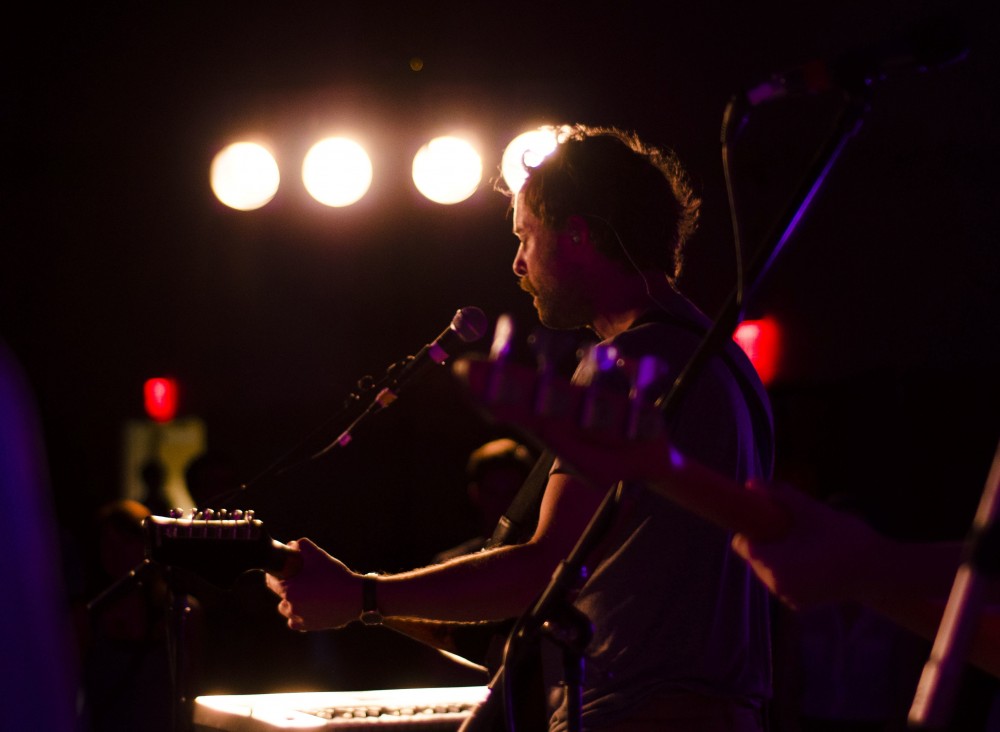 Here We Go Magic is a Brooklyn-based project that crafts a clever blend of ambient hypnotica and melodic indie rock." Starting as the lo-fi bedroom psychedelia of singer Luke Temple, it quickly grew into a four-piece group, earning recognition from NME, Pitchfork, and NPR. Their 2012 album A Different Ship, produced by Nigel Godrich (Radiohead, Paul McCartney, U2), was among Osprey Radio's Top 10 Albums of 2012 [January to June]. The Spinnaker sat down with three of the band members before their Oct. 7 show at UNF to discuss their creative process in writing music.
Q: As I understand, it was Luke who originally started the band, but you used to be a painter before you started writing music. Do you feel that your approach to music was somehow influenced by the approach you took to painting, as well?
Luke Temple: Sure, yeah. It's just another creative outlet. I think when I graduated art school I just started making more music than I did paint. When you're in art school there's kind of a womb for you to just focus on something, and that happened to be painting while I was there. And then when I moved out into the scary world and realized it was really expensive to do that and to get a studio and everything I just — music is more portable, so I just put all my creative energy into that and that's what sort of took over.
Q: I've noticed that your music seems to blend a lot of different styles. What has influenced you mostly?
LT: I mean, it's an ever-evolving thing. We tend to listen to music that has an emphasis on groove. Groove and kind of like fundamentals of what makes music good, so that's so open ended. Anywhere from Neu!, to Marvin Gaye to Crass, it sort of just covers the whole spectrum. Pete actually hips me to more music than anybody, he's kind of like, sort of a musicologist of sorts.
Pete Hale: When you're on tour you listen to music together, so we're exposing ourselves to music as we go around, but when we're actually recording or being creative we're not really listening to anything or ostensibly chasing some idea that we found from some other music. We get inspired pretty easily by very specific things that we all sort of respond to. It's a lot of things that people say that we sound like, we don't necessarily covet their resources or that music so much. It's funny how it ends up.
Q: Has the writing process changed since you've become a full-fledged band?
LT: Since we've been a band it's been the same kind of process. I'll come up with a song, a pretty loose structure, and when I present it to the guys it kind of invariably goes somewhere else. It sort of just takes the initial outline and creates something new. Sometimes we'll just jam and there will be the seed of an idea just from us improvising with each other and it will inspire an melody for me. Or I'll write a song and everyone will just kind of fall in. Sometimes it doesn't change much — just kind of keep it pretty simple. It's just like a lot of trial and error and very large sections of frustration and doubt and then little cathartic kind of happenings and then the songs kind of come out of those moments. It's just a lot of work and I think we play so much, we tour so much, that we kind of have developed a language with each other — not that's overtly conscious, it's just something that happened naturally based on the way we all like to play ourselves and sort of how we respond to each other. So the songs always have a bit of that same kind of lots of polyrhythmic stuff happening, but that's just something that we do naturally.
Q: So tell me specifically about your new record, A Different Ship, was there anything special about the writing about this album as opposed to this album as opposed to the others?
LT: Well we recorded it with Nigel Godrich who produces all the Radiohead records and he's produced Paul McCartney. It was a total coup that we worked with him because he just happened to see us play live at a show and really liked us. So working with him was a huge difference in so many ways, probably more than we have time to talk about. I think the clarity of it and the spaciousness of the record to a large extent was him and also Mike worked with him a lot in the mixing and editing of the record. He was really integral at like the sequence of it, the way it flowed, knowing what to leave in and what to take out. We've never had as focused of an efford before. We'd only made one other record before that, which was Pigeons, and we didn't really know each other very well at that point, so we were just kind of throwing everything at the canvas and just kind of seeing what stuck. And in the end that record is sort of really eclectic. Sonically also it's very eclectic. It's like each song has a different sort of tambre, production-wise. And this record is very fluid from beginning to end in terms of production. Working with someone like Nigel that's just going to happen. What's special about it is that it actually shows who we are clearer than ever.
Q: I'd heard that Thom Yorke was a fan of yours, actually. So, what can we expect from you in the future?
PH: More, you can expect more.
LT: It's going to get faster and faster.
PH: Louder, and then softer and then like incredibly soft, like inaudible.
LT: there's going to be a really quiet phase.
PH: We're going to make an inaudible record
LH: Like dog whistle music.
Mike Blotch: That only [Thom Yorke] can hear.
PH: Yeah, we'll make a record for Thom that's inaudible to everyone else. I don't know, we're just not going to stop, that's the only guarantee. We'll make another record and we'll go back on tour again.
MB: We'll be here long after this university's gone.
PH: (laughs) Yeah, the boathouse will float away, and you'll still be left with Here We Go Magic's next effort.
LT: But for real, I think that what we're always trying to do is capture what we do most naturally. And it's harder than you think to do that when you have the specter of an album looking at you in the face and you have deadlines and stuff, and you know that it's leaving this permanent imprint on the world. You feel like you need to make some sort of masterpiece or recreate yourself or something. And that's sticky ground because if you think too much about that stuff you're going to sabotage yourself. Our best moments are when we're sort of like carelessly kind of in between takes or during soundcheck when we feel really good and we're just jamming. Like in a show, when we're feeling really relaxed and we take it out somewhere and it really works. That's the place we want to get to when we make records. It just should be an extension of our lives as a whole. And I think rather than like 'This is the one. This is going to redefine the 21st century,' just kind of doing what comes the most naturally.
Email Mason McGough at [email protected]