UNF and Mayo Clinic to host the eighth annual Upbeat Pink concert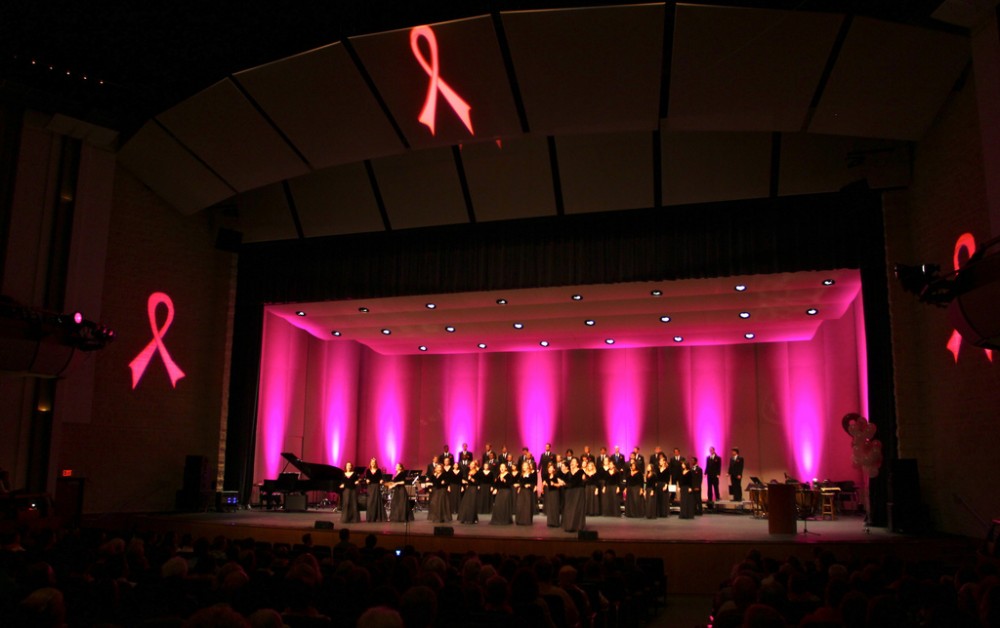 It's October, and October means that annual health campaign National Breast Cancer Awareness Month will be starting up events to increase awareness of the disease and to raise funds for research.
Coinciding with National Breast Cancer Awareness Month, UNF and the Mayo Clinic are pairing up once again for the eighth annual Upbeat Pink concert at UNF's Lazzara Performance Hall.
Dr. Gordon Brock, the wind symphony's conductor and creator of the Upbeat Pink musical tribute, is a music professor and director of bands at UNF. Brock also conducts the faculty chamber winds group and performs in the Florida Saxophone Quartet.
"UNF has a mandate for community outreach, so we thought, 'Well wouldn't it be an interesting idea for us to [create] an evening of music making that would engage an audience in a tribute to breast cancer survivors,'" Brock said.
Since then, Brock and the Mayo Clinic have held the Upbeat Pink concert for the past seven years with continued success.
Brock's wife, Shelly Brock, is a nurse practitioner of breast oncology at the Mayo Clinic. She said the tribute not only acts as a way to commemorate patients and survivors, but also brings the community together to enjoy the concert and have fun.
"We're so grateful to UNF, they do a great job and really go above and beyond," Shelly said.
The Upbeat Pink concert will feature performances by both UNF's wind symphony and the UNF chorale ensembles throughout the concert.
In previous years, the musical tribute has always had themes to go along with the concert. Past themes include, "A Night at the Movies," and "A Night in Las Vegas," including of a surprise appearance of Brock riding a Harley dressed as Elvis.
The theme for this year's program is "A Night on Broadway." The concert will feature popular songs from Broadway musicals by Andrew Lloyd Webber and Rogers and Hammerstein.
The final piece on the program titled, "Climb Every Mountain," will be a grand-finale compilation of the wind symphony and chorale ensemble where students and audience members sing words in the program about the fight victims of breast cancer experience during the course of the disease.
Brock said the event not only provides musical entertainment, but provides an opportunity for breast cancer survivors to share personal stories of their fight with the disease. It also allows people throughout the community to enjoy each other's company, as well as hear new updates about the Mayo Clinic's latest research.
"The connection is really obvious because music has a way of connecting with people not just aesthetically, but emotionally, and we can speak through the challenges that breast cancer patients have encountered," Brock said. "It's an opportunity for our students to give back to the community in a way that is really productive."
Brock said the most challenging part of the event is preparation. It takes a lot of work, requiring both Mayo Clinic staff and UNF students and faculty put in countless hours of preparation.
"It takes months of preparation for this one evening," Brock said. "People come to the concert and then go away feeling good about everything that has happened that evening."
Also helping to organize the event is Dr. Cara Tasher, who conducts the UNF chorale ensembles. Tasher currently serves as the director of choral activities and is an associate professor of voice at UNF.
Tasher said she is always looking to help philanthropically and found Upbeat Pink to be the perfect outlet after Brock invited the choirs to be a part of the event.
Tasher said she hopes students will attain a sense of the bigger picture through the event, and realize that they can impact their community and the lives of individuals through expressions such as music.
The Upbeat Pink concert acts as a prelude to the annual National Marathon to Finish Breast Cancer at Jacksonville Beach on February 17, 2013. At last year's event, the marathon attracted more than 10,000 runners from around the world.
Just as it has been in previous years, the Upbeat Pink concert is free and open to the public.
"It brings out a different audience than most of our concerts do," Tasher said. "We get patients and survivors from the Mayo Clinic, faculty, staff and doctors. I think it's a good way for UNF to get out there in the community, but also a good way for Mayo Clinic to give a tribute to their survivors."
Email Zach Sweat at [email protected]
The eighth annual Upbeat Pink concert will be held Friday, Oct. 12 at UNF's Lazzara Performance Hall at 7:30 p.m.