Highlights from Nov. 5 Senate meeting: Elections, appointments committee chair appointed, new senators sworn in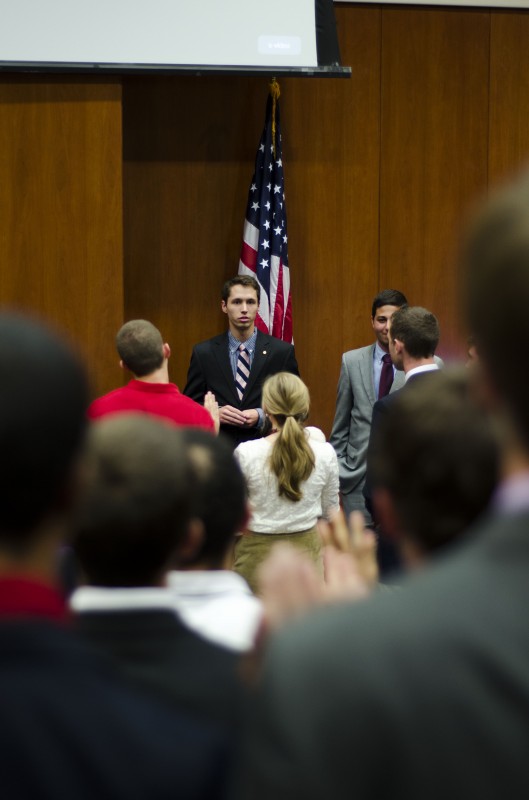 Elections, appointments committee chair appointed
Corey Amira, a UNF political science senior, beat out Kaitlin Ramirez for the elections and appointments committee chair with 22 to 21 votes. Andrew Salem also ran but lost a run-off vote to Ramirez, 22 to 20. The original vote gave Amira 15 votes, Salem 14 votes and Ramirez 14 votes.
New senators sworn in
Student Body Chief Justice Alex Goetz swore in the following senators: Steven Anderson, William Tutwiler, Jenny Morris, Adah Shair, Ryan Traher, Dylan Farrell, Meghan Cunningham, Corey Amira, Monica Bowman, Robin Brown, Heather Deyarmin, Bryan Jones, Crystal Pino, Morgan Wolf, Tyler Stovall, Jon Mack, Laudelino Garcia, Anthony Grego, Justin Turner, Jake Marshall, Nathanael Mercado, Shomari Gloster, Collin Waychoff and Yousra Hebeishy.
Aim Higher program
Student Body President Carlo Fassi announced the intentions of the Aim Higher program: to encourage at least 1,000 students to send letters to their representatives asking to increase funding for Florida state higher education. Florida is currently rated last in the United States in terms of expenditure on state higher education funding, and a further $300 million were cut last year.
Email Lydia Moneir at [email protected]