December's weird and wacky holidays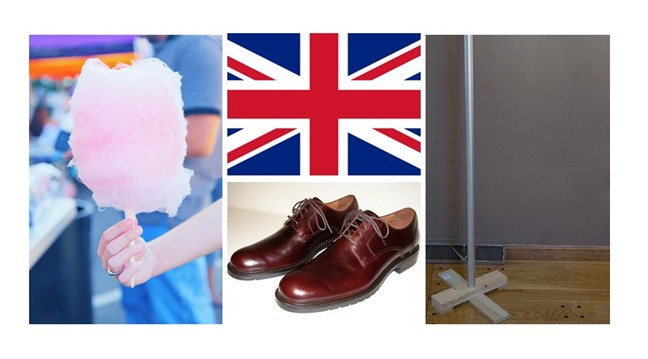 December is known for its holidays: Kwanzaa, Hanukkah, Christmas and solstice, too. There are, however, an entire realm of other not-so-commonly known holidays that take place in December that you can celebrate to transform a so-so day or night.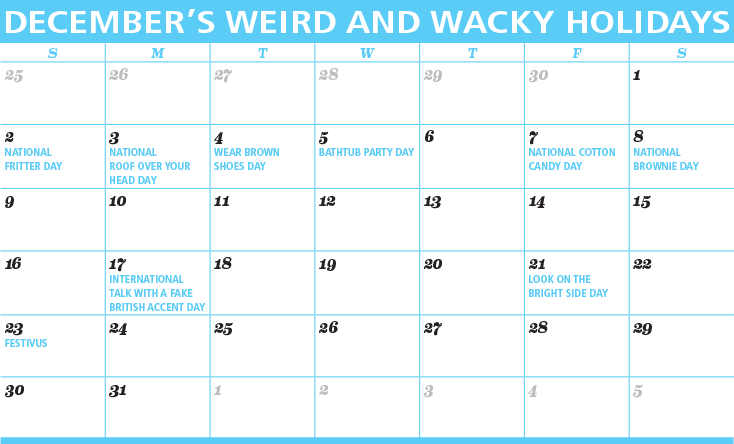 December 2
National Fritter Day
A fritter is a peculiar thing. Think of pancake batter, buttermilk or bisquick. Now take chunks of fruit, or even nuts, like cashews, and bathe them in the batter. Smother those morsels in a slathering so thick it could stop a Danish train to Denmark. Next, chuck those chunks of goodness in some hot oil, fry them until they're golden-brown, and voilà: Fritters.
December 3
National Roof Over Your Head Day
If this sounds like Thanksgiving to you, you are certainly an optimist. Just as it sounds, this holiday is about appreciating the fact of having a roof over your head and thanking whoever made that possible. It is also a good day to go help out with a Habitat for Humanity project. Or you can even visit a homeless shelter to help those who have not been as fortunate to celebrate having their own home.
December 4
Wear Brown Shoes Day
There may be nothing better than wearing a pair of oxfords. Wear Brown Shoes Day is open to many tones: mahogany, sorrel, cocoa and umber. A polished pair of wingtips can make a pair of feet look like smooth and sensible blocks of milk chocolate strutting up and down the street. This is a day to look classy and casual while the rest of the penny loafers sit around dumb and drab.
December 5
Bathtub Party Day
Draw your bathtub with warm water, filling the air with a moist, mollifying steam. You may want to add bath beads or bath oils before lighting a scented candle or two. Then simply let the air fill with the fragrance, mixing in the warmth and humidity as you begin slipping into your warm bubbly tub feet first until you are lying completely relaxed in the tub's warm bosom. Just no bath salts, please. The only thing worse than having the water go cold while taking a bath is hallucinating that the faucet has turned into a giant, metallic snake beast. That is no fun. No fun at all.
December 7
National Cotton Candy Day
If you ever find yourself with a cotton candy machine but without white paper cones, here's how you can get your fluffy sugar fix using only your hands.
You'll notice that the spinning conical part of the machine is similar to a weed-whacker slinging what feels like burning jellyfish tentacles. Wait for the whirling-sugar-slinging-cone of pain to stop.
Once it has stopped, feel free to snatch whatever cotton candy you can. One hand at a time, now. This is a game of reflexes; it's not about taking your time while the scalding hot sugar cools to your hands' liking.
Cotton candy is a gift, Ospreys, a tingly, fluffy, sometimes painful gift.
December 8
National Brownie Day
Brownies: one of those few things described as "orgasmic" that really has nothing at all to do with sex. Brownies come in all different forms, but you can pretty much guarantee they're all delicious. Most people would do many a filthy deed for a batch of rich, chocolate goodness still warm in a tin. Brownies are one of those baked goods that, if done right, can really make a whole day more fabulous. Now, don't go out and eat brownies all day, but make a batch. Maybe two. Have a brownie party; there's no harm in sharing. Unless, that is, those are double fudge brownies. Then sharing is out of the question.
December 17
International Talk with a Fake British Accent Day
Bloody hell! There's a whole day devoted to talking like a Brit. If you celebrate this day you might sound like a complete nutter, but if your friends get annoyed, just tell them they're full of rubbish. None of these Americans have got a clue about proper English, anyway, but they're on about it like they've just sat down with the Queen. Maybe have some tea or some bangers and mash and watch a football match on the tele. Just don't muddle your accents in front of an actual Brit, or you'll look like a real git.
December 21
Look on the Bright Side Day
Mayan apocalypse or not, Look on the Bright Side Day lets you see the sunnier, more pleasant state of the world while believers cower in bunkers, waiting for Nibiru to collide with the Earth. Just calm down, ladies and gentleman. It's not like they've cancelled 30 Rock or anything.
December 23
Festivus
Festivus is the only holiday on this list that is not ashamed to say it is made up. Made famous by a legendary episode of Seinfeld, the holiday is a counter-holiday against the commercial and religious aspects of Christmas. To celebrate, everyone gathers around an aluminum, "Festivus pole," tells how they have disappointed each other, and then the night ends with a fight between the head of the household and a challenger.
Email Jason Howard at [email protected]