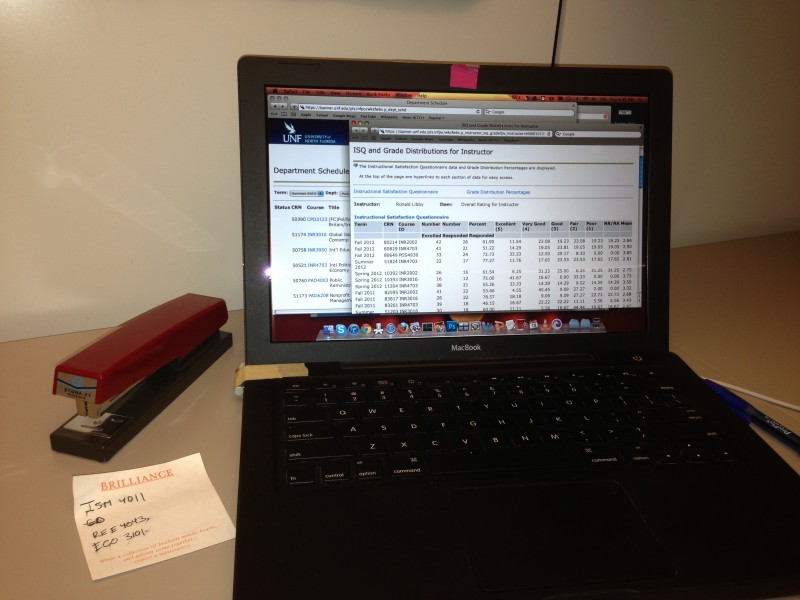 Ever wondered what happens to those professor assessments you fill out at the end of a semester?
Now those professor survey results and grade distribution data are available to UNF students through MyWings.
At the beginning of the Fall semester, Student Body President Carlo Fassi and Senate President Zak Varshovi met with leaders in Academic Affairs to push for student access to instructional survey questions (ISQ) and grade disbursement information.
Other universities, such as Texas A&M and Georgia Tech, already have this information available when students register for classes.
While researching, Varshovi discovered that much of the ISQ data could be found on third party websites.
Director of Academic Support Services Jim Owen said Student Government approached them with the idea to make the ISQ information more accessible during the registration process.
According to Owen, the information, compiled by UNF's Office of Institutional Research and Assessment, has always been available through MyWings. However, getting to it wasn't easy.
"The important thing is just to make it available," Varshovi said. "Because it's out there."
There were hurdles that had to be overcome before students could easily access the data.
SG presented many ideas on how to get the information to students, but Owen said some were not technologically feasible.
Fassi said SG and Enrollment Services looked at the registration process online and finally decided on using a hyperlink.  Now, students can view the information without leaving the registration page.
The whole process took around six months, Fassi said.
"We wouldn't be able to do this if we didn't have the entire Student Government working cohesively," Fassi said.
President of the UNF Faculty Association and UNF Board of Trustees member Gordon Rakita said faculty shouldn't be upset about the change since the ISQ data was already out there.
To browse the information, students can log into MyWings and select student self services, registration, and course schedule by department.  Here, professors' names are displayed as hyperlinks.
The UNF course catalog for Summer is currently online with ISQ and grade disbursement available for all departments.
Email Catherine Byerly at [email protected]