Students' voices heard in Tallahassee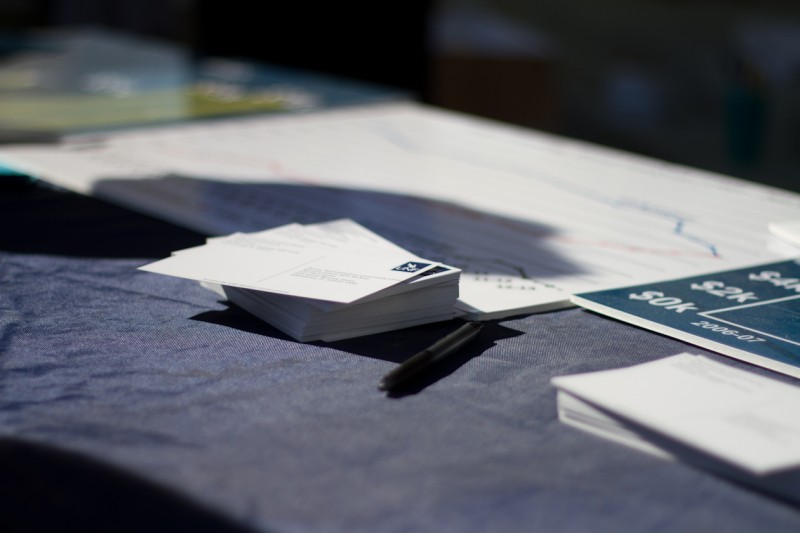 The words and signatures of over a thousand angry UNF students were delivered to legislators in Tallahassee last Wednesday.
The Aim Higher campaign's goal is to end budget cuts to state higher education, thereby preventing future tuition increases.
All 11 Florida state universities participated in Aim Higher day on Jan. 14, with the goal of getting 1000 students from each university to write a brief message to legislators.
Carlo Fassi, UNF Student Body President, said the schools felt the best way to get students to engage in the campaign was to fill out a brief postcard with their feelings about tuition increase.
Fassi said the campaign aims to keep tuition at what it is now instead of increasing 15 percent as it has every year since 2008.
Each of the 11 universities were set to deliver their postcards on different days. So far, UNF has delivered the most postcards, beating out schools like USF and UF.
"Education, in general, is a bipartisan message. Reinvesting in our schools shouldn't be an issue," Fassi said.
Fassi, along with other universities' student governments, will continue to lobby in Tallahassee on behalf of keeping tuition low. Fassi said he will continue to represent UNF students at committee meetings in Tallahassee until the end of his term.
"We are the future," Fassi said. "We will make Florida's economy when we graduate and we shouldn't graduate with thousands of dollars of debt each year. It's crippling."
The annual Rally in Tally taking place in Tallahassee April 3 will serve as a way to wrap up the Aim Higher campaign for this year.
Fassi said it will be to thank legislature for returning funding to state universities because he believes the campaign will be successful.
The Florida legislative session begins on March 23, but the final decision on state funding may not be till mid-April when Governor Rick Scott submits his budget.
Email Sarah Ricevuto at [email protected]