State of the Student Union
Carlo Fassi, student body president, delivered the State of the Student Union Monday night. Fassi outlined the accomplishments of student government over the past year and what they hope to acheive in the year to come.
The year began with senators working to create the University Affairs Committee and the Ospreys Against Tuitions Act.
The U.A.C is a committee that acts as a liaison between student government and the university administration.
Ospreys Against Tuitions is student governments stance against the annual 15% tuition increase. It manifested itself in the form of Aim Higher, a program where the 11 Florida state universities asked students to write to Tallahassee legislators about not raising tuition.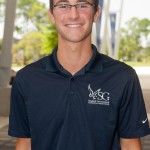 Fassi detailed the proposed college scheduler project. This would allow students with set time constraints, like work schedules or extra-curriculars, to input their schedule into a program which will then generate the optimum course schedule for them.
Fassi said that in the past year students and administration in student government have worked toward enhancing the UNF experience while remaining affordable for the students.
As of now, Papa John's has opened and Chik-fil-A will open Summer 2013. This is part of the Red Party's ongoing Campus Dining initiative. Fassi said better food choices will mean students will stay on campus to eat.
SG created an online grade database that will allow students to view the empirical breakdown of a class. The new database will be available to students registering for classes in the upcoming summer. Fassi said it was like rate my professor 2.0 but only for Ospreys.
Student government also succeeded in adding a Suntrust and Bank of America ATM on campus.
In the upcoming year, student government plans to have more discussions on making UNF a tobacco-free campus and housing for fraternities and sororities.
Fassi ended his address by saying student government plans to continue investing in the future of UNF while retaining affordability.
Email Sarah at [email protected]