Scoring in the dark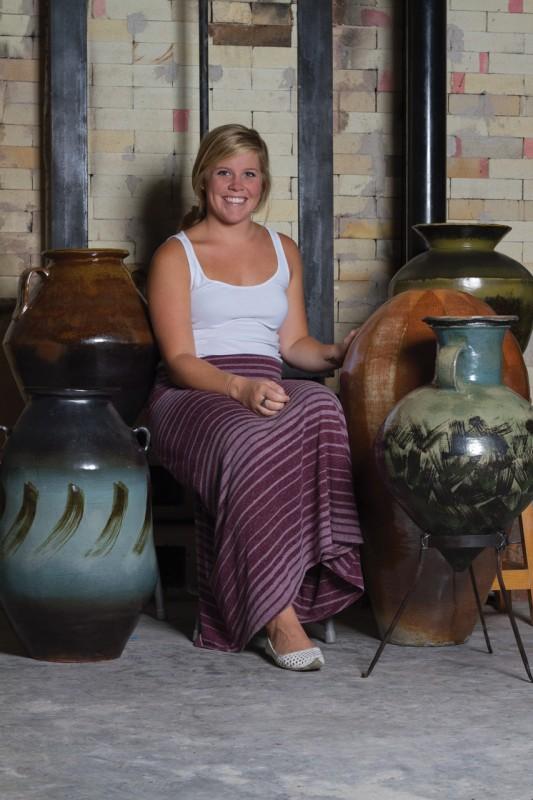 Logan Wall is a UNF junior majoring in fine arts with a concentration in ceramics. The Spinnaker's Randy Rataj sat down with Wall to talk about her art, what inspires her, and her future plans.
Randy Rataj: Briefly describe your work.
Logan Wall: Just large. I mean, these pots we have here are just big.
RR: How and when did you get into art in general?
LW: I always kept a sketchbook. I took all art classes in high school — my electives. I knew when I came to college I would switch to art. I just had to wait and see what it was.
RR: How did you end up in this medium?
LW: I'm not exactly sure. I took ceramic classes in high school and everything. And then I just decided to take it here one day because I saw [a pottery] sale in the student union, and so they kind of convinced me to take the class, and I got really into it.
RR: Where do you see your art going?
LW: I just got back from Italy study abroad, so I'm going to try and work some ideas I had while I was there into my next class.
As for bigger stuff, I am still going to keep doing it. I want to learn how to spin it on the wheel rather than building with my hands.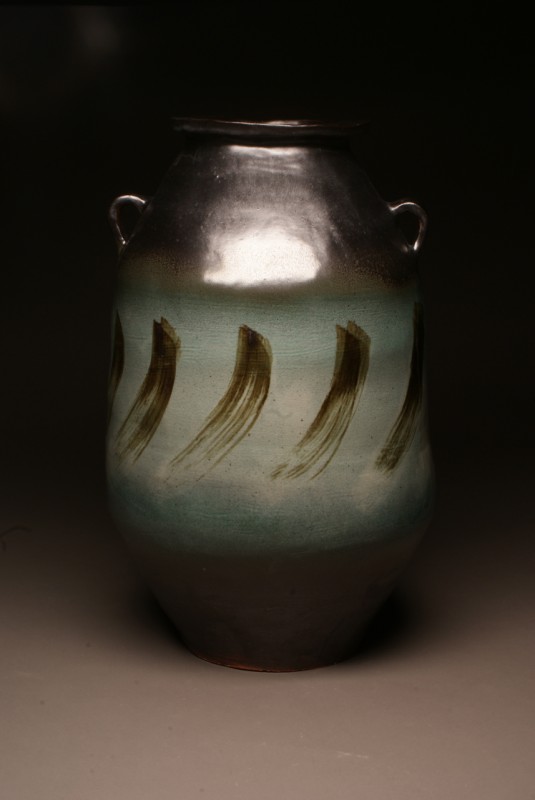 RR: Can you describe how you make these big pots?
LW: I make these with coils, which is a long rod of clay. I make a base out of a slab and I coil up and shape as I go. There is a lot of time in shaping and developing the form, and attaching coils is just how you build up.

RR: Who inspires you?
LW: This past semester we had a lot of visiting artists, and I think I benefitted from them a lot.
Adam Field was one. He does the traditional Onggi style pots; they're also large and coil-built. He inspired me to try it myself and, while he was here, I could ask him questions when I found problems that happened while I was building. So Adam Field was the biggest inspiration to me.

RR: What are Onggi pots?
LW: Onggi Pots are traditional, large pots for storing and fermenting kimchi [a traditional fermented Korean side-dish made of vegetables]. Adam Field went to Korea and studied there and mastered the art of Onggi pottery.

RR: Where can your work be seen? Has it been shown?
LW: It hasn't really been exhibited anywhere yet. I did just have it in the art department office — just decorating their office. And I'm hoping to get into some shows soon, hopefully go into Art Walk and submit to shows.

RR: What kind of music do you prefer when making your art?
LW: Sometimes in the morning, it's nice to come and — it sounds kind of weird — but listen to hardcore soundtracks like "Dark Knight" and other Batman movies, and Thor. Raj [a friend] and I don't turn the lights on and we just kind of sit and work to it.

RR: What do you gain from it, what's the purpose?
LW: It just makes it kind of more intense. We just sit there and it's before anyone gets there—either me and Raj or just me. I just sit in the dark so I can't really see what I'm doing which makes it a little more interesting. I get in the zone.

RR: Any closing statements about your work?
LW: There will be more of it, hopefully in shows. I'm looking forward to it.

Email Randy Rataj at [email protected]