South African jammers take visit to St. Augustine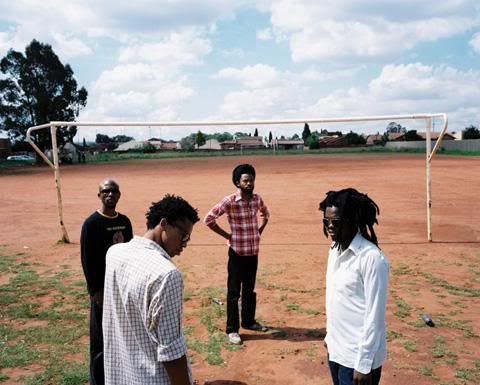 How in the world do four Johannesburg, South Africa-groove meisters land themselves all the way across the globe in folk-punk infested Bloomington, Ind.? Through the magical workings of Florida-based DJ Diplo, duh.
The DJ came to Cape Town, South Africa in 2006 and when he asked the locals what vernacular jams got their boots tappin', the overwhelming response led him to trek to Jo-burg and meet the funky quartet BLK JKS (pronounced black jacks).
Lead singer and rhythm guitarist Lindani Buthelezi said of Diplo, "More than anything, he's just a friend — not really hands-on with what's going on. He just put us in touch with certain individuals."
Certain individuals that eventually led to a story in the FADER magazine that went on to snag the boys a spot at the Bloomington-based label Secretly Canadian, to be more specific. The quartet dropped their debut album "After Robots" Sept. 8 and have been touring the states diligently in the meantime.
"After Robots" was recorded with the help of Brendan Curtis from Secret Machines in the little northwest town, so far from the sunny homeland the band was used to.
"The environment itself was so welcoming," Buthelezi said of Bloomington. "The weather was freezing but all four energies were sort of channeled into one particular, pivotal point so it made the relationships between each other easier."
BLK JKS is one whirlwind of a band, drawing influences from quite a prismatic array of artists ranging from African staple Busi Mhlongo to American staples Bob Dylan and Prince. Oh, and they sing in multiple languages … like, five.
"Between the four of us … there's different languages," Buthelezi said. "And there's this colloquial language, which is like a middle ground."
And then there's English. The banana's lexicon employed throughout the group's differing ditties can kind of make your head spin — in a good way.
Each member in the band comes from a different background, and with that background each come cradling a specific musical forte along with a native tongue to amplify.
The first track from 'Robots,' "Molalatladi" incorporates face-melting guitar solos, tribal backbeats and hints of dub to complete the multilingual tune. The opening of BLK JKS's arguably best-known song, "Lakeside," uncurls like some exotic flower blooming with guitar not too unlike the Animals' "House of the Rising Sun" spiked with bird chirps and all sung in English. It's damn near impossible to slap a label on something as complex as what freely flows from the kids' heads, but desperate rock journalists have most commonly pegged them as a TV on the Radio sound-alike. As suspected, BLK JKS ain't really down for the whole comparison thing.
"My thing is, we got shelves on the wall and it's like you need to put certain things in these shelves when you talk certain things and you talk certain styles," Buthelezi said.
However, when the band comes to shake things up in St. Augustine, don't expect to physically see every member of the band. Buthelezi detailed the fifth band member as a sort of energy or spirit that invigorates him with creative madness.
"We just call it The Visit," he said. "Growing up as a kid, all these fables about ghosts and The Purpose … there were a couple of ghosts and there was this one ghost that no one spoke of. [It was] hard to figure out why it was visiting, for the lack of a better word. We haven't found a name for it yet … You could call it a muse, yeah."
So far the group has yet to experience The Visit all together at once, but recently Buthelezi and lead guitarist Mpumi Mcata were graced by one in a hotel room.
"To experience it is super great because it makes the understanding between us better," Buthelezi said of the ethereal being. "We need to understand it first as individuals but as a collective, we're working on it. At the moment we are just trying to write the music that comes to us in this … thing."
As for the population digging on this poltergeist poetry?
"We're not trying to say one particular crowd is more receptive," Buthelezi said. "We just realize, 'OK, cool, people are into it.'"
Think you might be into it? Feel free to take the quick tricycle ride down to St. Augustine Oct. 7 when they play Cafe Eleven.