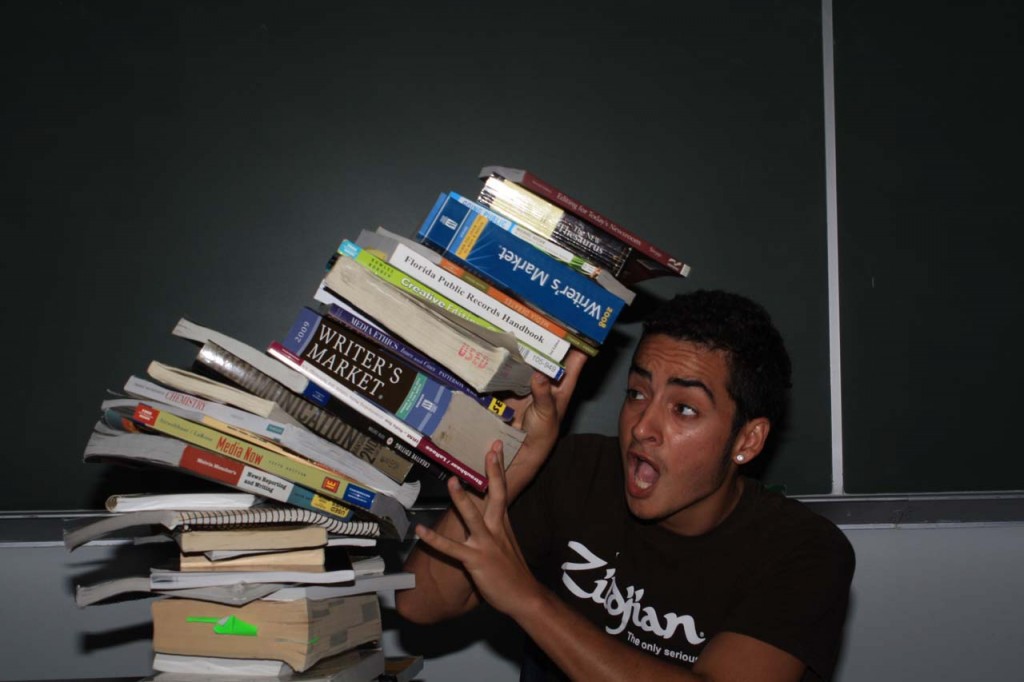 Nobody likes buying textbooks. They're big, sometimes heavy, usually not fun to read and, most importantly, expensive. Some students buy their books at the UNF Bookstore, others buy online and some don't buy them at all. Now UNF is faced with a dilemma: buyer's choice or lower cost?
When it comes to textbooks, cost is a burden to students.  Caroline Avery, Course Content Manager, estimates freshmen spend around $500 on textbooks per semester.
Traditionally, students cover this cost through financial aid or out of pocket, using the bookstore or other online sources, such as Amazon.
IncludED, a new system being discussed, could give students a new approach to textbooks.
IncludED is a program offered through Follett, which is the course material distributer for the UNF Bookstore. The program would factor the cost of textbooks into tuition or fees.
While tuition or fees would go up, cost of course materials would go down for students who purchase textbooks at the bookstore. Students would no longer have the option to share books or forego purchasing materials.
Sage Neese, psychology sophomore, said she shares books with classmates in 30 percent of her classes.
"It's hard to pull all the funds together, being a poor college student," Neese said.
Joseph Lucca, Associate Professor, said, in his class, it isn't necessarily the textbook that is required, but the readings.
Lucca's requirements make sharing books more viable for students.
Under includED, students like Neese and Lucca would not have this option.
Follett works with book publishers to get the best price for large quantities of books. IncludED prices would be about the same price as students would find on Amazon or other sites, said Tully Burnett, Director of Business Services.
Burnet said that includED is more convenient to students than online shopping. Students have the benefit of returning or exchanging the book during add/drop week without paying shipping fees, Burnett said. Students are also guaranteed to be getting the same edition the professor requires, saving potential time in misunderstanding.
Students like TJ Broxton, international studies junior, understand the inconveniences of buying online.
"I ordered two [books] online and they never came in," Broxton said, "So I just got my refund back and I've been winging it."
IncludED is being considered as a course-specific program targeting the courses requiring materials, such as general education classes, Burnett said.
UNF isn't the first school to examine includED. Follet is exploring this option with 80 other schools and has already applied it to six, according to the Follett website.
The University of Florida is doing a pilot for an international business and chemistry class, said Lynne Vaughan, UF Bookstore Director.
IncludED is only being applied for the digital component of course materials at UF, Vaughan said.
What about the students who don't purchase materials due to cost?
Jay Thomas, in the Bookstore Advisory Council (BAC) agenda, said a third of students take a class without ever purchasing course material. IncludED would force students to have materials for certain classes.
Daniela Martinez, nutrition senior, is one of these students.
Martinez said she's discovered alternate sources for textbooks. These sources include downloading and sharing materials.
Although Martinez rarely buys the required texts, she said she would like a system like includED. Materials would be one less thing to worry about.
"A lot of times I'm having to worry about bills and my financial aid," Martinez said. "It adds up."
Broxton, on the other hand, said he prefers the option of not having to purchase the materials.
UF students participated in a survey concerning includED and the results were positive, Vaughan said.
Despite student preferences, 93 percent of professors think having the course materials is essential to making better grades, said Thomas in the BAC agenda.
Vaughan said she would like to see a survey at the end of the semester at UF to see if grades were higher in classes where students were forced to have course materials through includED. She anticipates the scores will be higher.
However, implementing includED doesn't come without its own set of barriers.
Questions of how to incorporate the cost of course materials into tuition and fees are a concern. There is state statute regarding what can be called a fee. It is still in the talks on whether or not course materials could be labeled as a fee, Burnett said.
Burnett predicts includED has the potential to be implemented as early as Fall 2014.
Currently, many students use financial aid for expenses. In 2010-2011, the amount of financial aid awarded to students was $169 billion, according to the US Department of Education.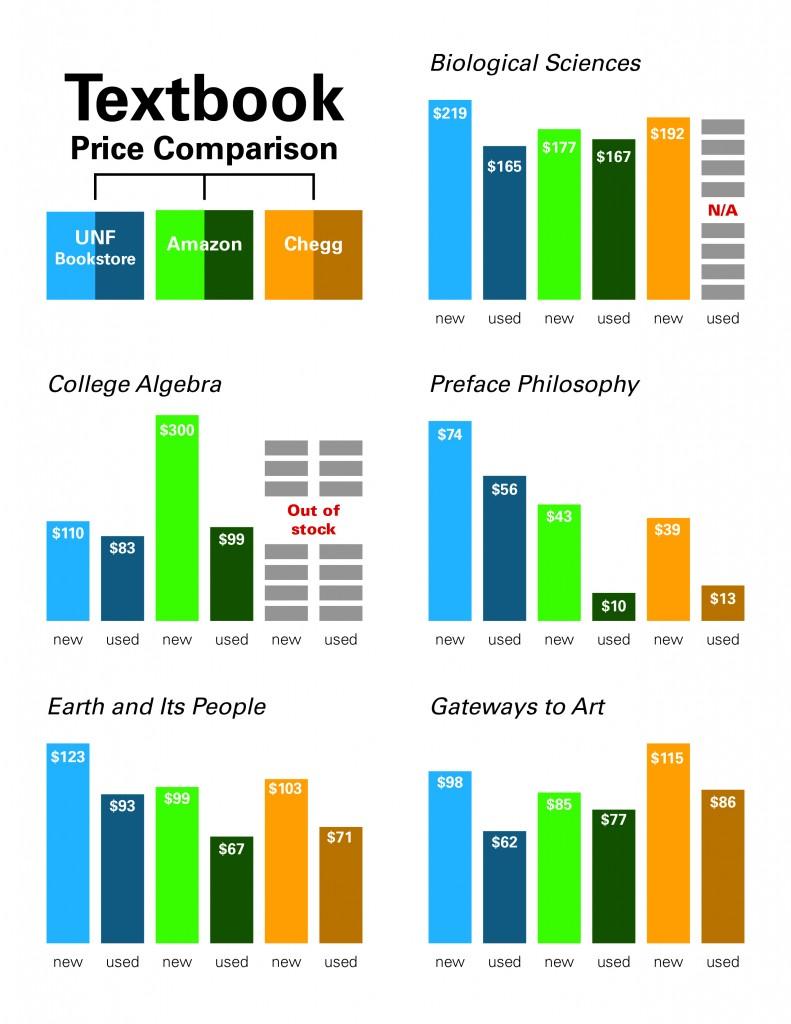 In the BAC agenda, Suzanne Holder said bookstore sales were down $200,000. During that same year, $220,000 less financial aid was awarded to students than the previous year.
Anissa Agne, Director of Financial Aid, said most forms of financial aid cover textbooks if a student has excess after tuition and fees.
"We issue students bookstore authorizations, which is saying you have a credit," Agne said.
Agne said if the credit doesn't get used by the end of add/drop week, the money will get refunded to students a few weeks later. By that time, many students are already in need of the book. The option of waiting for a refund and finding the book elsewhere becomes more challenging.
Students are still finding ways around bookstore prices.
Luke Houle, history senior, buys his books off of Amazon and waits for financial aid to pay him back, a decision that may well be worth it. Direct Textbooks, a textbook price comparison service, estimates college students could save $2,250 over the course of four years by taking advantage of online tools.
Online tools, such as Amazon or Chegg, that give students more options raise the question of how much longer the bookstore can survive.
An original contract with Follett was signed in 2001 for ten years. Follett then donated $2.25 million to help fund the Student Union. The contract was extended for five additional years.
"How much longer can we have a physical bookstore that will work?" said Rob Waltner, Chair of the BAC.
A change in trends decreases the need for a physical bookstore. Holder said, digital sales were up 347 percent in 2012 , compared to the previous year.
"There is a trend, even in our bookstore, moving towards e-books," Waltner said, "It's the convenience factor."
There is a cost reduction associated with e-books.
Digital sales saved students $48,000 last year. While this is still a small figure in comparison to used textbooks savings of $583,000, it is a figure that is expected to grow within the next three years said Thomas in the BAC agenda.
E-books are also cheaper for the publisher to produce. The New York Times calculates book publishers are left with $4.05 after taking into account paying the author, bookseller, marketing costs, typesetting, copy-editing and cover design. In comparison, e-book publishers are left with anywhere from $4.56 and $5.54 after accounting for similar expenses.
Another factor to consider: competition.
Comparing the bookstore, Chegg and Amazon, there is a variation of prices comparing to the bookstore. Chegg and Amazon give students the same options of buying new, used or renting available at the bookstore.
Whether the answer to textbook cost is includED, going digital or using online sources, textbook trends are shifting.
Email Noor Ashouri at [email protected]