UNF track athlete found dead in dorm
[nicevideo link="http://www.youtube.com/watch?v=Kox3pmXPg6k"]
Abraham Noel committed suicide in his Osprey Hall dorm room this morning, according to UNFPD.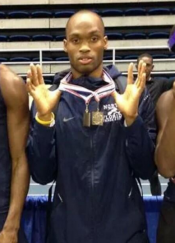 Noel, a 20-year-old communications junior from Fort Lauderdale, was a member of the men's track and field team.
According to an Osprey Update released by the university's Public Relations department, a track team assistant coach requested a wellness check for Noel this morning.
 The coach had not heard from him in two days and wanted to make sure he was okay. After several attempts to reach him, housing staff entered his room and found his body this afternoon.
Sharon Ashton, Vice President of PR,  said no one has said anything about him acting abnormally leading up to this. Ashton could not release details about the nature of the suicide, but confirmed it and said the signs were obvious when the room was entered.
Grief counseling is available to students, faculty, and staff at the UNF Counseling Center by calling (904) 620-2602 or by going to the counseling office in Building 2.
Ordinarily, the Spinnaker would not report the cause of death in the case of a suicide unless the victim is a well-known public figure or the death was very public. In this case, because the university released the cause of death in updating students, the Spinnaker is doing the same to avoid confusion.
Email Tiffany Felts at [email protected]
 The video accompanying this article was updated at 11:00p.m. on April 23rd, 2014.
Grief counseling information was added to this article at 3:00p.m. on April 24th, 2014.