John Morgan pleads for student votes on Amendment 2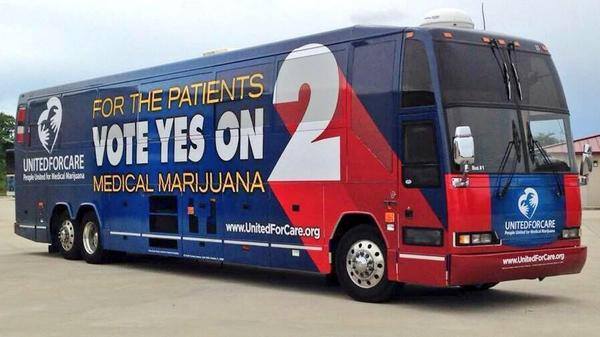 John Morgan, of Morgan & Morgan, compared his state-wide campaign to a Johnny Cash song.
"I've been to so many little towns and political forums and honky tonks," Morgan said. "Raising hell and telling the truth."
Morgan, a well-known attorney, is the money man and biggest champion behind the push to legalize medical marijuana in Florida.
He pulled up to UNF on Wednesday, Sept. 17,  in a tour bus parading the phrase VOTE YES ON 2 across the side.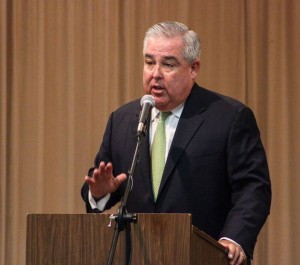 But unlike Johnny Cash, when Morgan stepped off the bus, he wasn't met with screaming fans. In fact, the student turnout was pretty weak. According to a student, only about a dozen showed up for the forum, hosted by the American Civil Liberties Union of Florida at the Herbert University Center.
When asked if he thought the ACLU did a good job informing students of the forum, he responded, "I don't know. You didn't know about it, did you?"
Lisa Bruno, president of the Northeast Florida chapter of the ACLU, said some fliers were posted around campus promoting the event and sociology professor, Dr. David Jaffee, helped spread the word by informing his classes about the forum.
Bruno said she contacted the UNF ACLU Club, but they're down to one member, and could not really help out.
Morgan told Spinnaker Media his biggest worry right now is students not going out to vote.
"If students vote, we'll win. If they stay home, we might lose," he said. Amendment 2 is on the ballot for Nov. 4.
When asked what he would say to make a student go out and vote, he replied, "I would tell them that I appreciate their disgust with politicians, but this is a vote for our next door neighbor, maybe even for each other."
He said if the amendment is passed it would benefit about 300,000 to 400,000 people. He said people with cancer, ALS, glaucoma, epilepsy and HIV would all benefit from medical marijuana.
Morgan said getting this amendment passed is personal for him. He's invested $4 million of his own money, and just launched a million dollar social media campaign geared toward young people.
"My brother is a quadriplegic and uses marijuana every single day," he said. "If my brother didn't have marijuana, he would be a zombie on all the drugs they would like him to take."
"The good that will come from this is well worth the inconvenience of taking an hour out of your day to vote," he said. "This isn't a political issue. This is an issue of compassion for each other."
Email Blake Middleton at [email protected]