New highs reached in win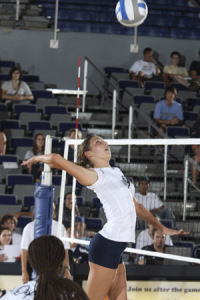 The UNF volleyball team defeated Atlantic Sun Conference rival Campbell University with help from sophomore middle blocker Kaley Read's fifth double-double of the season.
Read finished with a match-high 23 kills and a career-high 24 digs to lead the Ospreys to victory.
The Ospreys won 3-1 (25-21, 27-25, 21-25, 26-24) to the Camels Oct. 4.
UNF (7-7, 5-3 A-Sun) snapped a four-game losing streak and recorded its third four-set victory
this season.
Read earned a .341 hitting percentage and tied the match high with four blocks. Senior middle blocker Bary Rasmussen contributed 11 kills.
"We played consistently and really pushed ahead toward the end of the game," head coach Kevin Campbell said. "Campbell fought really hard, but we outmatched them offensively. It wasn't our best match, but it was good to get a win and play consistently together."
The Ospreys controlled the majority of the match and never trailed the Camels by more than four points in any set.
In the first set, Read recorded six kills and a .400 hitting percentage. Campbell cut UNF's lead to 16-14, but the Ospreys refused to let the Camels get any closer as UNF outscored Campbell 9-7 the rest of the way and took the first set.
The Ospreys led 17-14 in the second set until Campbell took a 24-23 lead. UNF went up 25-24 after consecutive kills by Read and then took the lead 26-25 because of another kill by Read.
Rasmussen and sophomore outside hitter Danielle Lerch teamed up on the next point to throw down a block and give UNF the 2-0 match advantage to win.
UNF failed to close out the Camels in the third set but recovered in the fourth and earned the victory, in part because of a combined nine kills by Read and Rasmussen.
The Ospreys quickly pulled away with a 20-13 lead in the fourth set, but the Camels came back to tie the score at 24. Faced with the opportunity to win the match, UNF accomplished the victory due to back-to-back kills from Lerch and freshman outside hitter Shauna Metcalf.
Sophomore Madie Belvin earned 48 assists, which was a season-high for a four set match. Freshman defensive specialist Julie Fye tallied 12 digs, while junior outside hitter Agata Dawidowicz contributed 10 digs and three blocks.
The Ospreys travel to Deland, Fla., Oct. 10 to take on Stetson University and will take on Florida Gulf Coast University Oct. 11 in Fort Myers.
E-mail Matthew Hersch at [email protected]