Car stalking will no longer be necessary in order to find a spot in the UNF Arena parking garage.
Parking Services is installing a new system to make parking easier and it will be ready by the end of November.
Director of Business & Parking Services George Androuin said a ground sensor will be placed at each level of the student parking floors, and will track cars as they go in and out of the area.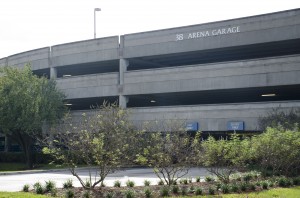 Androuin said the sign showing the number of spots available will be on the grassy median area outside of the garage, and can be seen from the road. He said this is to eliminate unnecessary traffic through the garage.
"Installation of the sensors will not inconvenience students," Androuin said, "because Parking Services is working with the installation company so they only work on the weekends."
Tiffini Anderson, psychology senior, said she thinks the arena parking garage is the best place for the sensors because that's where the most traffic is present.
Installing monitors in the Arena garage is costing $53,795, paid through the Parking Services' fund balance.

According to Androuin, there are no plans to expand the project to other garages until Parking Services deems this trial a success. If it is, he said the only other area he could think would benefit from this system is the Fine Arts Center Garage.
Androuin said the ultimate goal is to have a sign at the main entrance of campus to tell students the best places to park.
Email Kayla Davis at [email protected]
 *10/15/14 at 6:20 p.m. – updated with the cost of installation