British humor gets lost in Americanized movie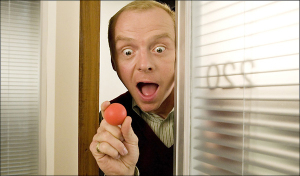 In the latest book to movie adaptation, "How to Lose Friends and Alienate People," Simon Pegg plays Sydney Young – a rude, cocky loathsome Brit celebrity journalist who comes across the pond to work for a magazine. His only interest is to make it past the red ropes and mix with the Hollywood A-list.
The plot is loosely based on Tobey Young's memoir, and as someone who read the book before the movie was even put into production, I can honestly say the movie doesn't do the book justice.
The print version is full of typical British humor – eccentric characters, satire, self-deprecation, sarcasm, nonsense and puns that are not easily translated into American English.
However, the movie trys to change all this to appeal to the American viewer, and it fails miserably. There are a few funny scenes here and there, but overall the movie is filled with embarrassing moments that make the viewer want to slap some sense into Sydney.
The movie is certainly entertaining and filled with excellent stars, but it elicited more groans than laughs.
Simon Pegg became known for his roles in "Shaun of the Dead" and "Hot Fuzz," but this time he missed the mark.
In the book, Sydney is supposed to be fearless; he ignores all rules of etiquette and journalistic protocols and does things his own way.
The movie Sydney portrays the same traits but sells out at the end. He resorts to nudity and potty humor to make the audience laugh. A movie that should be a comedy masterpiece falls into a cheesy romantic comedy pit.
One thing that makes the film worth watching is the supporting characters.
Kirsten Dunst plays Alison Olsen – a funny, quirky, charming and charismatic small town beauty who came to the Big Apple with big dreams but has forgotten them.
Megan Fox does a great job playing a sexy and ditzy up-and-coming Hollywood starlet named Sophie Maes, strongly reminiscent of Marilyn Monroe, who coincidentally is one of Fox's idols.
But it is Jeff Bridges who really steals the show. Bridges plays Clayton Harding, the editor of the magazine Sydney works at, and he is simply hysterical. His character is a jaded, no-nonsense editor who often uses complicated metaphors to explain his views.
Perhaps this film will play better in England, where audiences can pick up puns that are invisible to Americans. But for those in the states, it's hard to think of Sydney's stupidity and ridiculous arrogance as comical.
E-mail Adriaana Plasenci at [email protected]