UNF alumna Tracy Darakis survived another week on ABC's The Bachelor. Bachelor Chris Soules gave roses to Darakis as well as 17 other women on Jan. 12's episode to continue into week three.
Along with four girls leaving the mansion, this week's episode included first kisses, tractor racing in downtown Los Angeles, drunk twerking, a helicopter ride through the Grand Canyon, and zombie shooting with paintball guns.
There are three date cards per episode: an initial group date, a one-on-one date and a final group date.
The first date card read "Show me your country," followed by the names of six contestants to accompany Soules to a pool party and tractor racing in bikinis and cowboy boots. After the race, Soules chose to send five girls back to the mansion, but asked Mackenzie to continue the rest of the day with him. She accepted and was later given a rose.
The second date card for Megan Bell, a 24-year-old make-up artist from Nashville, Tenn. read "Love is a natural wonder."
"Megan has it really good right now," Darakis said. All of the girls seemed jealous of Bell for being chosen to be the first official one-on-one date of the season.
The date consisted of a private plane ride to Las Vegas. The couple then took a helicopter to the Grand Canyon where they savored an unforgettable view. Bell shared a story with Soules about how just three days after she was called to interview for the show, her dad passed away after suffering a heart attack. She worried about leaving her mom after the funeral, but she was told to take a leap of faith and follow her heart.
Before giving Bell a rose, Soules told her how strong she was and how it was the "perfect day with the perfect person."
The final date card read "Til death do us part," followed by 11 names, including Darakis'. This date was unlike any other in the ABC reality show's history. The girls, along with Soules, used paintball guns to fight off actors dressed as zombies. Chris cracked a joke afterward: "You girls really killed it today."
Following the zombie attack, the contestants took turns speaking with Soules. The Bachelor seemed swept away by 29-year-old contestant Kaitlyn Bristowe, stating, "Firecracker. What the hell is she doing here for me?" He gave her a rose, making the possibility of elimination a reality for the others who had not received Soules' token of admiration.
During the rose ceremony, contestant Jillian Anderson misheard Soules and tripped over a rug after she realized he had actually called for Juelia Kinney to accept a rose. Four contestants were eliminated.
Darakis, along with 17 other contestants, received roses and will continue to compete in an effort to create a lasting impression on Soules next week.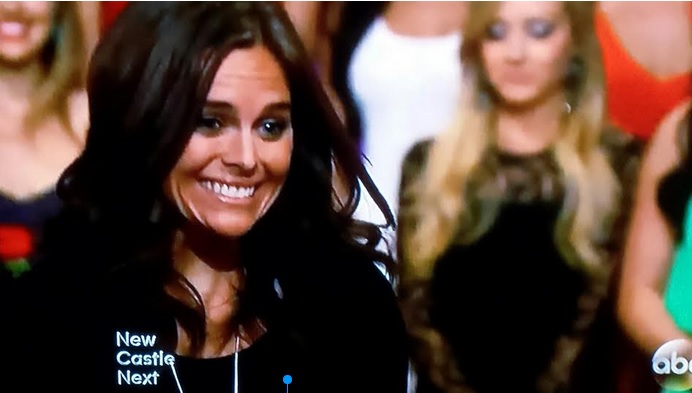 —
For more information or if you see an error in this story or have any compliments/concerns, contact Justin Belichis at [email protected].