Blue and pink clouds puff from the crowd of students. The vibrant pigments powder students wearing sunglasses, visualizing the brightness of diversity. It's a playful war with happiness and laughter fueling the battle. The lively tints of dust unite a colorful crowd of students.
The Osprey South Asian Association and the Interfaith Center hosted Holi — the Hindu festival of color — on a sweeping patch of green Saturday, March 7 at the UNF Amphitheater. President of the South Asian Association Kaitlin Ramirez kicked off the event by telling the crowd the origins of the Holi festival.
The annual festival celebrates the spirit of springtime and love. The event is celebrated the day after the full moon of the Hindu month of Falgun. Holi commemorates several events in Hindu history. It is the least religious Hindu festival and families usually attend a public bonfire, spraying friends and family with colored water.
Students enjoyed explosions of color while DJ PackJamz queued popular Indian jams and The Fifth Element served fresh curry and naan bread to participants.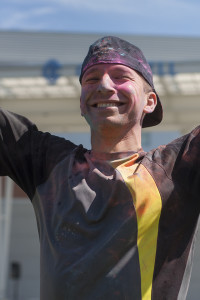 Many of the students were first time participants, including astrophysics and computer science major Abubakr Hassan. Hassan never heard of Holi, but the name reminded him of the 'Holli' in 'Hollister.'
"It's a good opportunity for us to have fun," Hassan said. "But the first thing I'm going to do [afterwards] is take a shower."
He mentioned this, and other similar events, are opportunities for students to break the monotonous cycle of studying — giving students a chance try something new and different.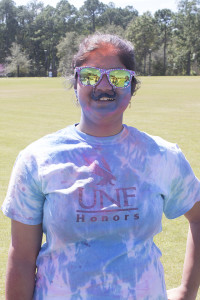 A large group of students started a dance circle and two students in particular looked like it wasn't their first time celebrating Holi. Riya Gharat, computer science major,  is from Mumbai and Sheina Costa, interdisciplinary studies major, is from Goa — two regions of India that celebrate the festival on a national level.
The ladies said the event reminds them of home and agree that Holi in India is slightly different — it's bigger and crazier.
"Normally we would celebrate at a temple, but the fact I can do this on campus with so many people is amazing," Gharat said.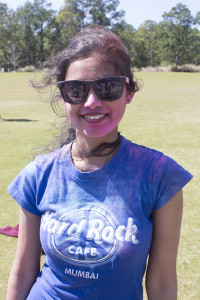 "Anybody throws color on anybody," Costa said. " You don't have to know anybody. You're just spreading love and happiness everywhere."
Bhang is a milk tea made for Holi festivals in India, traditionally made with marijuana and flowers. When asked what its ingredients are, the two said they didn't know. "That's something you don't [ask] your mom," Gharat said while she laughed.
The two students joined a circle of students dancing round, holding each other's hands in harmony until it dispersed like the colors dissipating into the sky.
Gallery photos by Morgan Purvis
[doptg id="145″]
—
For more information or news tips, contact [email protected]; if you see an error in this story or have any compliments or concerns, contact [email protected].