In Vince Staples' Summertime '06, the living is anything but easy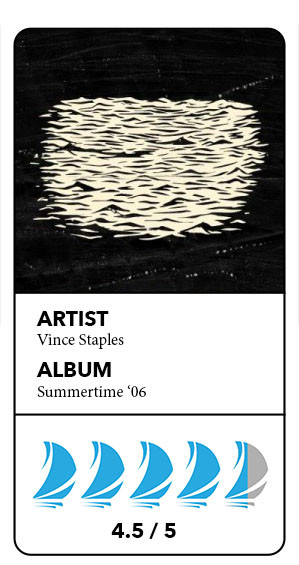 After a 2014 with few triple-A hip-hop releases, it's clear we are in the midst of a stellar year for the genre. Kendrick Lamar infused an entire African-American experience into To Pimp a Butterfly, a remarkably dense work that critics and fans will continue to unpack for years to come. Drake broke a dozen records and launched a couple of memes with If You're Reading This It's Too Late, proving that fans are willing to pay for a mixtape. And even as Odd Future fades from relevance, both Tyler, the Creator and Earl Sweatshirt delivered definitive artistic statements on their latest LPs, Cherry Bomb and I Don't Like Shit, I Don't Go Outside, respectively. And if this still isn't enough, we've also been promised albums from Kanye West, Migos, Lil Wayne and Run the Jewels, although some will likely come more quickly than others.
Hip-hop in 2015 has seen established titans and promising new voices duel for relevance and success. It's a crowded field. So how do you make yourself stand out? For Long Beach, California emcee Vince Staples, the answer is to simply be real, to tackle the common subject matter of rap – drugs, violence, life in the ghetto – without the glamorization that usually mars it. On Summertime '06, his debut album on Def Jam Recordings, he does this by going dark. Very dark.
Within the album's two sides are cynical, pessimistic tales of the street above some of the grittiest, dirtiest production to ever grace a major label album. Producers No I.D., Clams Casino and DJ Dahi create dense, bleary, sinister beats that recall both the post punk and industrial music of the late '70s and the synth-heavy, sci-fi inspired production pioneered by Run the Jewels' El-P around the turn of the millennium. Imagine if Nas had kept the gritty tone and minor key of "N.Y. State of Mind" consistent across Illmatic, or if Yeezus had been given an extra disc to come down and rust. The societal breakdown warned about in works like "Escape from New York" and Godspeed You! Black Emperor's "The Dead Flag Blues" is literalized: we are trapped inside a machine of death and violence, and all we hear as it bleeds to death are the beeps and squelches of grinding metal and broken sirens.
Why so dark? In interviews, Staples has criticized the rest of the rap game for trivializing the gangster lifestyle. He believes that rappers, by turning murder and drug dealing into circus fare, are telling elaborate lies, ignoring the cycle of violence and subsequently endless death toll. "Every song on the radio right now is about selling cocaine and killing people," he told Pitchfork last year, "but that's not what you hear from it, so in your head that becomes OK." Further in the interview, he compares the country's attitude toward urban music to a zoo: we look inside and enjoy the animals, but we wouldn't want to be inside with the lions. This same mindset appears on "C.N.B." – "They greet, defeat us, bleed us, then they leave us for the vultures" – and emphasizes the systematic racism that created the ghettos leads those trapped within to "Hide the fear behind this here bravado."
Everything about Summertime '06 is meant to evoke this anxiety, even the Future-sampling radio single "Senorita," with its horror-movie piano theme. It's an extremely effective approach, with both the rhymes and beats heavily emphasizing the dread and terror of the hood, and the selective deafness that causes us to hear the gangster exploits without considering the implications. Staples gives absolutely no credence to the idea that it's fun there, something no rapper or rap group has attempted with as much success in quite a while. Even the horrorcore of Gravediggaz and Three 6 Mafia gave into the thrill of crime just a little, but Staples is adamant. Life in the ghetto is hell, and all you get from selling drugs is dead bodies. That's it.
So how do you enjoy something so dark, so obsessed with reality, if you can't even give yourself over to the perverse thrills usually found in rap? How can you enjoy an experience where all the money is dirty, and all the murders come with guilt? Simple: the album is just very, very well-made. The production is professional, crisp and full while maintaining a sense of dirtiness and grime. Staples himself is a masterful MC, exhibiting a flow that's as mature and skillful as an episode of "The Wire." Summertime '06 isn't simply one of the best rap albums of the year; it's one of the best releases of 2015. No matter what horrors await inside, it's too profound to ignore.
—
For more information or news tips, or if you see an error in this story or have any compliments or concerns, contact [email protected].