Yellow tops Red in close, record vote; late endorsement from United Ospreys pivotal in win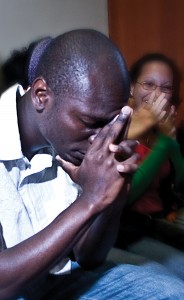 In one of the most competitive Student Government presidential elections in UNF history, the Yellow Party ticket of Sitou Byll-Cataria and Giovannie Medina edged out their Red Team Party counterparts Tom Blanchard and Laura McGregor by three percentage points.
A scant 111 votes separated the Yellow and Red presidential tickets out of a record 3,610 votes cast, as Byll-Cataria and Medina clinched a plurality victory.
The United Ospreys Party presidential ticket of Mike Saathoff and Brandon Alanis finished a distant third in the balloting.
The SG Senate Chambers buzzed with anticipation April 1 as representatives from all parties awaited the elections results.
Following the announcement of Yellow's victory, Byll-Cataria immediately put his hands on his face and looked to the ground while remaining seated.
"I couldn't smile, I couldn't cry. It was just black in my mind," Byll-Cataria said.
Blanchard walked over to Byll-Cataria, hugged and congratulated him.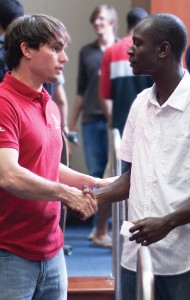 "At the end of the day, it was all worth it, and I am happy for Sitou and Giovannie," Blanchard said.
Byll-Cataria promised to work hard for the entire student body, but said he needs student support and input to be successful.
"Everyone has to be behind us and work with us every day, not just the people who voted for us," Byll-Cataria said.
Byll-Cataria said he will consider the election a victory only after his term is over, and he can look back on his accomplishments and failures.
The next occupants of the SG Executive Branch met in January and like the rest of the Yellow Party, forged a friendship through the vigorous campaigning process.
"We were literally a group of strangers," Medina said.
Surprise endorsement swings election
Although the election began as a three-party affair, it didn't quite end that way.
On March 31, Saathoff arrived on campus sporting a yellow polo shirt and handing out fliers for the Yellow Party presidential ticket.
Alanis and the rest of United Ospreys followed suit, joining forces with Yellow and campaigning for Byll-Cataria and Medina.
Though Saathoff and Blanchard, who exchanged pointed words at the Center for Student Media presidential debate March 8, didn't agree on much during the campaign, they both believe the United Ospreys endorsement proved decisive for Yellow.
"I think that if we did not do that, [Yellow] would not have won," Saathoff said. "We were splitting votes I'm sure, because we were pulling from the same voter pool."
Blanchard also said Saathoff's endorsement probably swung the election to Yellow.
Saathoff said it was a difficult decision to endorse Byll-Cataria and Medina, his erstwhile opponents.
"I think I balled my eyes out four times during that morning but I tell you what, it was a decision I made not for Mike Saathoff, it was a decision I made for the student body," Saathoff said.
Saathoff denies any quid pro quo is in the works and said he endorsed Yellow because he thought it was the right thing to do.
"My whole thing was trying to make sure the right people got into office, and whatever they want to do is what they want to do," Saathoff said.
Saathoff did, however, leave the door open to being involved with the incoming administration in some capacity.
"I'm ready to graduate, but if they need me — in whatever capacity they need me — I told them I will be there for them," Saathoff said.
Byll-Cataria was thankful to United Ospreys for their support but made no promises of reciprocity when it comes to appointments.
"We don't want to pick people just because they have been nice to us," Byll-Cataria said. "We have to understand that there is friendship and then there is work."
Record turnout
Perhaps as a product of the scarcity of contested elections recently or the intensity of campaigning between the candidates, students came out to vote in record numbers for the spring 2010 general elections.
Nearly a quarter of the student body ventured to the polls March 30 and March 31.
SG Elections Supervisor Erica Richey credited non-traditional voters for the record turnout.
"The students were excited, and I think it was a much different group of people that came out to vote this year," Richey said.
SG Elections were not held in fall 2009 due to an insufficient number of candidate applications. Richey said having to cancel the fall election was a "major learning experience" which helped her better prepare for the spring.
"It was round two for me," Richey said. "I knew what worked, I knew what didn't."
Despite a contentious campaign, especially between the Red Team and United Ospreys, no election violations were filed by the April 2 deadline, meaning the results are basically final.
Richey said she views the elections as a success and that they went off, more or less, without a hitch.
Although she said the candidates were "pretty civil" overall, she conceded that competition may have occasionally spilled over into discontent.
"I know that tensions got high and things were tough," Richey said. "My prayer is that friendships aren't ruined at the end of the day."
Senate results
The Yellow Party and Red Team Party split the general Senate seat vote, scoring 10 senators a piece.
Red picked up two of the college-specific seats, while the United Ospreys only electoral victory came in the College of Computing, Engineering and Construction seat with Courtney Warner eking out a four-vote win.
Students also overwhelmingly approved a Constitutional amendment pertaining to the SG oath of office.