The con life: nerds, magical girls, and fandom crossovers at WasabiCon 2015
[youtube http://www.youtube.com/watch?v=iW7y5yFPPIo]Video by Michael HerreraWith Halloween celebrations still lingering thanks to candy sales and costume withdrawals, the first week of November usually starts off with all things spooky. But add the Florida-Georgia game hype and WasabiCon to the equation, and you've got a busy time at the Marriott Hotel for a deluge of fandoms. This is what Green Mustard Entertainment, Inc. founder Tom Croom wanted for the Jacksonville "anime, gaming, and all things 'geek'" convention. He called this past weekend good timing for their two-day event where you could find Sailor Scouts drinking cocktails at the bar beside Gator Nation.

"Geeks do not watch football," said Croom, "so they come to WasabiCon."

Judging from a show of hands during the opening ceremony, majority of the crowd were first timers to the convention. It seems the convention's growing popularity stems from word of mouth and social media. According to Croom, fans travel from all over Florida and Georgia to attend. The farthest a fan has traveled according to this year's records is Canada.

Dressed as Mega (wo)Man in my various shades of Spinnaker blue, I wanted to test Croom's theory of geeks and football while also scoping out UNF students to hear about their con experience. Since this is WasabiCon's fourth year running with a steady increase of attendees, I figured cosplaying as an old school videogame character would help to find the college-aged fans.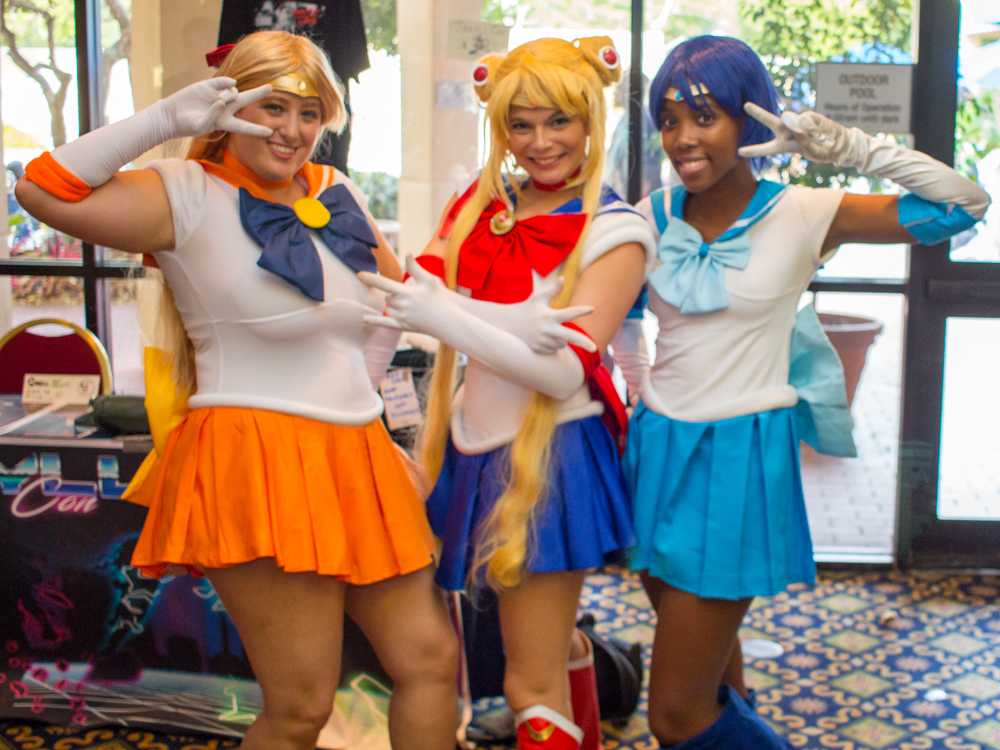 Expectations
There are certain staples to conventions: the smell of body odor melded to costume fabrics, the one guy playing Nintendo DS in the corner, too many Homestuck fans, and that one hallway designated for awkward PDA.
WasabiCon had all of this, along with a full agenda of panels and events held every hour. From drawing lessons with a Bob Ross lookalike to convention-weapon safety talks with Umbrella Corps. WasabiCon prioritized giving fans a varied convention experience. But the convention experience isn't really about panels, events, or special guests.
Krishna Glick, an information systems senior, has been to several local conventions where he mainly goes to dress up and shop for merch.
"None of the events have been super great," said Glick.
Though lines formed for autographs from this year's special guests—Amanda Miller (voice of Sailor Jupiter from Sailor Moon), David Sobolov (voice of Drax the Destroyer in the Guardians of the Galaxy animated series), and Triston Johnson from AMC's The Walking Dead, fans mostly wandered the convention vicinity to shop and look for their favorite characters to photograph with.
"My favorite part [of conventions] is definitely people watching, and everyone getting into their characters in an environment that's safe where you can be who you are," said painting, drawing & printmaking junior Jennifer Hazell.
Biology senior Haki Coats enjoyed how small and intimate the venue was in comparison to larger cons.
"I enjoy how people here are more social," Coats said, "like you have people that are just like, 'Oh, let me take your picture,' but here they actually want to talk to you and hang out with you."
Cosplaying Gerald from Hey Arnold!, Coats was sporting a tall foam head piece with mounted speakers—an ensemble that took him only 10 minutes to put together.
"I like seeing the different cosplays and how much effort people put into them," said Coats, criticizing his last minute costume. "You have people who took months to make theirs and the effort shows."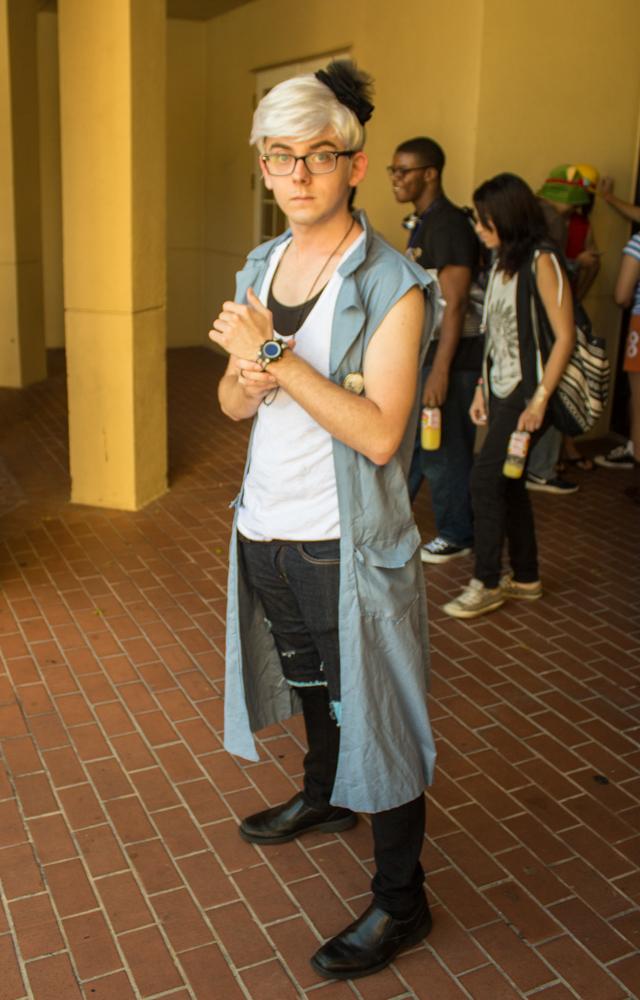 STAYING IN CHARACTER
Being Mega (wo)Man is hard work, especially when you've got that one troll asking you if you're Proto Man. It's also not a good idea to make majority of your cosplay from yarn. It may be the fall season, but the Florida sun doesn't give a damn.
Criminal justice junior Daniel Melomet chose his cosplay wisely as a shirtless Gray from the anime series Fairy Tale.
"In the show, a lot of the times he takes his clothes off," Melomet said. "Like at random intervals he'll be clothed and the next second he's not."
UNF alumna Stephanie Dzikowski enjoyed dressing up as Sailor Venus (minus the effort of a tedious wig and orange pumps).
"It's not as tight as it looks like. It's actually very breathable," said Dzikowski.
Of course, being in character requires some costume adjustments and creative liberties. Dzikowski added mini paperweights to the inner edge of her skirt to prevent it from flouncing. I opted out of a body suit and speedo bottom for a long sleeve shirt and long skirt for my Mega (wo)Man getup.
Then again, emulating a character takes more than just an impressive costume. Lynnsey Norris, an English senior, let her personality complete her Chocobo cosplay.
"I quark and quay at people and peck at their heads," Norris said, pointing at her hat.
But unlike cartoon characters who only wear one outfit for the entirety of a series, most con-goers planned multiple costumes for the weekend. On Day Two of WasabiCon, Coats switched from Gerald to DC's Static Shock. Melomet put on a shirt and changed into a scout from Team Fortress 2.
I remained as Mega (wo)Man, telling everyone who remembered me from the day before that I slept in my costume like a true game character at a save point.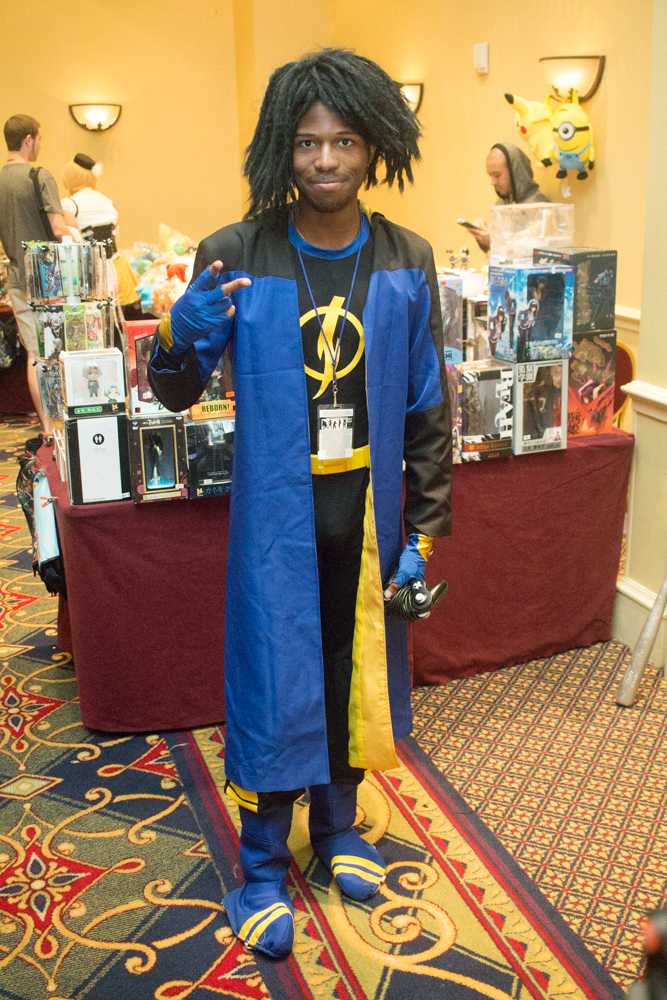 AM I TOO OLD FOR THIS?
Going to WasabiCon, I anticipated cosplay representations of Attack on Titan and Sailor Moon among many things. But truthfully, I felt lost with a good number of costumes making me feel out of the loop–and ultimately, old.
Along with being called a "midget Mega Man" by the Fourth Doctor, a father chaperoning his children at the con said that my cosplay is a dying character. But after taking dozens and dozens of photos with fans, I'm doubtful that he's right.
But as awkward and uncomfortable as the con scene can get with die-hard fans, it's an occasion to reclaim the word "nerd" and embrace the things you love with other fans.
For alumna Kristen Brazell, WasabiCon introduced her to a community she didn't necessarily have growing up.
"I keep saying I wish that there were stuff like this in Jacksonville when I was growing up, when I was young, so I wouldn't have felt alone in my nerdiness," Brazell said.
Even after graduating with a bachelor's and master's from UNF, Brazell has maintained her love for Sailor Moon into adulthood.
"I recently got married and all of my bridesmaids are huge Sailor Moon fans," Brazell said. "So I bought Sailor Moon gifts for all of them. We were so into it that we decided we wanted to get some costumes and then we dressed up and now we needed somewhere to wear them to."
Dzikowski, one of Brazell's bridesmaids and the only Sailor Venus of the weekend, described the cosplaying opportunity and convention as a childhood dream come true. She encourages college students to just go for it.
"If you love anime, if you love anything, and you just want to have a good time, come out and do it because people are so nice and you have such a great time," Dzikowski said. "It's like Halloween all the time."
Whether you planted yourself in the Game Room or walked miles and miles around the Vendors Room, WasabiCon was a celebration of fandoms free of judgment and full of DIY costume glory. Events, panels, or special guests that aren't always great cannot take away the sense of community that makes these events worthwhile.
All photos by Michael Herrera. Click to enlarge. 
—
For more information or news tips, or if you see an error in this story, contact [email protected].