***Update: President John Delaney released a statement to UNF students and staff concerning the shooting in Orlando. Read it below: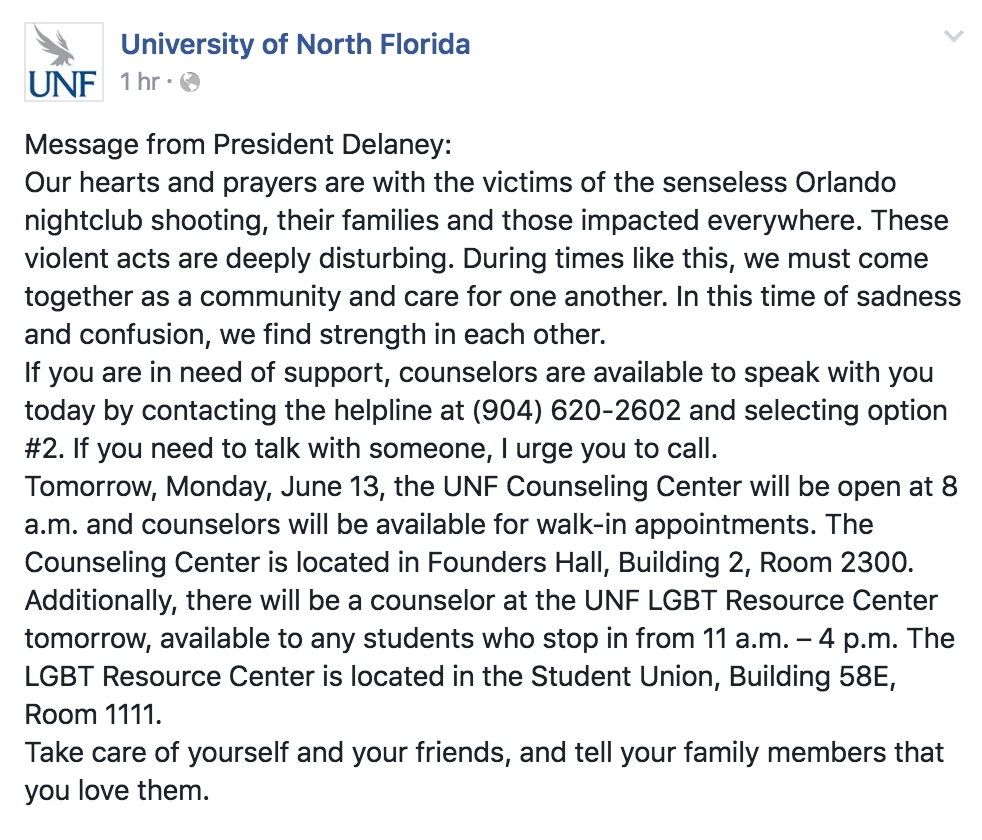 The Shooting
A gunman killed at least 50 people early Sunday morning, injuring more, at a gay nightclub in the Orlando area. Officials are treating the shooting as an act of domestic terrorism.
The shooting, the deadliest in U.S. history, happened around 2 a.m., according to the Orlando Police Department. The shooter exchanged fire with an off-duty police officer working security at the Pulse Orlando nightclub, before storming the building with an assault rifle and a handgun, said Orlando Police Chief John Mina in a news conference.

At around 5 a.m., a SWAT team raided the building using controlled explosives and an armored vehicle to save hostages trapped inside, said Mina. The shooter, identified as an American citizen living in the Fort Pierce area, was killed after a shootout with the SWAT team, according to Mina. Local hospitals were placed on lockdown following the incident for security reasons.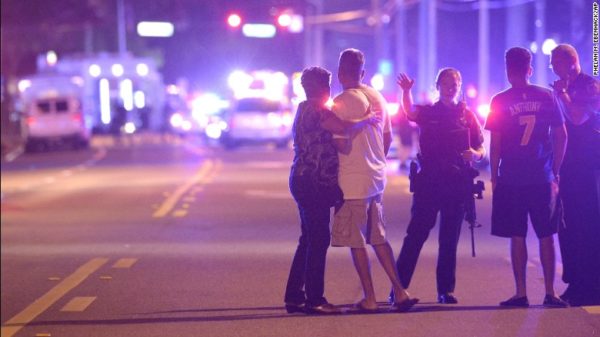 An assistant agent in charge of the the F.B.I.'s Tampa Division, Ronald Hopper, said there is possibility the shooter had ties to Islamic extremism.
"We do have suggestions that the individual may have leanings towards that, that particular ideology," said Hopper at a news conference. "But right now we can't say definitively, so we're still running everything around."
Federal officials said they have no indication the shooter belonged to a particular organization, but have not ruled out a "lone-wolf" scenario in which he acted on certain beliefs.
UNF Support
The UNF Counseling Center has a 24/7 hotline available at 904-620-2602, extension two. The center will open at 8 a.m. on Monday and accept walk-in appointments. Additionally, the UNF LGBT Resource Center be open from 9 a.m. to 5 p.m. Monday for students in need of emotional support and staffed with a counselor from 11 a.m. to 4 p.m., according to the center's Assistant Director Kaitlin Legg.
There will be a candlelight vigil at Riverside's Memorial Park at 7 p.m. Sunday. The park is located at 1620 Riverside Ave., Jacksonville, FL 32204. Attendees are encouraged to bring candles, including any extras they might have.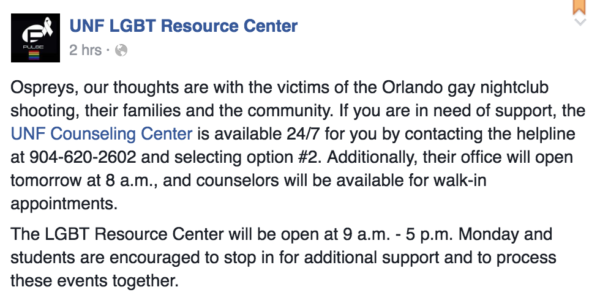 Orlando officials have cited an urgent need for blood donations — specifically Type O negative, Type O positive and Type AB. Following is a list of Jacksonville donation centers, many centers are closed Sundays, so please call before arriving.
8:00 AM – 4:00 PM  South Jacksonville Donor Center
8013 Beach Blvd. Jacksonville, FL 32216
8:00 AM – 12:00 PM  St. Mark's Lutheran Church – Bloodmobile
3976 Hendricks Avenue
Jacksonville, FL 32207
8:00 AM – 4:00 PM  West Jacksonville Donor Center
5209 Blanding Blvd.
Jacksonville, FL 32210
8:00 AM – 4:00 PM  Orange Park Donor center
2153 Kingsley ave.
Orange Park, FL 32073
8:30 AM – 1:00 PM  Fruit Cove Baptist Church – Bloodmobile
501 State Road 13
Fruit Cove, FL 32259
1:00 PM – 6:00 PM  Publix at Deerwood Village – Bloodmobile
9964 Old Baymeadows Road
Jacksonville, FL 32256
2:00 PM – 7:00 PM  Regal Cinemas The Avenues 20 – Bloodmobile
9525 Philips Highway
Jacksonville, FL 32256
Spinnaker will continue to follow the story and update when more information is available.
—
For more information or news tips, or if you see an error in this story or have any compliments or concerns, contact [email protected].