No Man's Sky: A Journey Worth Discovering
When No Man's Sky was revealed in 2013, the small development team at Hello Games peaked the interest of an entire industry. The prospect of a team fewer than 20 creating a literal universe– home to 18 quintillion planets– left many with eyes wide and mouths agape like a kindergartener's first time at the planetarium.
Nearly three years later, arguably the most hyped video game of the last decade is here. And while my experience with No Man's Sky certainly wasn't out of this world, there's plenty worth discovering.
When you break down No Man's Sky to its essential parts, it has the elements of any survival game. But I wouldn't call the game's difficulty level anything near a struggle to survive. Yes, you're still crafting this, gathering that, and trying not to succumb to the elements, but the game strips away nearly all the challenge by allowing you to return to the place of your death and gather everything you lost.
Combat in general is clunky. The Sentinels (the game's in-universe police) and space pirates you encounter are almost a chore to get into any trouble with. At the same time, I often wouldn't be bothered by Sentinels for hours, only to land on a new planet and be pestered by them for simply existing. Their behavior is erratic at best, and they became a source of annoyance rather than immersion.
The high stakes involved with landing on a planet with low resources is a promise unfulfilled. Sure, planets will vary in their housing of certain materials, but every single one I ever landed on had some amount of the material necessary to get my ship off the ground again. I wanted to explore the concept of being stranded on a planet. Unfortunately, the only way to achieve this and many other previously promised features is to simulate them myself.
The thing is, none of these grievances bothered me once I started seeing what No Man's Sky truly had to offer. Although the game was marketed as a full $60 adventure, what Sony and Hello Games forgot to mention is the quirks and uniqueness that indie games like this one supply.  
I found No Man's Sky graphics gorgeous: everything around me glistened like something out of an 80's sci-fi epic. The accompanying soundtrack cemented these feelings. The process of discovering entirely new solar systems, planets, and creatures provided some of the most fulfilling gameplay I've ever experienced. The majesty of the world created here is immense, and the scope of your journey remains grand throughout the 30-hour main campaign, and beyond.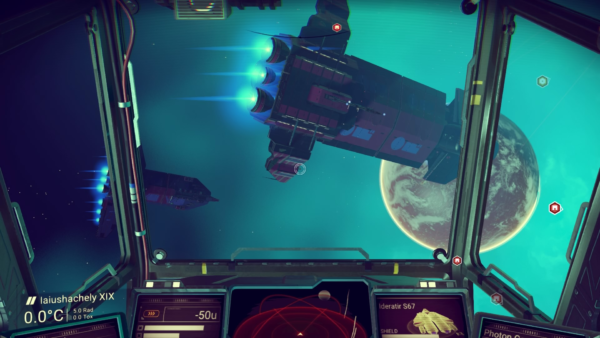 This is a game best played after a tedious day of work or school. It's the definition of video games as an escape. I've spent countless hours just walking across planets, looking for nothing in particular.
Rather than follow the parameters the game set for me, I found the most enjoyment in the challenges I created for myself: I want to max out my inventory space in ship and space suit, I want to accrue the most in-game currency, traveling from system to system in search of the best places to buy and sell, I want to learn the language of all four in-game alien races, none of which is required for you to finish your journey.
No Man's Sky often doesn't clearly point out objectives to you, something I found to be one of the most enthralling features of the game. I'm unsure of how to convey just how much joy I found in wandering the world. The gameplay loop may not be for everyone, especially with a $60 price tag attached. But for myself and others like me, the freedom to stray from the main path is the ultimate reward.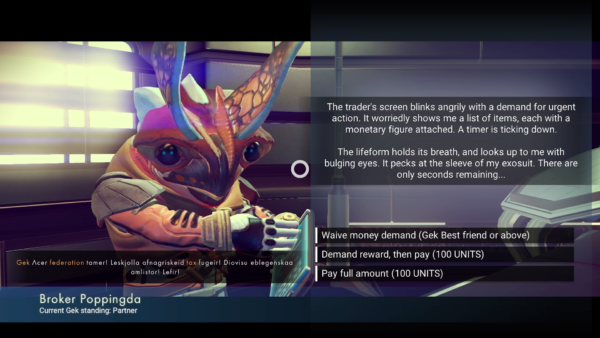 With rumors of space ship and station creation coming soon, I can only hope to see a series of constant game-enhancing updates similar to what Mojang has been able to do with the Minecraft franchise. The staying power of No Man's Sky will depend on the type and scale of updates and patches that Hello Games continue to introduce. Is No Man's Sky the game of a generation? Certainly not, but it's a worthy investment for those of us who dreamed of exploring an expansive universe to our heart's content.  
3.5/5
—
For more information or news tips, or if you see an error in this story or have any compliments or concerns, contact [email protected].