When talking about Sony and PlayStation, the game Ratchet and Clank comes to mind. The version that will be covered for this critique will specifically be the PlayStation 2 version, released in 2002. 
Ratchet and Clank stars a lombax and a small robot as the titular duo. These two have made a great history for gaming. The plot of their first title is a bit complicated since it takes place in the far future. Regardless, it is still simple to know what events of the story occur. 
Ratchet lives by himself on his home planet. Clank was made as a robot that was supposed to work for the main villain Chairman Drek, but things went haywire with that plan. 
Clank escapes and crash lands on Ratchet's home planet. After a brief introduction, the two discuss Captain Qwark, a glory hog hero in the galaxy. The lombax and robot believe that the captain will help them save the galaxy and put a stop to Drek's plans. 
It is a true tale of friendship between Ratchet and Clank when they travel from planet to planet, something the 2016 film fails to accomplish. 
The two would bicker and complain during the adventure, but they began to warm up to one another, knowing that they can't save the day without each other.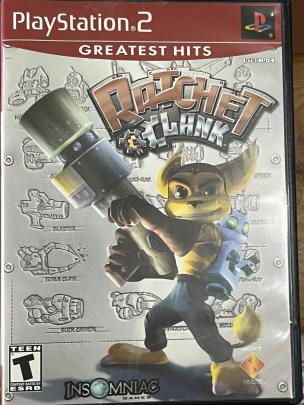 Meanwhile, Captain Qwark seems to be on their side until it is soon revealed that he works for Drek and that he is not a real hero due to taking all the credit that other heroes did for their heroic deeds. 
The gameplay is a blast to discuss. Ratchet controls very well, though Clank could use a bit of work with his gameplay style. I must admit, I might be the only one that liked his gameplay mostly because he can control small robots to do his commands. 
But the main thing to talk about is the weapons that Ratchet uses on his adventure. The commercials made them feel they were fun to use, and they were not kidding. 
There is even a legendary weapon known as the RYNO, Rip Ya A New One. It's the most expensive weapon in the game, and it shows. Though, it is likely to purchase this weapon on a second playthrough.
Considering this game is rated T for teens, it does have a pattern of adult humor in this game, and the fact that the 2016 game lacks any of it makes it lose its charm that the 2002 game had. 
Even the sequels such as Going Commando and Up Your Arsenal have been known to be references to adult humor, though in other regions those games have different titles. 
Another thing to praise the game for would be its music. Most of them are futuristic, which fit the tone of the game. Some even include a sneaky theme on certain levels. 
The recommendation to be made for playing this game would either be playing the original PS2 version or its remastered PS3 version. It is a way to have a blast with this adventure.
___
For more information or news tips, or if you see an error in this story or have any compliments or concerns, contact [email protected].