The fight to publish: How two UNF whistleblowers exposed an industry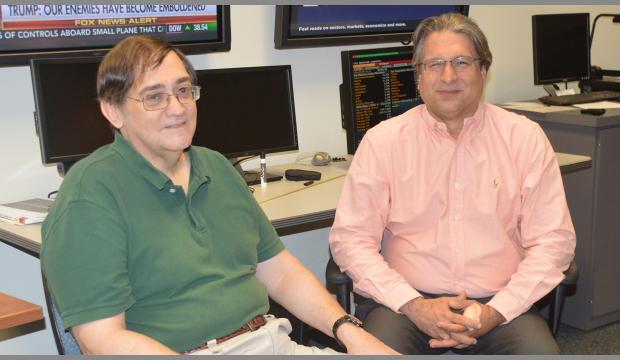 Despite having similar dimensions to most offices on campus, the third-floor room tucked in the corner of the Coggin College of Business feels like a storage closet untouched for decades. Shelves covering the walls are crammed with binders, folders, textbooks and hundreds of research reports. Two three-foot stacks of reports done by graduate students over the past 18 years sit in the corner, directly underneath a group of similarly dated chess trophies. A half-used tube of Crest toothpaste is the only thing perched atop mountains of paper and literature covering the desk in the center of the room.
It was here, hidden in a desk drawer invisible from the thousands of papers strewn around Dr. Bruce Fortado's office, that a report study sat idly – its revelations so toxic publishers turned it down for fear of retribution.
Fortado's study, titled The Yin and Yang of Introducing a Sales Culture: The Amalgam Bank Case, was completed six years ago and published in 2014 with the help of Dr. Paul Fadil, a UNF professor and Chair of the Department of Management in the College of Business. It shined a black light on the widespread abuses, malpractice and deception of the banking industry and predicted the problems to be systemic across the country. Two years later, these same practices cost Wells Fargo $185 million in fines, 5,300 people their jobs and led to the retirement of its CEO.
Fortado's study accurately predicted the 2016 scandal, which resulted in the largest fine ever issued by the Consumer Financial Protection Bureau — but his work started 30 years ago.
1986: "Now things are showing up in the newspaper, but you didn't know I've been here since 1986." – Dr. Fortado
Bruce Fortado joined UNF as a visiting assistant professor in 1986. That's where he met David Moore, who had Fadil's current position as department chair of the Department of Management. Moore began mentoring Fortado — reading over his research and teaching him about industrial sociology. In 1988, Moore wrote an article detailing the new cultures being created throughout the decade. One of the cultures Moore identified was the sales and service cultures in banks – the Yin and Yang.
1998: "I had graduate students once a year going out and doing their own field studies underneath my supervision." – Dr. Fortado
The seeds of Fortado's study were planted 18 years ago, when he began sending his graduate students to businesses across north Florida to perform field work. Coincidently, several of his students chose to study large bank branches in the city. Though never published, the student's field work showed early signs of institutional pressure and unreachable quotas levied on bank employees by management – pressures Fortado says led directly to the 2016 banking scandal.
2004: "After he passed away I decided in honor of him that I would go ahead and start a project to study some of these cultures." – Dr. Fortado
Moore, Fortado's long-time friend, mentor and inspiration, died in 2004 at the age of 86. In honor of him, Fortado started a project studying the sales and service cultures Moore introduced in 1986. The project was the Amalgam Bank Case. Moore's influence was so profound Fortado personally thanked in a front-page footnote in the study.
"[The authors] also owe a debt of gratitude to David G. Moore (deceased) who gave us the idea of doing this project and shared with us what he knew about Industrial Anthropology and Sociology, Human Relations and Organization Culture."
2006: "The summer of 2006 was the first time I got multiple reports recorded about [juicing numbers] taking place." – Dr. Fortado
Fortado discovered bank employees were opening fake accounts, fake credit cards and fudging sales numbers in 2006, 10 years before Wells Fargo was caught opening over 2 million fraudulent bank accounts and credit cards.
The unrelenting pressure from management to reach impossible sales quotas, accompanied by threat of being fired, created an environment where deception was inevitable and rampant. The increasing pressure led many employees to antidepressants and created the most universally negative, miserable work environment Fortado had ever seen, with the most unsatisfied, disgusted workers he'd ever interviewed.
2010: "I knew publishing on a certain topic might bring heat on the authors, but we never thought that journals would turn it down because it was a certain topic." – Dr. Fadil
Fortado finished his study in 2010, but the fight to make his work public was just beginning. That's when Dr. Fadil entered the picture. Fortado's study didn't just accuse the unnamed bank he studied of widespread deception and unethical behavior, rather, in indicted the banking industry's culture of creating this behavior and suggested it was happening everywhere.
The banking industry's financial power reaches the pockets nearly every institution, from college boards to the publishing industry. Fortado needed Dr. Fadil's connections to find a publisher willing to go out on a limb, but it wasn't easy.
"This is the first time I found my subject matter to be so toxic that a journal has said, 'we would rather not deal with this,'" Fadil said.
The first 3-4 journals Fadil sent the paper to denied it immediately, never letting its controversial findings be peer reviewed by other experts in the field. Fadil eventually contacted an ex-colleague at a journal called "Competitiveness Review". Nervous at its findings, the publisher asked Fadil and Fortado to hide damning comments from the workers in an appendix in the back of the book. Knowing the comments were crucial to explaining why these things were happening, the professors drew a line in the sand, refusing to compromise They went on to win the battle.
2014: "If you don't love doing your research I suppose you're not going to be a real happy person, are you?" – Dr. Fortado
Four years later, in 2014, the study was finally published 10 years after it began. Its controversial findings were proved right two years later, and the once shunned whistleblowers who tried to get the public's attention for years started getting interview requests from The Jacksonville Business Journal, Yahoo Business and The Wall Street Journal.
Fortado's bank study received more attention and coverage than any work he's done, but his focus remains unchanged.
—
For more information or news tips, or if you see an error in this story or have any compliments or concerns, contact [email protected].