Where to get cheap roses, free hot wings and heart-shaped food on Valentine's Day
62 percent of American adults celebrate Valentine's Day, according to History.com. If you're in the party that celebrates this holiday, chances are you know exactly what you're doing, considering today is the day. If you are struggling to make this holiday special on a cheap budget there are a number of deals made just for you.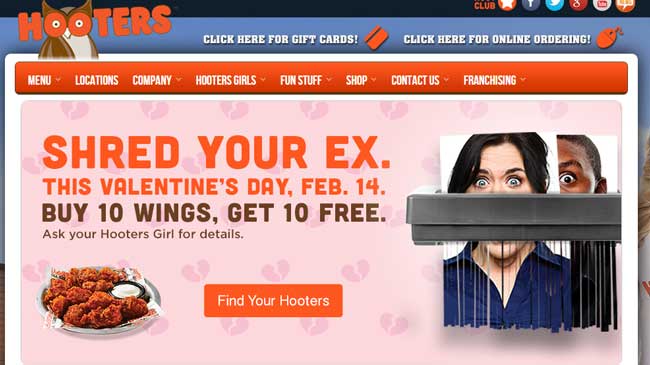 No valentine, no problem, and thanks go to arguably the best deal on Valentine's Day: Hooters is offering ten free wings — when you buy ten — to anyone who brings a photo of their ex-lover and rips it up, shreds it, burns it or throws a dart at it. Share your choice of destruction using #ShredYourEx (there's already a good amount of hilarious stories under that hashtag). Maybe you have a Valentine but want to do this anyway. Grab your lover, grab your photos, destroy the pictures together and enjoy the most romantic meal you've ever had: free hot wings.
For those looking for something a bit more traditional, head on over to Bucca di Beppo, a family-style Italian restaurant located near the Avenues Mall. Today only, order lasagna and it will arrive to the table shaped like a heart.
If you're just looking for a heart-shaped snack, Auntie Anne's is offering buy one, get one free heart-shaped pretzels. If you're anything like me, you'll take advantage of this deal and proceed to eat both.
And now, my personal favorite: Today through Mar. 31, by using the code "BOLFD" on an order of $5 or more, you'll receive a 50 percent discount when dining on Panera.
If you haven't purchased flowers yet, you've waited far too long and you've missed out on the best deals of the holiday. For those unclear, many websites offer discounts galore on orders placed the weekend before Valentine's Day. Fear not, though, as I've determined the location offering the cheapest dozen of roses. Right now, Trader Joe's is offering a dozen of long-stemmed roses for $9.99. Buy a second dozen and make your bouquet look like something you didn't purchase today.
If you're thinking about going big this year, especially in the form of jewelry, I would hold off for now. Jewelry stores are notorious for marking up their prices 200, 300 and even sometimes 1000 percent on Valentine's Day, according to Fox Business.
Maybe you have dinner planned and flowers purchased but are unsure of what to do that night. Well, if you're on campus and want to stay on campus, the UNF School of Music has you covered. From 7:30 p.m. to 9:30 p.m., enjoy the sound of romance as played by the UNF Orchestra in the Robinson Theatre.
Whatever your plans or relationship status, Valentine's Day can be a good day.
__
For more information or news tips, or if you see an error in this story or have any compliments or concerns, contact [email protected].