'Needle in a haystack': Search for missing UNF student comes up short on third day
Video by Brooks Baptiste
UNFPD and JSO canvassed 13 square miles of woods surrounding The Flats Tuesday for more than eight hours in the search for missing student George Louissaint Jr.
"We are no closer to finding a solution than when we started this morning unfortunately," UNF Police Chief Frank Mackesy said of the day's efforts.
Because the coordination and the amount of resources, it's not simple going into the woods and find another person's body.
Macksey said looking for Louissaint is like looking for a needle in a haystack.
"They talk about the first 48, but with a missing persons, it's more like the first 12," Macksey said. "The farther we get away from 2 a.m. on Sunday morning, you know, I'm holding up hope because the family is still holding up hope."
Macksey spoke about the support from Louissant's family.
"I'm getting strength from them," Macksey said. "So we're gonna keep doing this and we're gonna keep looking until we don't have anywhere to look anymore."
The Jacksonville Sheriff's Office and UNFPD searched 13 square miles and close to 20 bodies of water with 150 searchers said Michelle Cook, JSO Director of Patrol and Enforcement.  
Cook said they will be searching another dozen bodies of water tomorrow and continue search efforts until they have exhausted all areas near where Louissaint disappeared.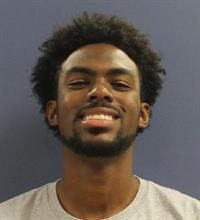 Macksey said he'd like anybody that has any type of home surveillance equipment from JTB to the intersection Beach and Kernan boulevards, if they could review that camera footage with anybody that matched the description of Louissaint from 2 a.m., on Sunday morning until 9 or 10 a.m. Sunday morning.
Macksey said there have been a handful of tips and reports of sightings, but he said they weren't what UNFPD they were looking for. There was also no security video in the Flats.
"We had 150 searchers out there, went through some pretty rugged terrain, and swampland. [There's] no reason to believe the individual is deceased, but [if he's] laying out there hurt, we'd like to find him."
Search efforts will continue in the morning, extending onto UNF's main campus.
Anyone with information is asked to call UNFPD at (904) 620-2800, or JSO at (904) 630-0500.
Spinnaker will continue to update this story as more information becomes available.
__
For more information or news tips, or if you see an error in this story or have any compliments or concerns, contact [email protected].