Campus community reacts to search for missing student
As UNFPD and JSO near the end of the fourth day of investigation into the case of missing UNF student George Louissaint, Jr., students noticed increased police activity on and around campus.
Spinnaker spoke to several students who all said they hope Louissaint is found safely.
When asked how they would feel if one of their friends went missing, junior biology major Barrett Goulding and graduate student Sebastien Goodman both said they would feel terrible.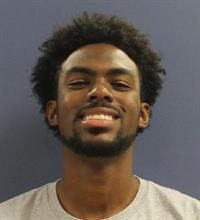 "It shouldn't really change too much, based on whether it's your friend or not because it's still someone who I'd like to believe is a good person and probably didn't deserve to be missing for whatever reason," Goodman said. "Friend or not it's still a terrible situation."
Students appreciated the efforts that UNFPD are making in finding Louissaint.
"I know the police have a hard job and they usually do a great job with these kind of things," Goulding said.
UNF President John Delaney echoed Goulding's opinion of the police response.
"Every time the police chief calls there's some new kind of technique or thing that they're doing that kind of amazes me," Delaney said.
Goodman hopes UNFPD's efforts end in a good result.
"I hope he gets found and he's okay and gets the help he's looking for," agreed communication junior Corin Gainey.
Louissaint has been missing since 3 a.m. Sunday morning, and was last seen outside the Flats. UNF Police Chief Frank Mackesy is urging those who live in the area and who have video surveillance to send in the videos to JSO or UNFPD.
If you have any information, you can call UNFPD at (904) 620-2800, or JSO at (904) 630-0500.
__
For more information or news tips, or if you see an error in this story or have any compliments or concerns, contact [email protected].