Students honor Andy Hoang with candlelight vigil
Chi Phi Fraternity gave An N. Hoang, or Andy Hoang to his friends, a farewell many people wouldn't forget. Many partnering fraternities and sororities gave their love and support as students said goodbye to the late-brother during a candlelight vigil Wednesday evening.
The vigil started at 9 p.m. in the Student Union. Students received candles which were lit before the vigil began.
The ceremony began with the Chi Phi president and advisor leading the brothers into several prayers. Afterwards, some of the brothers shared personal statements of how they met Hoang and who he was.
"It didn't matter where he was, who he was with, or what the situation was, Andy was always a radiating ball of energy that had a smile on his face and was always making the lives of those around him brighter," said Mark Favia, one of the brothers.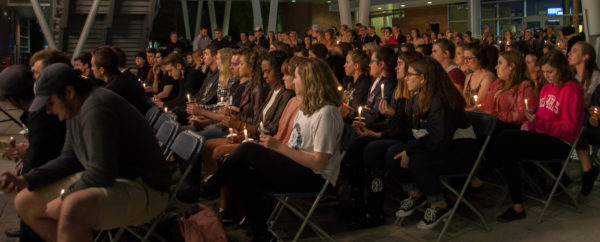 Sisters of Alpha Chi Omega closed the vigil where they sang "Fix You" by Coldplay. The song moved people to tears and many were hugging each other by the end. A counselor from the UNF Counseling Center was on the scene for any students who that may have been distressed by about Hoang's passing.
The brothers huddled together afterwards and recited the Chi Phi prayer again. The vigil ended abruptly and quietly.