UNF students' trip to Israel offers insight into other side of world
Two UNF students traveled ten hours across the Atlantic Ocean this past winter break to Israel to explore the geopolitical and religious aspects of the Israeli-Palestinian conflict.
The Jewish National Fund (JNF), a non-profit organization, gives 68 student leaders the opportunity to go to Israel for ten days from Dec. 26 to Jan. 6.
Farouk Smith, a senior political science major, and Vaughn Sayers, a philosophy sophomore, both said the experience changed their lives.
Smith and Sayers found out about the program through Student Government, but said anyone can apply. The JNF program, called "Caravan for Democracy," is open to all non-Jewish student leaders. The goal of the program is to teach up-and-coming leaders about the Israeli-Palestinian conflict and show a different perspective than what national media presents. JNF aims to demonstrate that the issue is more than an us-versus-them issue.
Smith and Sayers visited places like the Dead Sea, the Western Wall, Old City Jerusalem and David's Tomb. They were steps away from Syria and visited a city right next to the Gaza strip.
The most memorable experience for Sayers was when he was baptized in the Jordan River. Sayers himself was not only baptized, but he also baptized Smith. Sayers said he is someone who is more private about religion and that the experience made him feel vulnerable and become more vocal about his religion.  
"People think you go in and you're all excited, I didn't really leave with that feeling, but one of our trip leaders said, 'Vaughn you were facilitating a transformative experience.' I never thought about it like that, and then afterwards for a lot of people it was a really big deal. That I was that agent for them was very meaningful for me," Sayers said. "I'll never forget that."
Smith said he took away many lessons from the trip, but the biggest was that not everything in life is black or white. Smith said that the trip wasn't religious, that it was much more political. However, they both noted that geopolitical factors play with the religious factors. It is an entirely interconnected issue, Smith said.
"Human beings have a tendency to be like, you're either against me, or you're for me. Like we are just giving each other ultimatums and often forget the middle ground," Smith said. "Just learning about Israel's history and their involvement with the Palestinians, the conflict going on, that's the biggest thing I took away from the trip."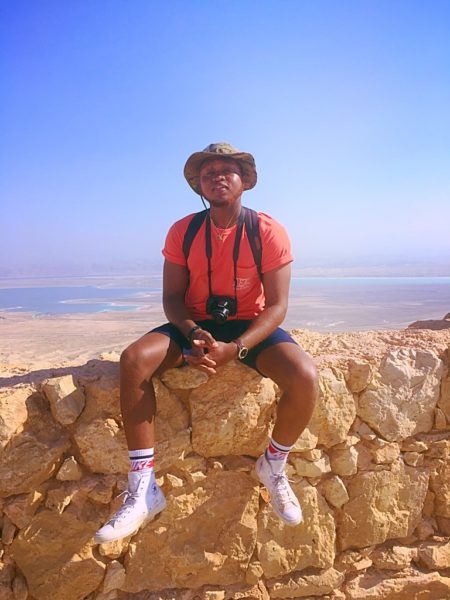 "When I came back and started talking to people I realized I was not the same person. Less ignorant, more aware of the world," Sayers said.
Both students said the trip changed their perspective of the world and that they would most certainly return to Israel given the chance.  They visited a town next to Gaza, Sderot, and said the people living there have a fear of bombs falling on them. They have 15 seconds to get inside a bomb shelter or face death. While visiting this city they went to a JNF funded program, which created an enclosed playground for kids to play in with bomb shelters all around.
"The person who's running the whole entire organization had such a positive attitude. No submission to fear, and had lived there for four years. In that situation, if he can find light there's no reason we can't," Sayers said.
Sayers and Smith said the trip was one of the best times of their lives and want other student leaders to have the opportunity to go.