Sailesh the Hypnotist: Hypnosis with a Comedic Twist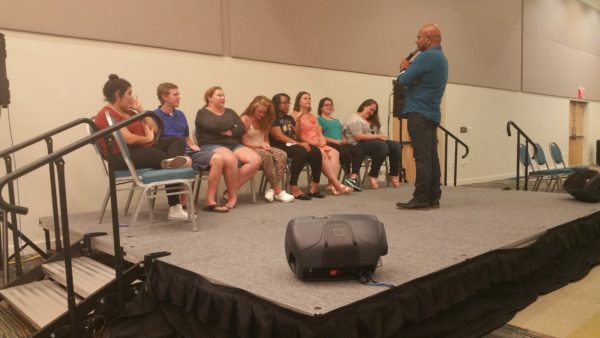 Walking into a hypnotism demonstration you usually wouldn't expect to be listening to Glitch Mob's "Skytoucher," with its energetic beat and erratic rhythms, but the merging of music and hypnosis is commonplace for Sailesh the Hypnotists' demonstrations.
The ballroom of the Student Union was filled to the brim with excitement and skepticism as students prepared for the hypnotist show. Around 40 students gathered in the chairs laughing and talking amongst each other, waiting for a sitting Sailesh to proceed with his show.
As he got up from his seat he introduced himself and gave the audience a brief rundown of hypnosis.
"You hypnotize yourself every day," he said. "The average person hypnotizes themselves 30-35 times a day…the average student 112."
Sailesh also explained the mental state known as "highway hypnosis," describing it as a mental phenomenon where people drive great distances without any recollection of having consciously done so.
After the hypnosis 101, he called for volunteers to fill the empty seats on the stage. People in the audience ranging from students to event staff filled up the seats leaving two empty spaces.
Sailesh started by ordering the group to rest their hands in their lap, then he told them to close their eyes, take a deep breath and exhale all of the energy in their bodies. He instructed them to listen to his voice, relax and focus on breathing, very similar to the process of meditation.
As the group focused themselves into a seemingly trance-like state, a few couldn't help but giggle. Sailesh told them to look up with their eyes closed and relax all of their muscles focusing on their toes.
After they relaxed he told the group that he would give them a light touch and they would enter a deep sleep. Sailesh then went to each person, laid his hand on them and said, "Sleep."
The majority of the group fell asleep, although there were a few who couldn't quite fall for the hypnotist's spell that were asked to rejoin the audience.
The music shifted to a weather sample and Sailesh told the group that a storm was coming, and that it was building in severity. "Get cold," he said as he urged them to get closer to each other for body heat. The shivering group leaned together for warmth.
"Now go back to sleep," he told them waving his arm in a hypnotic fashion.
After a TV show bit where Sailesh convinced the group that they were watching the funniest comedy in the world, and an emotional show where a puppy gets hit by a car and survives, suggestive funk music started playing.
He then told them that he was now a very attractive woman. "I like your hair," one volunteer said looking past his shaved head.
However, the awkward superheroes bit was the highlight of the night.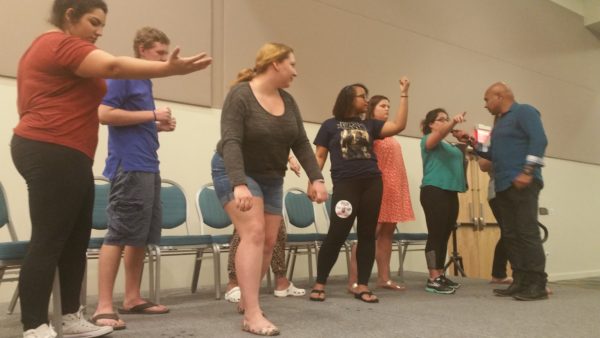 "Who are you?" Sailesh asked one volunteer.
"I'm Swooperman," she said. 
He then asked her if she had any advice for the audience.
"Swoop more," she said, adding a very charismatic osprey swoop.
Coming to a close, Sailesh convinced the group that the room was on fire and that their shoes were gas masks. After a good amount of time breathing into their shoes, the group was snapped awake.
"I think I've had enough," said one very dazed looking volunteer.
The show ended with a post hypnotic suggestion to the volunteers, to ensure that they give themselves more self-respect, motivation, self-love, and mental strength.
"It stays with you for as long as you keep it," Sailesh said, finishing his show and taking a bow.
__
For more information or news tips, or if you see an error in this story or have any compliments or concerns, contact [email protected].