Spinnaker Movies on Demand's 10 must watch films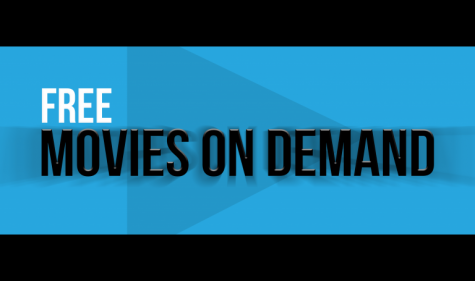 Netflix dominates the lives of many college students. Fortunately for Ospreys looking for more choices, there's another option to watch movies. Students on campus can use Spinnaker's streaming service, Spinnaker Movies on Demand, to watch movies before Netflix or other streaming services gets them.
For those looking for something to watch you can't find on Netflix, here are 10 must watch movies from Spinnaker on Demand.
Transformers
Michael Bay's seminal work of the early 2000s action genre, Transformers helped to push a new wave of action movies onto the forefront of the movie industry. While the series was eventually bogged down by unnecessary sequels, the 2008 action film based on a series of plastic toys and animated TV shows captures a sense of grandeur and excitement better than any of Bay's contemporaries. Fans of the action genre will be more than entertained with this blockbuster entertainer from the king of the game.
The Sisterhood of the Traveling Pants
A charmingly light movie, Sisterhood tackles the themes of friendship and growing up by separating its four main characters and following them all individually. A sort of Love Actually for a group of friends, the film is a romp through adolescent summers and the closure we all seek. The Sisterhood of the Traveling Pants is an enjoyable watch for fans of the book series and those seeking a light comedy.
Ted
Seth MacFarlane's ability as comic writer has garnered him more than 20 awards and 50 nominations for his work, most notably with Family Guy. With Ted, MacFarlane brings the wacky, zany adventures of his infamous TV show to live action with the help of Marky Mark himself. Combining MacFarlane's trademark New England based humor, over the top characters and ridiculous conversations, Ted is a nonstop comedy event for when you need to kick back and unwind.
The Neon Demon
Director Nicolas Winding Refn garnered a cult following with his 2011 film Drive, starring Ryan Gosling. Highly stylized, brightly colored and tightly conceived, The Neon Demon brings back all that fans loved of Drive, this time crammed into a psychological horror/thriller like no other. Claustrophobic, surrealist and excessive, the film delves into the living nightmare of a young model as she tries to catch her break before leading to an explosive finale. The film is highly graphic, and to be watched with caution.
The Dark Knight
Christopher Nolan's Batman series saved Batman. Following Schumacher's Batman and Robin trainwreck with Clooney, Nolan gathered an ensemble cast that seemed perfect for every role. Combining the abilities of Christian Bale, Heath Ledger, Michael Caine and Morgan Freeman with Nolan's trademarked intricate scripts that need a half dozen viewings to fully understand, The Dark Knight perfectly captures the infamous struggle between the Dark Knight and the Clown Prince of Crime. Heath Ledger's Joker is the perfect antithesis to Bale's Batman. The Dark Knight is the peak of the superhero genre. Dark, brooding, smart, intense, and nonstop, the film perfectly captures what makes being a comic book fan so rewarding.
Ferris Bueller's Day Off
Ferris Bueller created a genre of teen rebellion. John Hughes' self proclaimed love letter to the city of Chicago, Bueller captures the essence of teen exuberance and youthful optimism as close to perfect as it ever will be by film. Bueller is sarcastic, charismatic and full of young energy. The Perks of Being a Wallflower, 10 Things I Hate About You, The Edge of Seventeen and every other teen movie owe their charm to this one kid who just wanted a day off. More than 30 years later, anyone who wants to feel that sense of youthful reckless abandon that drives them to live life on the edge has found the right film.
John Wick (and John Wick 2)
After the hit success of The Matrix, Keanu Reeves has been trying to recapture the glory of his days as Neo. Met with little to no expectations, John Wick took everything expected for it, threw it out a window, incinerated it and proceeded to blow everyone's mind. Wasting little time explaining Reeves' character, backstory, or typical things that tend to bog down action films, John Wick spends two hours with action set piece followed by action set pieces. Wick is the action thriller you didn't know you needed, but will be so glad you watched.
The LEGO Batman Movie
The LEGO Batman Movie kicked off 2017 by being a surprisingly in touch, meta, well written, satirical look at the genre of superhero movies. The film follows Will Arnett's Batman try as hard as possible to stay as stoic and unlikeable as possible. Touching, heartfelt and absolutely hysterical, The LEGO Batman Movie is already one of the best films of the year, and certainly the best children's movie. Fun, exciting and wonderfully written, everyone should watch at least once.
La La Land
La La Land is a tour de force for director Damien Chazelle. Fans of jazz, musicals, old Hollywood and movies will all be entertained by Chazelle's ode to classic Hollywood. Superbly acted, wonderfully filmed and with an incredible soundtrack, the film delivers on every level. If you are in need of a simply happy film to lift your spirits and touch on everything you love about watching movies, La La Land is a must see.
Get Out
Every expectation was blown completely out of the water for Jordan Peele's directorial debut. Get Out is a masterclass in old school suspense and horror, rivaling the works of the great Hitchcock himself. Every twist and turn is suspense filled and captivating, even to those rewatching. Peele ditched the gore of horror and has returned towards the underlying suspicion and unease, using tight shots and subtle dialogue to slowly trap the protagonist in a hellish situation he can't escape. Fans of horror will be kept entertained, while those who rarely dip their toes in the water in the genre will also leave feeling satisfied.
And be sure to check out these movies coming to Spinnaker Movies on Demand:
The Fate of the Furious (07/11)
The Lost City of Z (07/11)
Kong: Skull Island (07/18)
Free Fire (07/18)
The Circle (08/01)
Going in Style (08/01)
—
For more information or news tips, or if you see an error in this story or have any compliments or concerns, contact [email protected].