Rain and clouds didn't stop UNF's Great American Eclipse party
 The Great American Eclipse is officially in the history books, and UNF didn't miss out on the fun. Clouds and rain didn't stop hundreds of people from flocking to the Coxwell Amphitheater Monday afternoon.
Before the eclipse made it to the North Florida area, south Jacksonville was being drenched with rain. Through the downpour, people were still hoping to catch a glimpse of the partial eclipse.
"An eclipse is when the moon moves in between the earth and the sun. There for you get a shadow of the moon that goes across the earth," Jason Haraldsen, assistant professor of physics explained.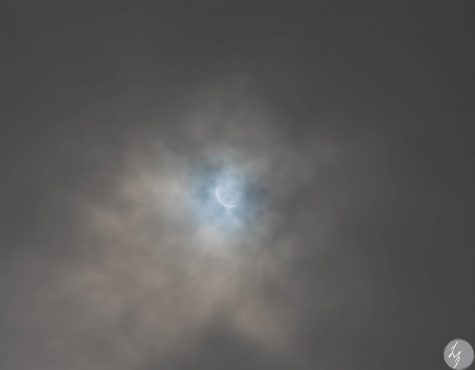 At about 2:45 p.m. cheers erupted from the Coxwell Amphitheater, as the clouds began to part as if on cue, and the sun became visible. Through the clouds, the 90 percent eclipse came into view.
"We were seeing a dimming of the sky, most of the time you're going to blame that on the clouds," said Haraldsen. "But actually it's due more to the eclipse than the clouds, as the clouds move and thin we'll hopefully be able to see [the eclipse]."
Some students were excited while others were a bit disappointed with this natural phenomena.  
"[The eclipse] was pretty radical," said Crisia Cummings, a junior anthropology major. "It was kind of cool that the clouds parted so you could see it."
Ashley Capo, a construction management major wasn't as excited about the eclipse.
"It was less than I expected…you could barely see it," Capo said. "I thought it would be completely dark, and the whole sun would be covered and it wasn't."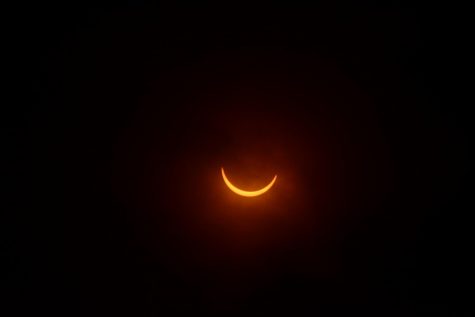 Jaime Leigh Plym, a coastal marine biology major described this experience as "magical" and even contemplated going to South Carolina this morning, but decided against it because it was the first day of school.
"I was looking forward to this [eclipse], and I thought it wouldn't happen, but it did," Leighplym said. "All I can say is it's magical."  
The Great American Eclipse is the first total eclipse since 1918, and next one that will be close to Jacksonville will be 2045. But if you can't wait that long there will be an 80 percent eclipse in 2024 according to Haraldsen.
__
For more information or news tips, or if you see an error in this story or have any compliments or concerns, contact [email protected].