An Unexpected Encounter from under the sea
Video by Ronnie Rodgers
As you walk through the doors on the second floor of the Student Union, you can't help but notice the large, colorful coral reef floating in the Lufrano Intercultural Gallery, starting an unexpected encounter as you explore further.
UNF's very own Sheila Goloborotko, an assistant professor of printmaking, brought the scientifically accurate adaptation of coral reefs from the Gulf of Mexico to campus in the exhibit Encuentro Insólito or an Unexpected Encounter.
Goloborotko pushed the creative edge after being invited to showcase her work at the Museum Atarazanas  Veracruz, Mexico. But there was an unexpected catch. Her contract stated she was not allowed to hang any of her art from the wall, which seemed a bit weird to her. The building was made of coral from off the coast of Mexico, so art could not be hung on the wall, giving her inspiration for Encuentro Insólito.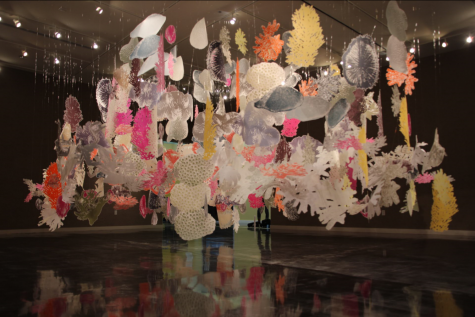 "I decided that I would create an installation for this exhibit that in fact spoke about the wall in the large museum to create an awareness for the people in the town who had this incredibly wealthy legacy that they should preserve,"  Goloborotko said.
As you're exploring this underwater world you can hear the sound of Glass and Bach playing in the background as the screen projects the beautiful animations of Synæsthesia, a musical and visual collaboration between Goloborotko, fellow UNF professor Vanessa Cruz and the Jacksonville Symphony.
A lot of work was put into this colorful creation, and it was made right here on campus in Bldg. 6. Goloborotko made sketches of the 13 species of coral found off the coast of Veracruz, Mexico in the coral reef colonies. She next made screen prints. Each piece of the coral reef is made of polyester and was hand cut. As visitors walk through the gallery, the pieces flow in mid air, much like a real coral reef would move with the waves.
Encuentro Insólito will be in the Student Union, Bldg 58E, suite 2401 until Sept. 8.
__
For more information or news tips, or if you see an error in this story or have any compliments or concerns, contact [email protected].