Buster the dog: Pursuing his dreams at UNF
Like many UNF students, Buster came to college to pursue what he wants to be when he grows up. The five month old yellow Labrador retriever is a Southeastern Guide Dog in training, and hopes to become a guide dog for a blind person or a service dog for a veteran.
Dr. Jennifer Kilpatrick, associate professor of Deaf Education, will be training Buster until he's around 14 months old.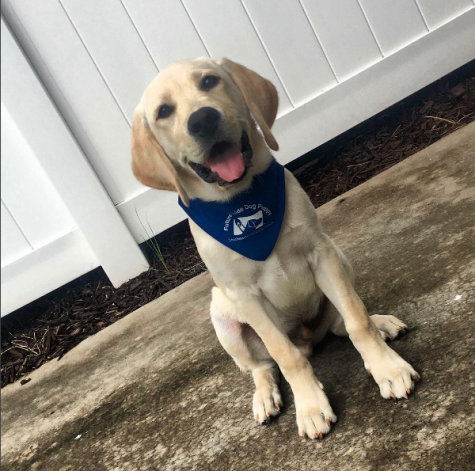 Kilpatrick's goal is to teach Buster obedience, while exposing him to home life and real-world experiences. She described Buster as a funny, "loving and loyal" puppy.
"He comes here to learn how it would be to be with someone who works in an office, [or goes to a college campus,]" Kilpatrick said.
As of now, Buster spends his days at Kilpatrick's side doing everything that she does. He attends her classes, meetings, office hour and even accompanies her to Starbucks on campus, but no puppuccinos for him. Buster loves to eat "everything" and she doesn't want to start the habit of him eating human food, or anything that resembles it.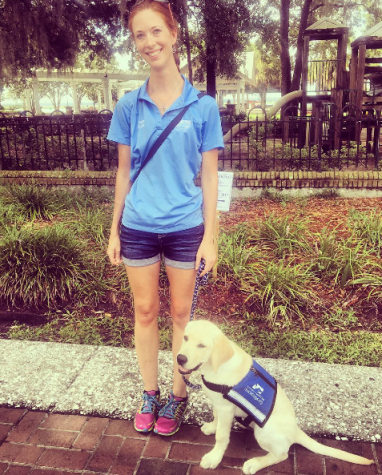 This journey with Buster is nine years in the making for Kilpatrick. She first became interested in training a dog after reading a book in class nine years ago, but her schedule only recently allowed her to do so. Buster is her first dog.
After Buster has spent a year with Kilpatrick, he will return to Southeastern Guide Dogs and go through three to six months of more intense training before being matched with his permanent companion.
Students can greet Buster if they see him around campus, under a couple of conditions. The person has to ask Kilpatrick if it's okay and Buster has to have "four on the floor, so no jumping," on people.
"Anytime he's wearing his vest [he's on duty], they just have to ask me, and I'll give him permission to greet them," Kilpatrick said.
But once Buster turns 10 months old in Feb. 2018, he will no longer be able to be petted while he is wearing his vest. After Buster and Kilpatrick's time together is up, she is unsure if she'll begin training another dog, but didn't rule out the possibility.
"This is my first adventure," Kilpatrick said. "I may end up getting another one, they say that happens often. Many people end up doing one after another. So we'll see."
__
For more information or news tips, or if you see an error in this story or have any compliments or concerns, contact [email protected].