Spinnaker's top 10 movies for holiday cheer
Our favorite time of year has arrived—holiday season, cooling our cheeks and warming our hearts. What better way to deck the halls than by watching holiday classics with our friends and loved ones. To help add to your holiday cheer, here are my top ten yuletide classics. Binge watch them or spread them out over the month. Either way, you'll laugh, shed a few tears, and deepen your love for humanity.
10. Elf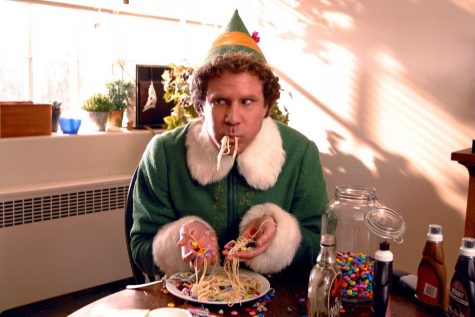 Will Ferrell plays a man named Buddy who, after a mishap on Christmas Eve when an infant, ends up at the North Pole where he is raised as an elf. Feeling like he doesn't fit in, he is informed by Santa that he's human his father (who happens to be on the Naughty list) lives in New York. Buddy journeys there in full elf attire and connects with his family. Comedic antics ensue and, in the end, he rekindles everyone's holiday spirit.
On top of the hilarious concept of casting a grown man as one of Santa's helpers, this film does an excellent job of balancing comedy with a heartwarming story about identity and wanting to belong. It's impossible not smile every time Will Ferrell is on screen, whether it be calling out a fake mall Santa or making dozens of snowballs in mere seconds and firing them in hyperspeed, I think everyone will find something to laugh at in this comedic classic. It's a heartfelt film with a good sense of humor, so definitely check it out.
9.National Lampoon's Christmas Vacation
This film follows Chevy Chase reprising his Vacation movies role as Clark Griswold, the consummate family man.  In the movie, Clark attempts to give his family the perfect Christmas vacation. When his quirky relatives arrive, all sorts of mayhem ensues as they try to get along in one house. Much like other holiday comedies, this film showcases not only the annoyances but also the charm of having relatives home for the holidays. I love movie mostly for the relatability of the situations in which our main characters find themselves–from all sorts of slapstick setting up the Christmas lights to learning how to get along with family members at the dinner table. We've all in some way or form found ourselves in these situations, although hopefully not as pronounced, and can't help but laugh and feel for the characters. They want nothing more than a perfect Christmas, only to realize that the events they endure will leave memories for a lifetime. It's yuletide fun for the whole family.
8.Home Alone
Macaulay Culkin plays eight-year old Kevin McCallister who, after a falling out with his family, is accidentally left home alone when his family flies off to vacation for the holidays. He enjoys his new carefree lifestyle of watching violent gangster movies and eating junk food, until he realizes that two convicts plan to rob his family home on Christmas Eve. Doing what he does best, Kevin sets up traps all over his home to outwit the con men and save himself and his family home. In addition to the tons of slapstick comedy and throwaway jokes, this film offers the most Christmassy atmosphere of any film I've seen, with its reds and greens, classic holiday music, and a very charming and likable young lead. Culkin's performance feels genuine, capturing both the insane and lovable side of being a kid at Christmas-time. Great slapstick with a heart of gold, this is a film you should certainly never watch alone. Leave the paint-bucket traps to the movie and bring your tissues for that ending.
7.A Charlie Brown Christmas
Charlie Brown is depressed, as usual, even during the holiday season. Lucy and his other friends suggest that he direct a neighborhood play, but Charlie ends up getting mocked and ignored by his peers. Just when he's about to give up, Linus walks onstage and quotes the Bible on the true meaning of Christmas. Charlie Brown perks up and all the children celebrate the cheerful season. On a first glance, today's youth may assume it's a cheap TV special with its limited animation and small budget, but despite all those limitations this film holds up extremely well. It isn't trying to manipulate children into buying some cheap product. Rather, it goes out of its way to show people the true meaning of the holiday and how we should all respect one another like these children. To some it may seem cheap, but it remains relevant with its powerful themes and enduring message. If you haven't seen it already, definitely see it for yourself.
6.Mickey's 'A Christmas Carol'
There have been dozens of versions of this Charles Dickens classic. I feel this is one of the best versions. It encapsulates all the major elements in the story and still come off as a sincere adaptation that will hold a child's attention. The casting of Disney Characters in these iconic roles is pitch perfect, with Scrooge McDuck as Ebeneezer Scrooge. How more fitting can you get? Not only does it include the dark elements in the story, but it also shows the positive, life-changing side of the holiday and why we all shouldn't take it for granted, something that Disney does best. It's a retelling of a classic that both kids and adults can enjoy.
5.Arthur Christmas
Everyone knows it's Santa's job to deliver gifts to every boy and girl on Christmas. In the movie's premise, with each new generation, a new Clause family member becomes Santa. At The Claus the North Pole have advanced to a high-tech operation, with the latest gadgets and gizmos in toy making. In the story, Santa's eldest son aids his father, the current, Santa in fulfilling his duty. Santa is about to retire when his uncoordinated youngest son, Arthur (voiced by James McAvoy), discovers that he missed one child out of millions.  With the help of his old-fashioned grandfather, he takes on the mission to deliver the gift before Christmas morning.
This film offers a great deal with its fast animation, imaginative visuals, and endless details that make it interesting to re-watch beginning to end. The true heart of this film is the characters, including three different points of view constantly conflicting with each other. Santa's father wants things done the old way, Santa's eldest son wants everything done with top of the line technology, and all the current Santa wants to do is retire and receive love and attention while not realizing he's doing very little work with everything being done with technology. Arthur, on the other hand, doesn't care which is the best way as long as the toy gets delivered. He employs any means in delivering the present on time.  He doesn't care about receiving praise for his actions. He just wants to make the child happy. This film not only acknowledges the battle between old vs new, but it doesn't choose a side. In the end, it doesn't make any of the characters a bad guy. Rather, it shows how each of them in some way has become lost in their work and has forgotten the true purpose of his job. This all builds up to a heartwarming climax, where all the Clauses combine their efforts to deliver the gift and save the holiday. This is a film that doesn't get a lot of attention and I really hope it gets more and more recognition for what it offers. I definitely recommend this as a must see.
4.A Christmas Story
This beloved holiday movie follows the life of Ralphie Parker who for Christmas wants nothing more than a "Red Ryder air rifle". Having to go through typical childhood dilemmas, such as dodging bullies at school or being at odds with his parents, Ralphie struggles to make it to Christmas Day with both his hopes and his glasses intact. This film understands more than most childhood films what it's like to be a kid, from learning the consequences of saying swear words to finally standing up for yourself at school, this film captures it all. This movie gets it down to even the daydreaming aspect. I think most of us, at some point, have fantasized about getting what we want and having the perfect life. This film is not only about childhood, but also looking back on our memories and seeing how far we've come to grow as people. A slice of life story that teaches us to never attempt to lick a frozen pole on a dare (or any other time), what's not to love?
3.Miracle on 34th Street (1947)
Edmund Gwenn plays a man named Kris Kringle, who claims to be the real Santa Claus. He ends up in court with his attorney trying to prove he is, in fact, the real deal. From a premise like that, you'd think it'd be boring to sit through. Surprisingly, highly entertaining for both kids and adults alike. Much of what makes this film so great is Edmund Gwenn who, in my opinion, portrays the best Santa Claus I've ever seen. Rather than playing the usual jolly fat man in the red suit with which we're all familiar, Gwenn goes for a more sophisticated and dignified approach while also showing the right amount of Christmas cheer to everyone around him.  Gwenn's is not the only performance to admire, as Natalie Wood (one of the best child actors of all time) does a fantastic job portraying an intelligent, little girl whose character arc is inspiring. Believing is an important theme, as this movie shows us that anything is possible–especially at Christmas time. It's an elegantly made film that contains the best interpretation of one of our holiday's most beloved icons.
2.It's a Wonderful Life
This film centers on Jimmy Stewart, who plays a man named George Bailey. George's life doesn't turn out like he had hoped and, on Christmas when everything seems lost, he considers ending it all.  Angels from heaven discuss George and we see his life in full detail in a series of flashbacks that showcase all the good deeds he's done over the years. An angel named Clarence is sent by God himself to restore George's will to live by showing him a world where he never existed. Bedford Falls without George Bailey is bleak, to say the least. The idea of how one person's life can impact so many people has been done multiple times over the years, but this film perfected that concept with its heartwarming writing and timeless feel. Jimmy Stewart shines as he plays a man who doesn't get what he wants and is ready to give up, when he realizes he has everything he needs. It's inspiring, heartwarming, and knows how to tug at your heartstrings. It's a Wonderful Life is exactly what the title promises.
1.How the Grinch Stole Christmas (1966)
This story focuses on a nasty creature called the Grinch (voiced by Boris Karloff). He despises Christmas. Each year he envies the Who's down in Whoville as they play, feast, and sing through the holidays. Having had enough of their festivities, the Grinch dons a Santa Claus suit, with his dog Max made to look like a reindeer and raids the town to steal everyone's decorations and toys in an attempt to steal the holiday. The most interesting thing about this film is that most of the other Christmas specials on this list have main characters who do everything in their power to give the best holiday, but this film offers the opposite. The Grinch is literally against everything Christmas. With an easy-to-follow story, this special shows in great detail how he plans to ruin it for everyone. This really makes the Grinch stand out among other holiday icons. From the Grinch's big, long frown to Karloff's intimidating voice, it's not hard to see why people are drawn to this holiday stick in the mud. All that negativity comes to an end when he realizes that he can't steal Christmas, no one can. It's something much deeper than he or anyone could ever imagine. This epiphany turns even the Grinch's frown upside down. This special not only has some of Dr. Seuss's best writing, but it also beams with holiday colors and cheer that only animation legend Chuck Jones could provide. A creative story with a simple presentation of a powerful message makes this special the all-time best Christmas film.
—
For more information or news tips, or if you see an error in this story or have any compliments or concerns, contact [email protected].