2008: The best TV, movies and music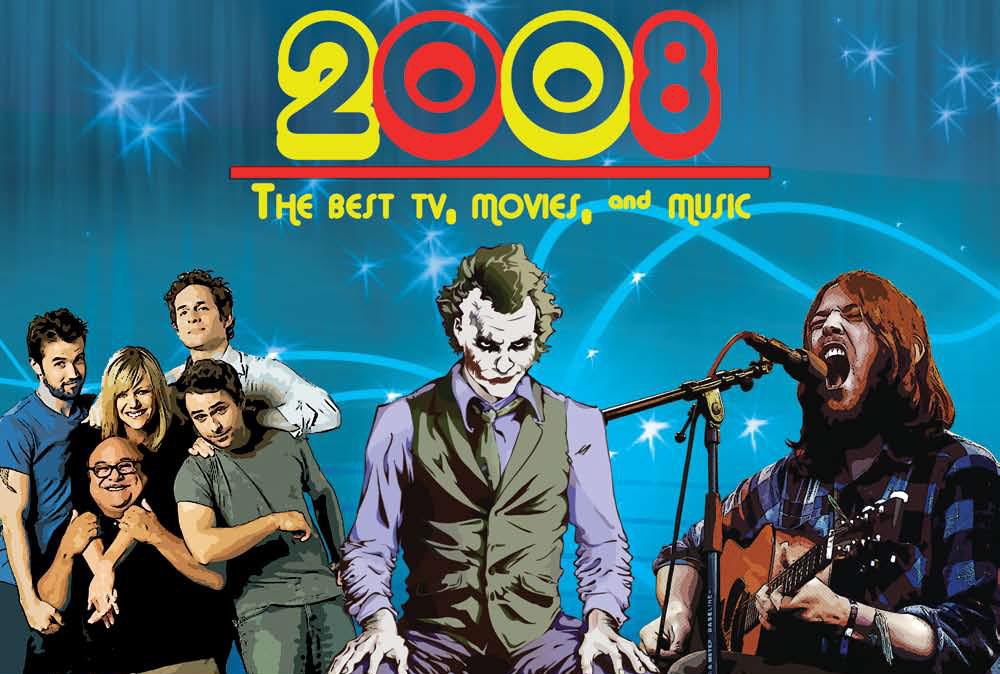 TV
1. It's Always Sunny in Philadelphia
Season four might be the best season yet. Featuring episodes like "Who Pooped the Bed?," "The Gang Solves the Gas Crisis" and season finale "The Nightman Cometh," the gang from Paddy's Pub certainly outdid itself. The ability to self-deprecate with dark and always-controversial humor, "It's Always Sunny" has cemented itself as the funniest show on cable.
2. "The Shield"
Cop dramas are a dime a dozen, but "The Shield" separated itself from the pack a long time ago. In the final season of the show, each and every action-packed episode was a cliffhanger, eventually culminating with a fury of bloodshed and betrayal. The police corruption that takes place seems impossibly ridiculous until you realize the show was actually based on an LAPD special force.
3. "Top Gear"
For many, this show probably got lost in the shuffle since it airs on BBC America. Hosted by the cheeky British writers of the magazine of the same name, "Top Gear" puts viewers in the driver's seat of some of the world's fastest and most expensive super-cars in the world. Beyond that, the show packs a huge entertainment value as random British celebrities are pitted against one another on a test track for the fastest time, and the three hosts are challenged to put crappy used cars through various tests that generally lead to mayhem.
4. "Entourage"
Just when the show seems to be losing steam and in danger of becoming cliché and jumping the proverbial shark, it just keeps chugging along. For some reason, it never seems tiring to imagine being in the shoes of a celebrity and his friends because they seem just like your friends. This season saw Vince coming dangerously close to becoming washed-up. And while some episodes lacked a punch, a hallucinogenic trip to the desert and a visit to Queens saved the day.
5. "Lost"
Could this show possibly have more twists and turns? It's hard to remember a show that utilized so much intensity, suspense, drama and humor while leaving so many mysteries for viewers to try to solve. Though many panned the third season, the fourth season came back with a vengeance as the entire cast must now return to the island. And many questions were answered like who was in the coffin, how the island moves and why the O6 are lying among others.
MOVIES
1. The Dark Knight
In a year crammed with superhero movies, "Dark Knight" stole the show. Probably the best superhero movie of all time, the ridiculous amount of hype surrounding the movie – particularly focused on the late Heath Ledger's performance – is lived up to tenfold. It's hard to imagine a more action-packed and enjoyable time at a summer blockbuster.
2. "Role Models"
OK, so it isn't going to win any Oscars, but something has to be said about a movie that has you laughing so hard you miss the next joke. The routinely hilarious Paul Rudd, who co-wrote the movie with Director David Wain ("Wet Hot American Summer") cranks off one-liner after one-liner, and oddly enough, Seann William Scott does little to annoy viewers even if he's basically reprising his role as "Stiffler" for the 36th time.
3. "Forgetting Sarah Marshall"
"You shall not pass!," Jason Segel (Peter Bretter) cries and complains his way through a major breakup while a great supporting cast bounces one-liners off of each other in 2008's most quotable movie. Plus, how can you go wrong with a rock opera about Dracula that supposedly utilizes puppets?
4. "Gonzo: The Life and Work of Dr. Hunter S. Thompson"
After watching portrayals of the good doctor by Johnny Depp and Bill Murray, it would be easy to write them off as exaggerations and after-the-fact caricatures. But "Gonzo" uses home movies and other rarely seen footage to show Thompson was the real deal – as long as your idea of the real deal is a booze and drug fueled, pistol-wielding madman who changed the way we think of journalism.
5. "Choke"
In his usual darkly twisted but humorous way, writer Chuck Palahniuk ("Fight Club") cranks out another winner. If the story of a sex-addicted colonial theme park woker who purposely chokes on food in front of wealthy people at upscale restaurants to pay for his deranged mother's hospital bills as she's suffering from Alzheimer's isn't appealing to you, you shouldn't see this movie.
MUSIC
1. Fleet Foxes "Fleet Foxes"
The whole bearded, retro-vinyl, hippy, indie-folk crossover thing is everywhere these days, but for some reason Seattle's Fleet Foxes stand head-and-shoulders above the rest. There is a certain pop sensibility on this reminiscence of the Beach Boys opus "Pet Sounds," but it is far from a rip-off of anything already released, even if it takes a little thunder from the music of My Morning Jacket. Frontman Robin Peckhold's haunting voice and an overwhelming mysteriousness haunt the soul on this full-length debut.
2. Nick Cave & the Bad Seeds "Dig!!! Lazarus Dig!!!"
This powerhouse by the master of the murder ballad proves the Aussie can still rock out without losing his edge or darkness after 25 years on-and-off with the Bad Seeds. Cave's usual literary style melds well with psyched out guitars and fuzzy, buzzy organs. The album is like a book on tape set to music. It has a certain ease about it, though it can be abrasive at times, and after listening, you feel like you've learned something.
3. TV on the Radio "Dear Science"
On the heels of 2006's "Return to Cookie Mountain," a decidedly bleak and at times, lifeless album, TV on the Radio returns to form – this time experimenting with pop hooks and a more cohesive album as a whole. Both pessimistic and optimistic at times, the album echoes the world's problems but dares listeners to look forward. Combining elements of funk and synth and pretty much everything in-between, these guys prove why they're one of the best bands out there today.
4. Deerhunter "Microcastle"
Infamous for their wild stage shows, Deerhunter follow up 2007's "Cryptograms" with a decidedly lighter feel. Gone is the garage-like punk and noise barrage, now replace
d by a cleaner guitar sound and a whimsical '50s/'60s s
ound covered by smoky and sparse vocals by singer-guitarist Bradford Cox. The future is certainly bright for this Atlanta band that Trent Reznor once picked to open for him.
5. M83 "Saturdays=Youth"
M83 (aka Anthony Gonzales) has always utilized massive, layered and beautiful synths and opulent vocals as a jumping point to a barrage of drums that ascend into space. But on "Saturdays=Youth," the barrage rarely comes, but that's OK. This album is so beautiful, it's almost distracting, making it easy to discard at times, but hard to ignore. Just as the music drifts into the background of your mind, it rushes back with a fury.
Compiled by Jason Yurgartis.