Hurricane Idalia made landfall in the Florida Big Bend as a Category 4 storm Wednesday morning, bringing strong winds and rain across North Florida, knocking out power for some 7,000 people in the Jacksonville area as of 11:30 a.m., according to JEA. Over 245,000 people in Florida were without power as of 11 a.m., according to USA TODAY's power outage map; most are in the northern part of the state.
The storm has dropped to a Category 1 hurricane since this morning, the National Weather Service in Tallahassee said at 11 a.m., but it continues to deliver strong wind gusts and flooding to the area.
The NWS has reported that maximum sustained winds have decreased to 90 mph, with higher gusts, but the organization expects those to drop further as Idalia moves further inland, according to the 11 a.m. public advisory. Tornado watches have been issued for parts of Florida and Georgia until 3 p.m. Wednesday. Additional extreme weather warnings have been issued the past few hours as Idalia moves northeast toward southern Georgia and the East Coast.
The NWS in Jacksonville is providing updates on social media here.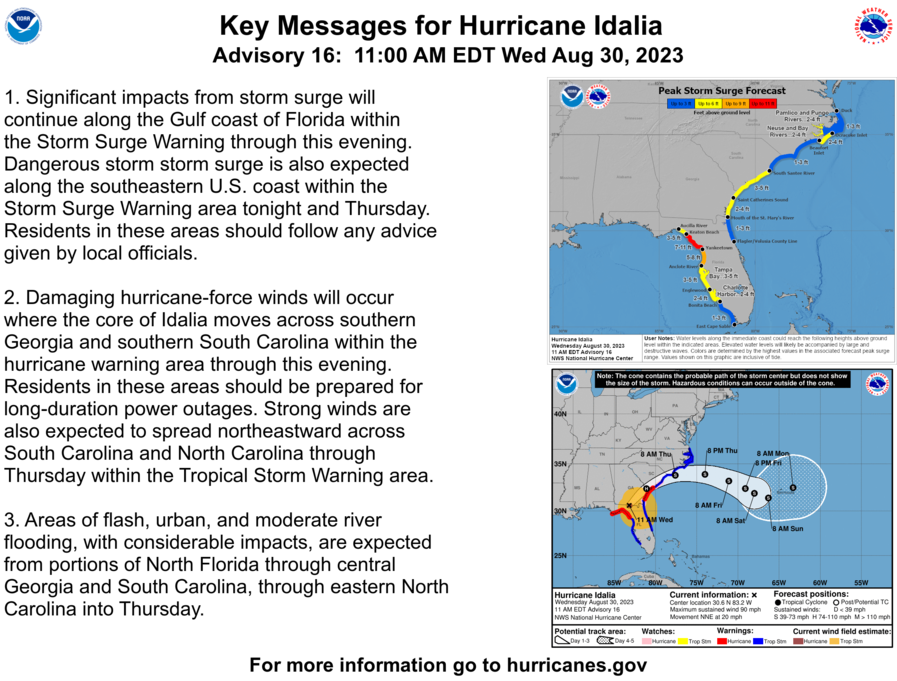 Originally forecast to reach Florida and sweep across the state closer toward Jacksonville, Idalia tracked further West before making landfall near Keaton Beach. Prior to landfall, the National Weather Service said that Idalia would be an "unprecedented event" and that no Category 3 or higher hurricane had ever directly hit Apalachee Bay.
For more information about Hurricane Idalia, visit here.
Stay with Spinnaker as we bring continued updates about the storm and its impacts on Jacksonville and UNF. 
___
For more information or news tips, or if you see an error in this story or have any compliments or concerns, contact [email protected].