The University of North Florida women's volleyball team capped off day one of the UNF Sunshine Tournament this past Friday with a matchup against the University of South Florida Bulls, where the Bulls took the win 3-1.
This loss marked the first home defeat of the season for the Ospreys, ending a streak of four consecutive wins at CSI Companies Court.
The Ospreys and Bulls went back and forth scoring throughout the opening set. However, with the set tied at 23 even, USF was able to profit from an attack error, followed by a service ace that led to South Florida taking the first set 25-23.
In the second, tides started to shift in North Florida's favor. The Ospreys made good use of the eight attack errors made by South Florida in the period, as sophomore middle blocker Kierstyn McFall closed out the second with six kills, leading to UNF taking set two 25-19.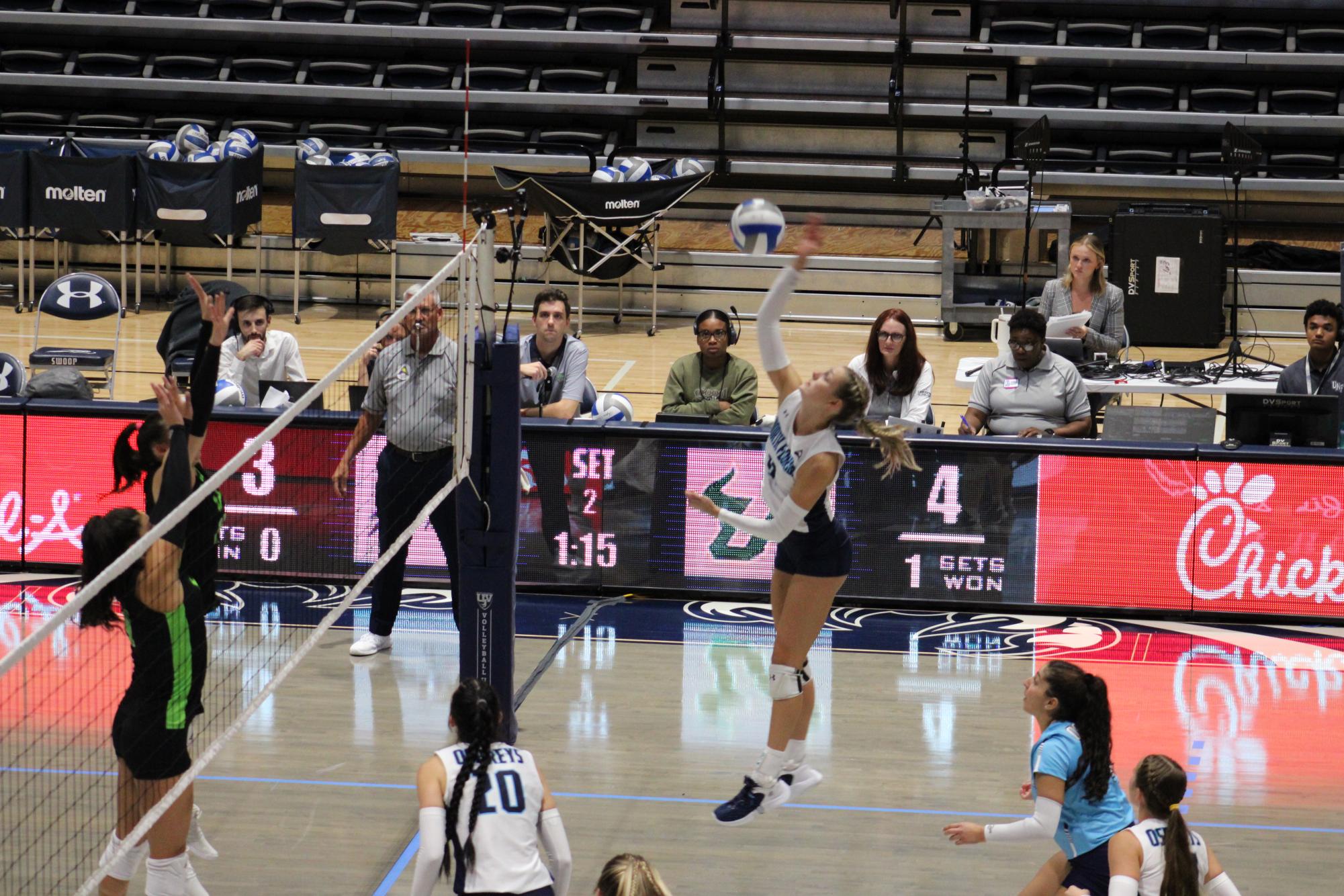 The Bulls regained their momentum in the third, as the Ospreys suffered five service errors throughout, the fifth of which came on the set point. The Bulls took the third 25-19 as Buse Hazan led the way with four kills. 
In the fourth and final set, South Florida maintained their momentum. The Bulls kept a lead throughout this period thanks to four consecutive unanswered points starting on the second serve. This lead helped put the game away, after an attack error finished things off 25-19, leading to the 3-1 loss.
Despite the loss, a variety of Ospreys stepped up and played exceptionally well throughout the contest. One such player being the previously mentioned Kierstyn McFall.
The Klein, Texas native led the game in kills with 18 while also attacking at a .516 hitting percentage. 
Another Klein, Texas native, sophomore setter Annie Antar, also had a great game, garnering 37 assists and eight digs as she further solidified herself as a crucial support player for the Ospreys.
The University of North Florida finished the UNF Sunshine Tournament this Saturday as they took on USC Upstate at home. The Ospreys will then hit the road this week to travel to Tallahassee on Tuesday to face the Florida State Seminoles at 5 p.m.
More information on Osprey volleyball, as well as all things North Florida sports, can be found on the UNF Athletics website.
___
For more information or news tips, or if you see an error in this story or have any compliments or concerns, contact [email protected].