The University of North Florida is reviewing proposed guidance from the Board of Governors for following SB 266, President Moez Limayem announced on Monday. After months of uncertainty, this draft regulation is the community's first look at how SB 266 could specifically impact the university and the future of its diversity centers. 
SB 266 is a recently signed law that bans state higher education institutions from advocating for diversity, equity and inclusion and promoting or engaging in political or social activism. This includes banning universities from putting state and federal funds towards these programs. Read the full law here, per the president's email.
"9.016 Prohibited Expenditures" is what this draft regulation is titled, and it outlines definitions for DEI, political or social activism, social issues and more, which are used throughout the three-page document.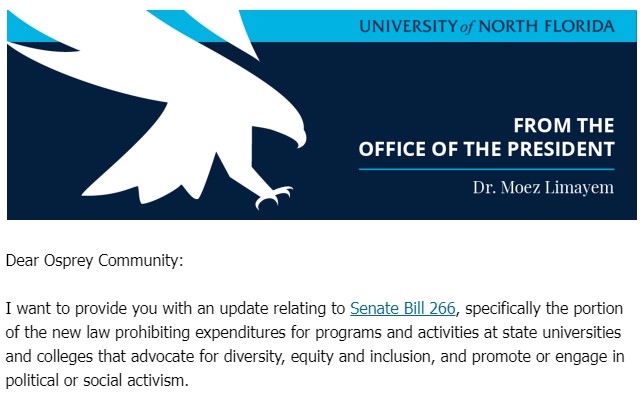 An initial look
Diversity, equity and inclusion—most commonly referred to as DEI—is defined in the proposed regulation as "any program, activity or policy that promotes differential or preferential treatment of individuals, or classifies such individuals on the basis of race, color, sex, national origin, gender identity, or sexual orientation."
Though the law officially took effect earlier this year, universities have waited on specific guidance from the BOG before making any adjustments to their programming, leaving the future of departments like UNF's LGBTQ Center up in the air. Broadly speaking, section 2 of the regulation states the following: 
"A state university or state university direct-support organization may not expend any funds, regardless of source, to purchase membership in, or goods and services from, any organization that discriminates on the basis of race, color, national origin, sex, disability, or religion."
This section of the proposed regulation does not mention anything about sexual orientation or gender identity in its current form. Section 11 of the proposed regulation also states that each university will "designate an agent" to ensure it follows the regulation. 
The future
The university community and others across the state have been waiting for the hammer to drop on DEI, and it seems that day is now right around the corner. However, the regulation remains unclear on how it will specifically impact UNF's diversity centers. 
In his email Monday afternoon, President Limayem wrote that "[UNF] will continue to keep you updated and will share the final proposed regulation when it goes to the BOG for approval."
To read the full draft of the regulation, provided by the university in President Limayem's email, visit here. 
___
For more information or news tips, or if you see an error in this story or have any compliments or concerns, contact [email protected].