Don't worry, y'all- I'm back! I've had plenty of time to prepare my palate (and wallet) for a place I've been particularly excited about—JaxSpice. 
I started getting into Indian food when I came to UNF, mainly in the form of frozen butter chicken and tikka masala. After scoping out Jacksonville's Indian scene on Yelp, JaxSpice came up as a top destination. I grabbed my roommate and headed over to Jacksonville Beach to see for myself.
JaxSpice calls itself an upscale restaurant, but the atmosphere wasn't particularly refined. I was wearing jeans and a sweatshirt, and my roommate was wearing shorts and a t-shirt, but neither of us were underdressed. In fact, almost no one was wearing formalwear. One man, fresh off of work, even walked in with his medical scrubs on.
That's not to say the dining room was bad. It was clean, spacious and had plenty of seating. A large bar was the centerpiece of the room. Booths were placed around the perimeter, accompanied by plenty of tables and chairs. The walls were decorated with a pale gold wallpaper and Hindu iconography. The lighting was slightly dark and made for an inviting experience.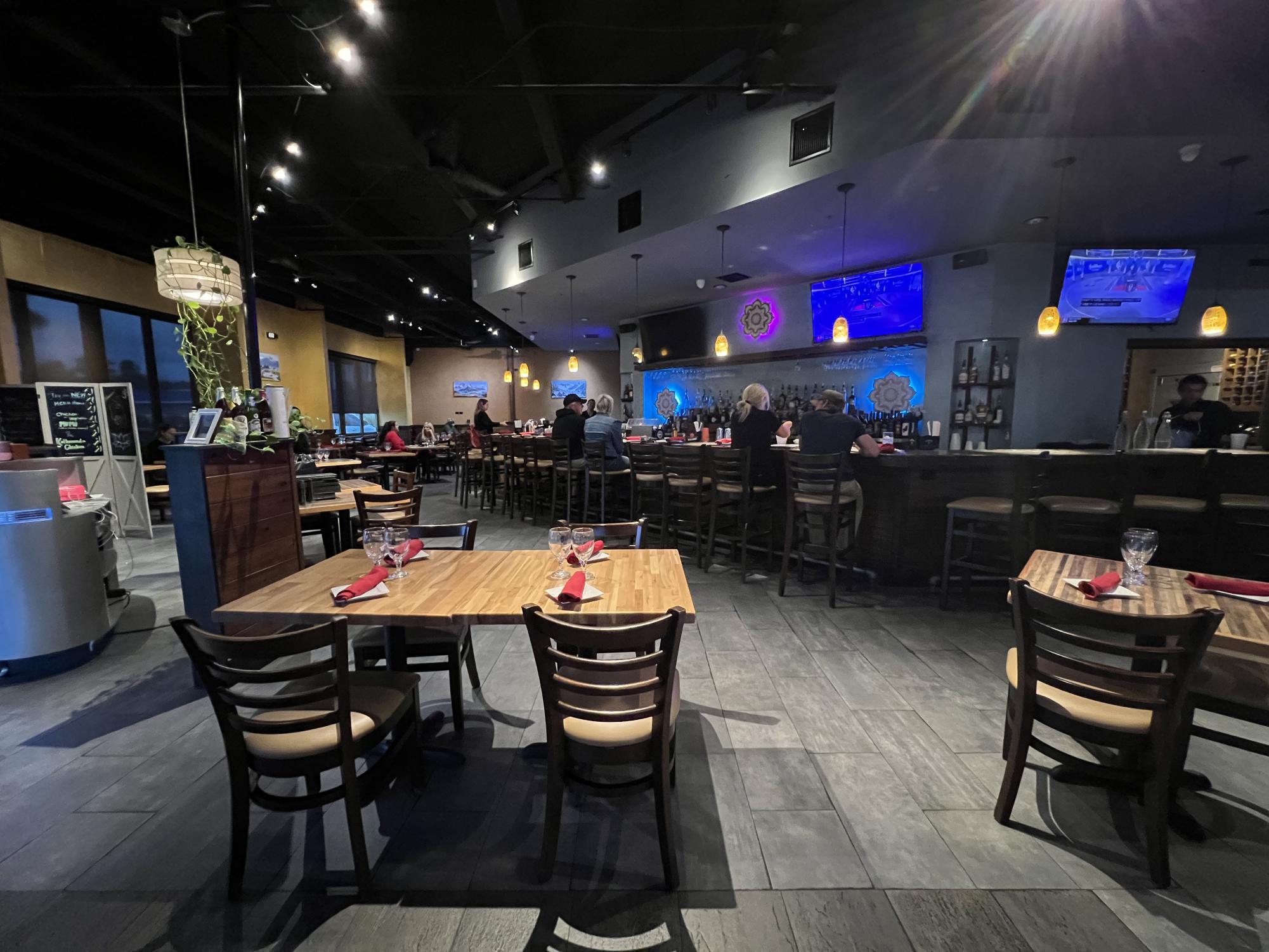 Our waitress was kind, quick and attentive to our water glasses; perfect service, I'll say. When I asked for a menu suggestion, she gave me a great recommendation (don't worry, I'll cover the food soon).
When ordering dishes, you choose the type of meal (biryani, curry, etc.) and protein (chicken, lamb, etc.). Prices are determined by which protein you choose for your meal.
In terms of the food, I came in with few expectations; after all, my only experience with Indian food had been frozen meals from Publix. I had a vague idea of how the food would taste, but I knew that anything freshly-made would be far better than what I had eaten before.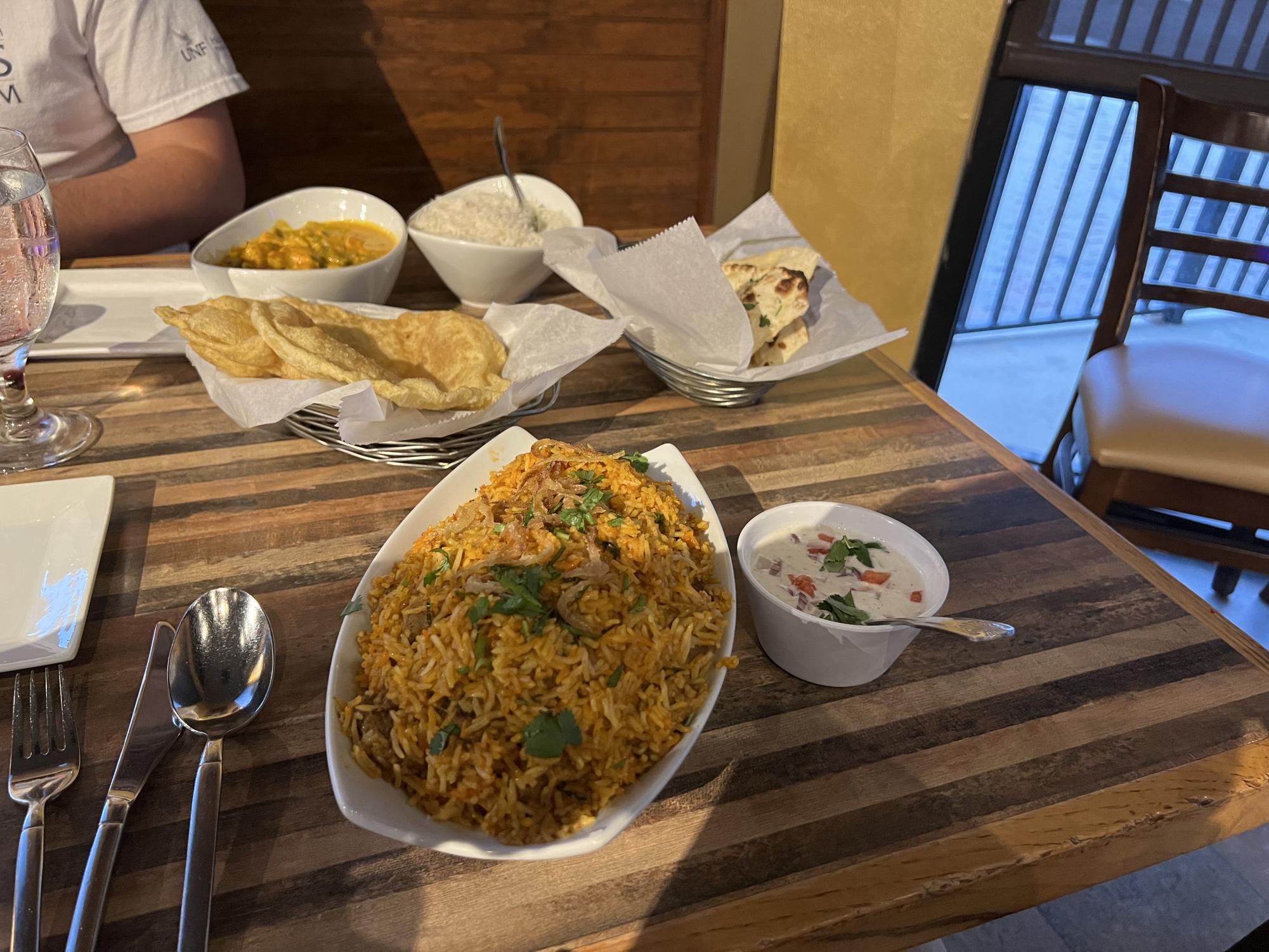 As suggested by our waitress, I ordered lamb biryani and garlic naan, and my roommate ordered chicken and vegetable korma with puri, a fried bread similar to naan.
The biryani was delicious. The spices were fragrant and gave me the signature Indian flavor I was looking for, and the fried onions were also a nice touch. The lamb wasn't as tender as I hoped, but it was still a great option, although I hoped to have more meat in the dish. A few heaping spoonfuls were all I needed before my hunger was sated. 
The biryani was also served with raita, a yogurt sauce our waitress dubbed "Indian ranch." The raita cut through the biryani's spice like blue cheese on buffalo wings. A great addition to the dish, all in all.
The garlic naan was an amazing, starchy sidekick to my biryani, and was the perfect tool to scoop up the leftover morsels on my plate. It was thin, chewy and full of garlic and coriander. I especially loved the butter melted on top, which gave a nutty, salty contribution to this divine carbohydrate. Keto should be abolished.
I had a few bites of my roommate's chicken and vegetable korma. I wasn't a huge fan of its sweetness, but the chicken was melt-in-your-mouth tender. I couldn't make out what the vegetables were, but their texture was very mushy and unappealing. The rice it was served on top of was perfectly fine; it's hard to screw up rice. I was glad I ordered the biryani, though.
I also snuck a bite of the puri as well, but there wasn't much to write about there. The bread was wheatier and puffier, and had very little flavor to it. It was also pretty oily, but nothing too bad overall. Just fried bread, nothing to see here, folks.
My biggest gripe had to be the prices (mom, you can stop reading here). Remember how I said that JaxSpice didn't seem very upscale? Well, I think they were talking about their upscale prices. Now, I have to add that each entree is served family-style (don't worry- I wasn't stealing my roommate's food without cause), but even then the prices were pretty high for a college budget. Our check ended up being around $36 per person- definitely not something I'll do again. At least we have plenty of leftovers.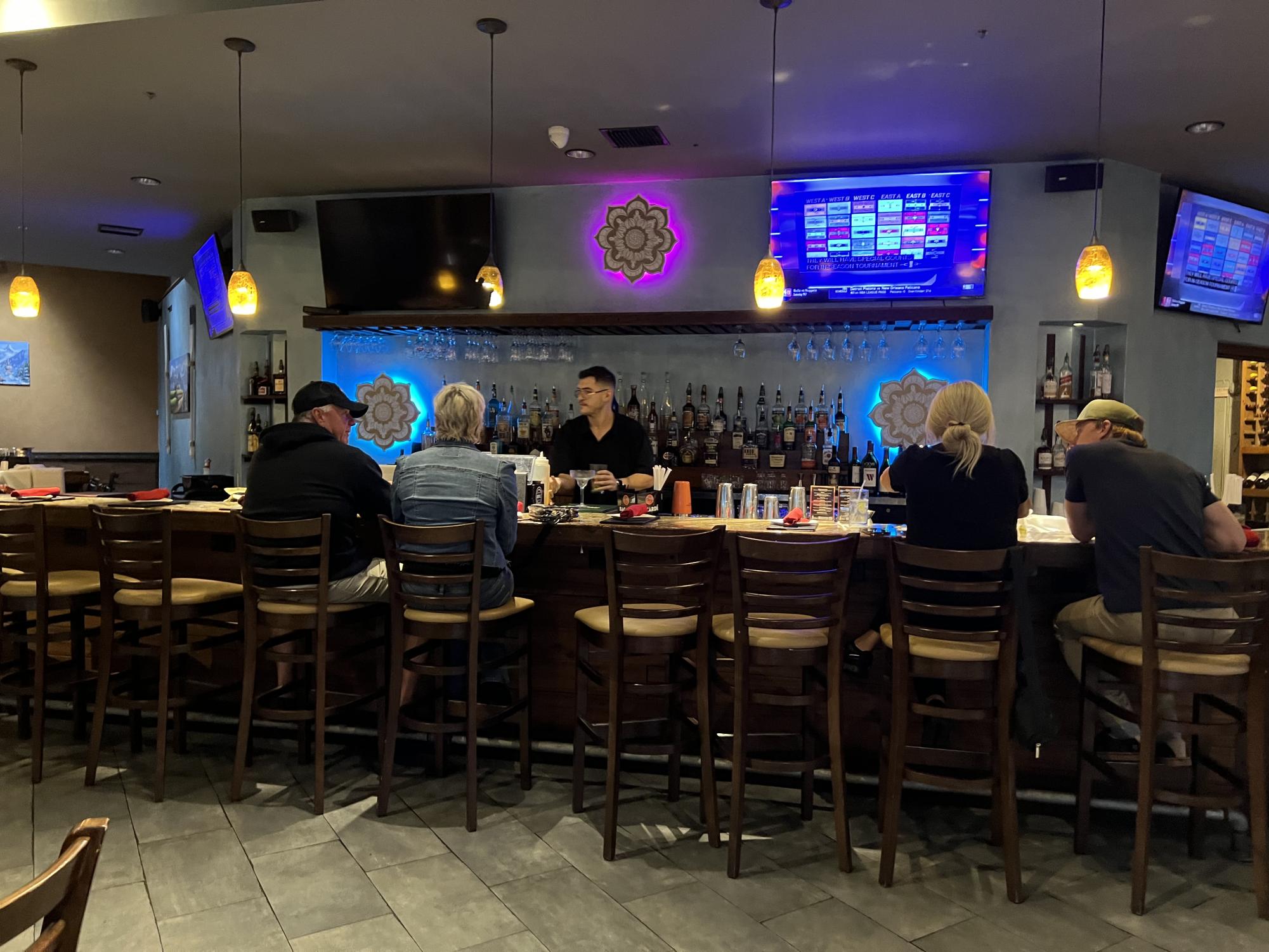 So, check it or chuck it? Well, that depends on what you're looking for. If you want some good Indian food, look no further—this place serves that and then some. However, if you're trying to stay within your budget, wait until the parents are in town to take you, or come prepared to stay and do some dishes.
JaxSpice Indian Restaurant and Bar (Jacksonville Beach)
Address: 311 3rd St N, Jacksonville Beach, FL 32250
Lunch: 11am-2:30pm
Dinner: 4:30pm-10pm
Closed Mondays
Website: https://www.jaxspice.com/location/jaxspice-jacksonville-beach/                
___
For more information or news tips, or if you see an error in this story or have any compliments or concerns, contact [email protected].