The Osprey women's basketball team suffered a tough at home 75-84 loss against the FAU Owls at home on Monday.
The match started off strong with two early three-pointers by Kaila Rougier and Selma Eklund and many more three-pointer attempts throughout the first quarter. The Osprey put up a good defense, blocking three shots and left the first quarter with a close one-point lead.
Five minutes into the second quarter, Sarah Taub scored a three-pointer, followed by Guard Alexa Washington. The Ospreys got eight fouls throughout the second quarter, costing them their lead. The Ospreys left the second quarter off with a score of 28 to 30. 
Fouls persisted in the third quarter, a pattern present throughout the entire game, and they ended the quarter with five more. Despite the heavy amount of fouls, a three-pointer by Rougier was enough to regain the Ospreys the lead, followed by another three-pointer by Washington eight minutes into the quarter. 
At the end of the third quarter, the score was 50 to 46, with the Ospreys in the lead.
When all looked bleak, Eklund managed to get a quarter-saving layup, assisted by Jayla Adams, tying the game up at 66 points and sending the game into overtime. Though Guard Lyric Swann snagged a three-pointer, it wasn't enough to win them the game, as the game ended with a score of 75 to 84.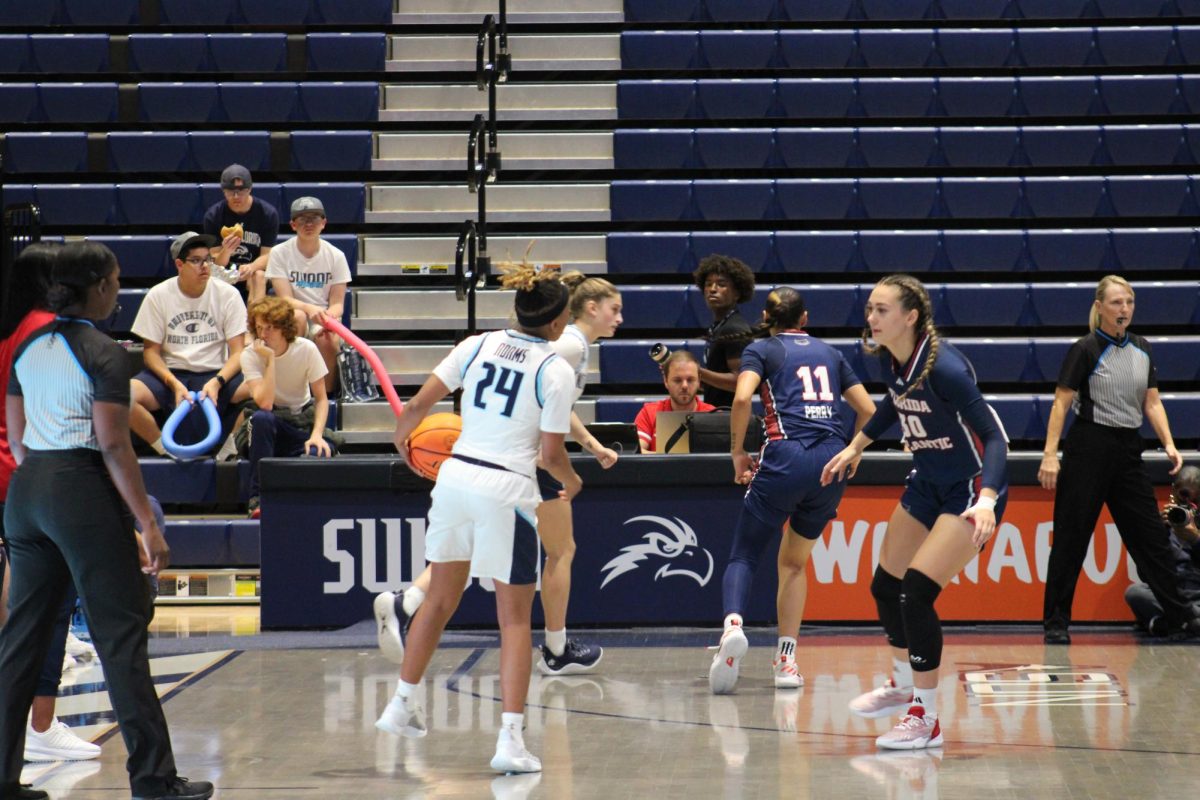 Monday's loss puts the Ospreys at a 1-2 win-to-loss record. Coach Erika Lambert said that while the team focuses on three-point shots, their performance in that category isn't what lost them the game.
"Yes, 3-point shooting is a huge part of our offense," she said. "We want to make about 11 a game, we'd love to be 11 for 33. That's our goal." 
Asked about the team's high number of fouls, 25 total by the end of the game, Lambert had this to say:
 "One of the limitations we are aware of with our roster is size. FAU out-matches us in size and every position again tonight, and we battled," she said. "But down the stretch, I thought that was our Achilles heel." 
The women's team hopes to have a better performance down the line in their away match against the Gonzaga University Bulldogs in Spokane, Washington, on Wednesday. 
___
For more information or news tips, or if you see an error in this story or have any compliments or concerns, contact [email protected].