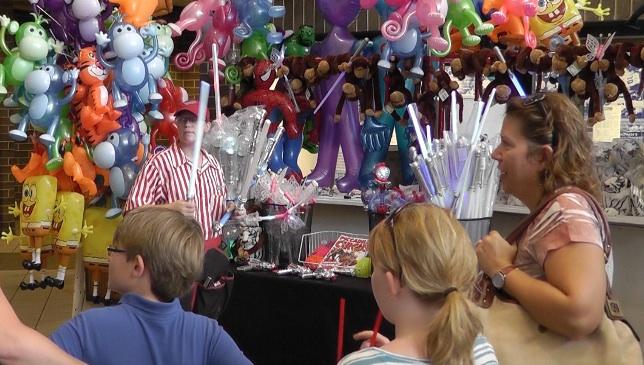 Parents and children gathered in front of the UNF Arena Thursday when the Piccadilly Circus made its stop in Jacksonville.
While activists held vigil outside, holding signs spreading the message of animal cruelty dealt by the circus, attendees streamed into the arena.
Health administration sophomore and senior supervisor at the arena, Caitlyn Parker, said she was most excited to see the exotic animals, and was pleased the circus came to UNF.
"I think it adds diversity, it allows people to come to the school see who we are," Parker said.
The Piccadilly Circus'  family friendly show consisted of animal parades, entrancing motorcycle stunts, slapstick comedy routines, and an illusory trick that saw a young woman swapped with an exotic white tiger in the blink of an eye.
The show wasn't just a family event for the attendees– for some circus performers, every show is a family occasion.
"This is my 3rd generation family," said Shane Johnson, a circus performer.
Johnson's parents were both circus performers.
"I'm born into it, it's like nature," Johnson said.
Johnson performs slapstick comedy with the help of an ancient Ford Model T that malfunctions at the most opportune times.
General Manager for the circus, Zack Garden, holds a similar sentiment, as he is also a third generation member of the circus, who has performed nearly two hundred shows in about 46 states.
"I Iove seeing smiles on the kids faces, I love seeing people have a good time, and I especially love being around all the animals." Garden said. "The whole show is great, I love everything."
Garden said his favorite part of the show is the elephant act.
However, during Thursday's show, the elephant was kept outside for children to ride.
The sight proved to be a hot button topic for the local animal rights group Jax Protest, which was stationed nearby.
The group set up a booth outside the arena to distribute brochures and coloring books for those concerned or curious about animal cruelty.
Leader of Jax Protest and former UNF instructor, Adam Sugalski, said what the circus practices is outright animal cruelty, and that it has no business holding in captivity what are supposed to be wild animals.
"The elephant's been sitting there chained up the whole time, moving only a few feet back and forth, letting the kids ride on it," Sugalski said. "We just don't think we, as a university, should be supporting it or making money off of it."