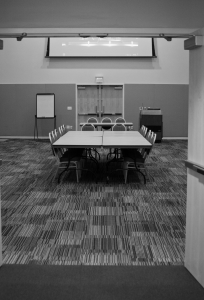 UNF's Board of Trustees has a lot of power.
The 13 members, appointed by Gov. Rick Scott and the State University System of Florida Board of Governors, is responsible for a number of tasks including "the provision of leadership and oversight in fiscal and strategic planning," according to the BOT's website.
For example, during the BOT's most recent meeting June 19, it voted on several items including: the termination of several Master's degrees, amendments to the 2012-2013 tuition and fees regulation, renaming Buildings 3 and 4 and, most importantly, the fiscal budget for the 2012-2013 school year.
Quite honestly, other than the board's approval of the controversial 15 percent tuition differential increase (which the Board of Governors approved, but decreased to 13 percent on June 21), the BOT rarely creates any controversy.
But then the BOT abused their power by violating Florida's Sunshine Law during the June 19 main, or plenary, meeting.
One of the Spinnaker's reporters, Gordon Rhyne, was planning to cover the BOT's meeting, which was originally scheduled for 2:45 p.m. But by 2:05 p.m., Associate Vice President of Student Affairs Everett Malcolm came to the Spinnaker room and said to Rhyne the meeting was running ahead of schedule and it was about to begin.
Unprepared for the meeting's early start time, Rhyne arrived at the Student Union Ballrooms at 2:15 p.m.
When he arrived, he was met with awkward stares by 10 or so audience members and some of the BOT members because the meeting already began at that time.
"I had planned on getting there at 2:30 p.m. so I could 15 minutes to set up," Rhyne said, "but I couldn't because the meeting already started."
He added that by the time his equipment was set up, the meeting was already over. He was able to talk to President John Delaney and some BOT members after the meeting, but despite that, he was unable to have a good grasp of the event.
This violation is a blunder by the board, who had their own interests on their mind at the time, rather than the public's.
Inside this issue, you will find a full report regarding this incident in the news section. In that article, UNF Chief of Staff Tom Serwatka said making the board members sit idly by because they were ahead of schedule would have been "awkward."
But is it less important for Rhyne to show up unprepared, disruptive and late, out of his control?
As a member of the media, he had a job to do as well. His duty was to cover the board's proceedings, as he did, awkwardly with barely any information (http://bit.ly/MrFz7I).
If you visit myfloridalegal.com, there is a list of 87 Florida Sunshine Law court cases. Many of these court cases involve media organizations as the plaintiff and public organizations such as Florida cities or police departments as the defendant. As you can see, media organizations have a long history of contention with public organizations.
But it's really up to the public to decide whether or not anything should be done to keep the powers that be in check.