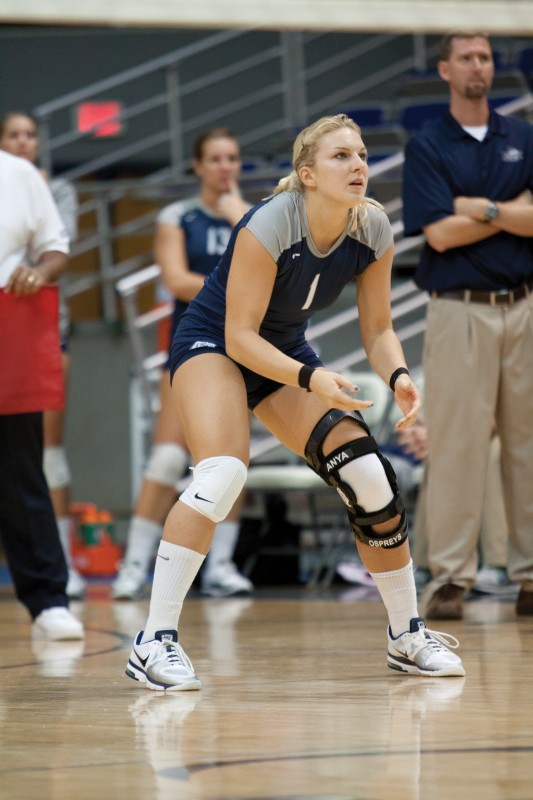 I love comeback stories. They are one of my favorite aspects of sports and life. To see an athlete drop, whether due to injury or some other personal circumstance, only to re-emerge just as good or better than they were before, is what keeps my TV fixed on every type of sporting event year-round.
But I didn't have to turn on my TV to see a great comeback story last weekend.  All I had to do was attend the third and final match of the UNF women's volleyball team at the Raddison/North Florida Invitational.
Before the match I sat courtside and watched each team warm-up. UNF and Davidson took turns hitting serves and perfecting bumps and spikes before the match began.  I was watching the action, preparing to cover the game, but one particular player kept drawing my attention away from my notes.
This player didn't stand out because of her powerful 5-foot-9 frame, her long bleach blonde hair or because of the bulky knee brace that engulfed her left knee.  In order to notice Anna Budinska, you didn't need to see her, all you needed to do was listen.
You know how baseball coaches like to talk about great players taking batting practice?  They say: "The ball just sounds different when it comes off his bat."  That's what I would say about Budinska. The ball just sounds different leaving her hand.
The way Budinska smashed each spike served up to her — you would think the ball called her names as a child.
The ball left her hand with such a pop, and I could see the fear of God creep into the eyes of each Davidson player that was looking on.
I asked her after the game why the ball sounds different when she hits it compared to other players.  She laughed and said, "I don't know. I guess I have big palms."
When the game started, I expected Budinska, a junior from Czech Republic, to trot out onto the court with the rest of the starting line-up.  But I was surprised when she remained on the sideline.
The reason: the lingering effects of a devastating knee injury that ended Budinska's 2011 season.
She still wears that bulky hinged brace to prevent any future injuries to a knee that was completely reconstructed after she tore her ACL, MCL and both meniscuses in a game against Bethune-Cookman.
Coach Loeswick is playing it safe with Budinska this season, taking the approach of easing her back into the mix.  She appeared in only nine sets up until the Radisson/North Florida Invitational and didn't play at all in the first two matches.
In the match against Davidson, the Ospreys fell in a deep hole early, losing the first two sets.
In the crucial third set, Lovesick called on Budinska in an attempt to turn the tide.
The move paid off.
Budinska lifted UNF with her power at the net and provided 17 kills over the final three sets that helped propel the Ospreys to a come back five set victory.
"If Anna didn't play, we wouldn't have won the match," Coach Loeswick said after the match.
During the post-game interview, it was great to see the smile on Budinska's face.  It was the modest smile of an athlete who was finally reaping the benefits of hours of rehabbing and hard work spent in an effort to get back to the player she was before the injury.
Budinska said she benefited from the Conference Championship Sand Volleyball season that preceded the indoor season because the soft sand spared her knee from the harsh impact of hardwood.
"I didn't think about my knee once," Budinska said.
When a player sustains an injury of that magnitude, the residual mental effects, such as loss of confidence, can be just as detrimental as the torn ligaments themselves.
Budinska's mind and body seem to be in the right place is a good sign for UNF volleyball moving forward. As a bonus, it provides for me another great sports comeback story to talk about.
As great as Budinska's return is for UNF, it is equally as bad for volleyballs everywhere.
Once news spreads that Budinska is back to hitting kills at 100 percent power, I'm sure most volleyballs will wish they were on an island with Tom Hanks instead of feeling the wrath of Budinska's massive palm.