Ospreys Fall To Sixth Ranked UCF Knights, 3-1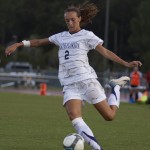 The Osprey Women fell to the sixth ranked UCF Knights (second ranked regionally) 3-1 on Friday.
The Ospreys held the Knights to one shot on goal with admiral defense for much of the first half. However, that one shot on goal found the back of the net by way of the post in the 33rd minute. The Ospreys only allowed two more shots on goal for the rest of the first half and only trailed the Knights 3-2 at half in that category.
To give the Ospreys hope for an upset Lauren Hopfensberger, a junior, knocked home her first goal of the season in the 68th minute to tie the game at one goal a piece. That goal would be the last shot on goal for the Ospreys as the Knights began to show why they are so highly ranked.
Nicolette Radovcic and Taylor Townsend netted goals in the 69th and 73rd minute respectively to give the Knights a 3-1 lead.
At the end of the night UCF held an advantage in total shots (23-8) and shots on goal (12-3). On a high note, sophomore goalkeeper Rachel Beninati collected a career best nine saves on the night.
After the loss, UNF dropped to 2-6-1 on the season.
The Ospreys open up conference play on the road against Lipscomb on September 21st at 8 p.m.